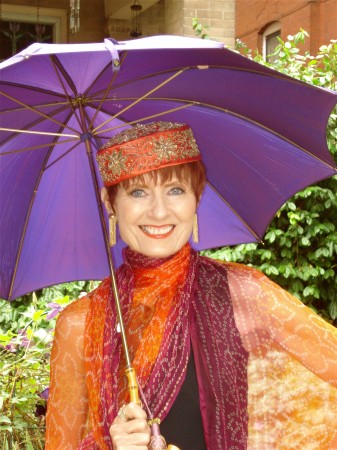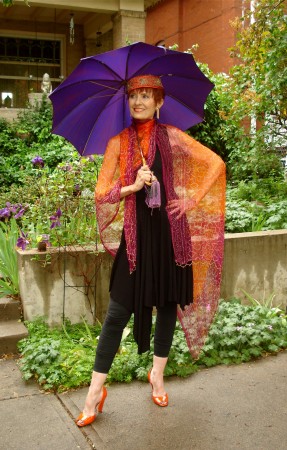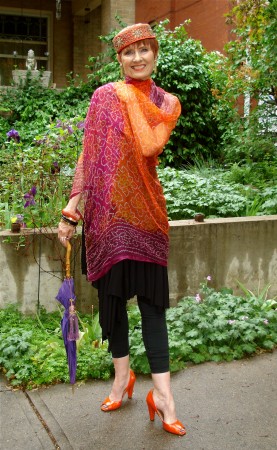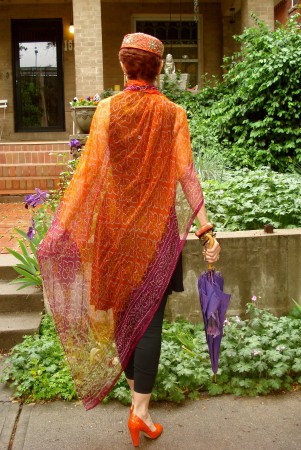 Photos by Diana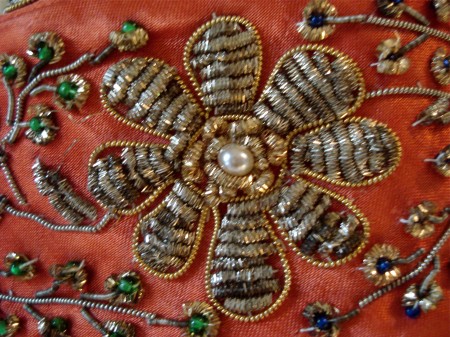 Close-up of the hat!
Sheer orange/purple scarf – purchased in Mexico;  vintage orange beaded pillbox, vintage earrings, vintage umbrella – estate sales, black sleeveless dress with asymmetrical hemline – boutique on Colfax now closed, orange peep toe pumps – summer retail sale years ago, all on black background.
The SC wore this outfit dominated by orange to a friend's 60th birthday party and out into the rain, requiring an umbrella.  I live in a climate that seldom allows me to play with this accessory, so I took full advantage of my vintage umbrella inventory.  Looking for the meaning of the color orange, Emily Gems states HERE that it is a power color.  How convenient, because the renovation of my home is requiring assertiveness, persistence, and constant vigilance.
I am learning that I deserve to live in a structure that is well cared for and that my home, built in 1907, is a beautiful slice of history and the work needs to be consistent with its majesty.  I am its advocate, thus it is required that I advocate for myself.  Somehow it was easier to be a champion for others; for Nelson within the health care system, as a parent, as a friend, for my patients.
This project involves the intensification of chaos with the goal of peace and beauty.  I know nothing of construction, renovation or navigating this unfamiliar world.  Talk about wildly fertile ground for encroaching self doubt.  So I have decided to respectfully verbalize my thoughts and feelings when the work does not appear adequate or doesn't feel or look right to me.  And to speak up when my tentacles, which have taken years to develop, detect disregard or lack of concern.  I have discovered that there are many resources available when something appears or feels amiss in the abyss. Fortunately I have talented, kind and generous friends that I consult with at important junctures. Directing this upgrade involves vast  amounts of orange energy, and I have plenty of that in my closet.
I recently learned of the weekly outfit posts at 'the pleated poppy' HERE , so stopping by with a bit of orange!