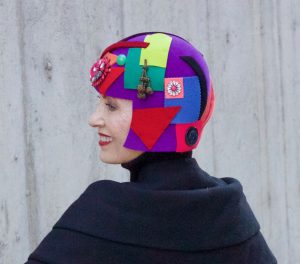 Welcome to Style Crone, dedicated to the older woman, in her most creative, outrageous, authentic, powerful, adventurous, funny, and proud era.  Let's take back the word crone, to its original meaning, signifying a woman of a "certain age' who embodies all her life's wisdom, knowledge, experience, and love.
My name is Judith, I'm 76 years old, and live in Denver, Colorado, with frequent as possible visits to NYC.  I am always inspired by diversity and individual expression and find inspiration everywhere! I spent most of my career working as a psychiatric nurse in an emergency setting.  I also spent a period of time managing the care of head and spinal cord injuries.  Choosing my outfits, which always included a hat, was a way to express myself creatively and as a form of meditation as I approached my day, which usually included extreme and painful stories told by interesting, traumatized people.  Because of my love for style and headwear, I co-owned a hat shop in the 80's and sold vintage clothing in an antique mall and on consignment in the 90's and beyond. Currently I enjoy creating ensembles from my collections of hats and vintage, primarily discovered at estate sales, thrift stores and consignment shops.
My beloved husband of 32 years was diagnosed with a rare form of cancer in 2005, and he transitioned on April 20th, 2011 after many years of intrusive and difficult treatments.  As I grieve the loss of Nelson's inspirational spirit and negotiate life's journey without him, I find a powerful form of art and expression in my daily conceptualizing and personal presentation of my own form of body art, which I hope to share by chronicling my 'displays' on this blog.
I hope you'll join me as I write about the exploits, explorations and the art of life and channel, celebrate and cherish your inner crone.