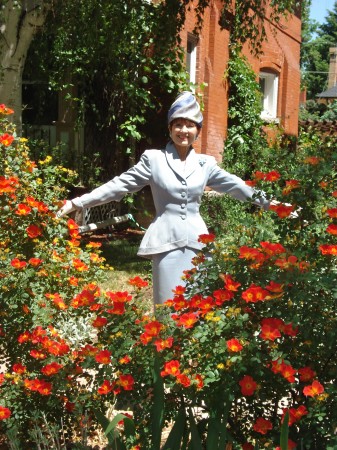 Surrounded by flowers a block from my home.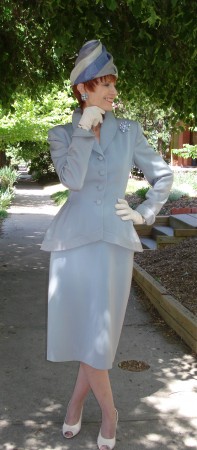 Down the block under a canopy of trees.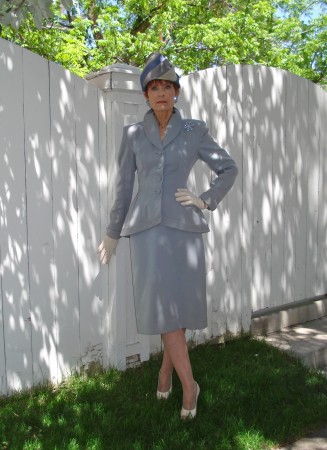 Amidst mottled shadows by the white fence on the corner of my block.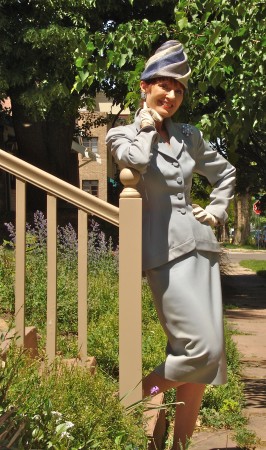 Across the street and a few steps from my home.
Photos by Diana.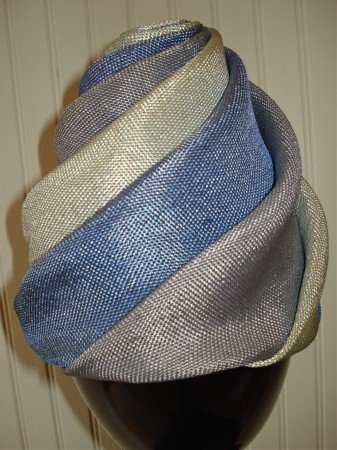 The cone hat with multicolored blue swirling straw fabric folds.
The vintage cone hat, vintage blue pin and earrings, and vintage cream colored fabric gloves – estate sales, vintage powder blue suit – vintage shop, cream colored leather peep toe pumps – purchased retail 1996.
The cone hat is a sculpture of multicolored blue splendor and had been calling for an outing for some time.  The hat room has taken up residence in the dining room for now, as the upstairs renovation continues.  This allows for closer scrutiny of long treasured hats that have provided pleasure when displayed, but are seldom seen by anyone but moi.  I recall wearing this ensemble out for an anniversary dinner with N in the late 80's, with another pair of neutral shoes.  Warm memories surround the swirling blue energy of the cone hat, which reaches for the sky on a sunny day, as I walk through my diverse neighborhood on a journey of a only a few steps from my home.  Nothing like taking a favored chapeau out for a stroll, with a few photos to document the escape from construction concerns.
The SC resurrected the rose delivery service HERE as a birthday gift for a friend who's a designer extraordinaire at Newberry Brothers Greenhouse and Florist HERE.  The outfit which had traveled through my neighborhood was my choice for the occasion.  My day had been stressful due to several restoration issues, but creating an outfit allowed the right side of my brain to play for part of the day. The smile on my friend's face filled the room as I presented him a long stemmed red rose with gloved hand in the crone cone crown.  The gift was really as much for me as for him!
The cone hat is twirling over to Patti's Visible Monday HERE and Monday Mingle HERE.