The Fluevog Store On Larimer Square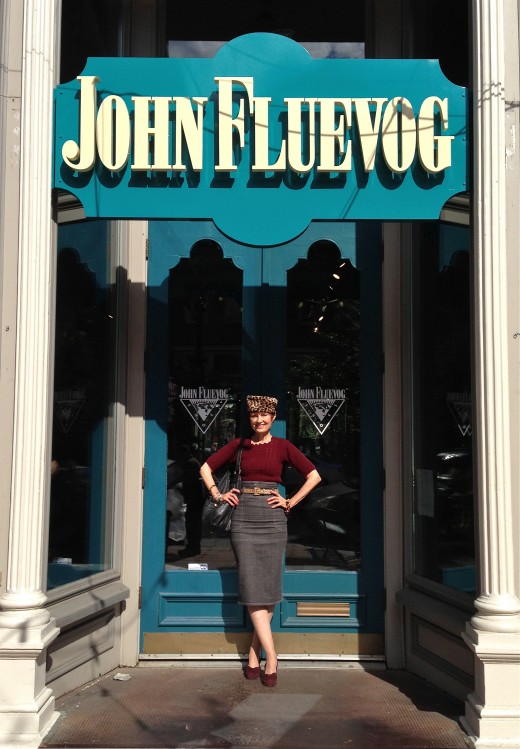 When I recently heard through the grapevine that a John Fluevog HERE store had opened on Larimer Square, I was beyond ecstatic. How did this happen without my knowledge? It's probably because I spend so much time blogging and working on my headwrap project that I wasn't paying attention to the local details! For several years I've been watching my gorgeous Canadian Sisters flaunt their Fluevogs!  Now I can enjoy them in person by driving a few minutes to the west of downtown.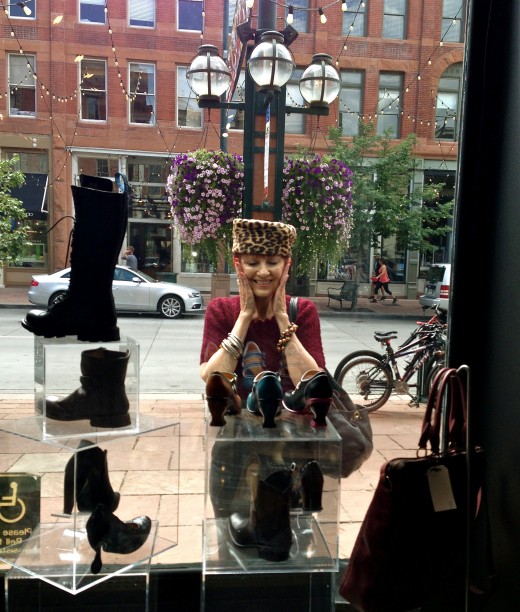 On Saturday morning that is exactly what The SC and Diana did.  Gazing into the window of this new addition to Denver's shopping scene created a moment of visual pleasure.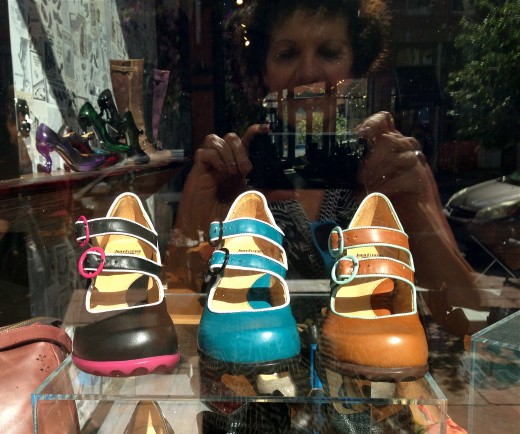 This is what I saw in the window, with a cameo appearance by the lovely Diana as she shoots a photo of these colorful Canadian creations.
I'm hanging around in the sale section, but of course not trying on anything that's been marked down.  Appreciating more than one pair of shoes at a time, just for fun, was entertaining, and it didn't cost a penny.  However, I did find a pair of boots for 50% off, but I'm keeping it a secret until they have their first reveal.  I seldom buy retail, but this was a special occasion.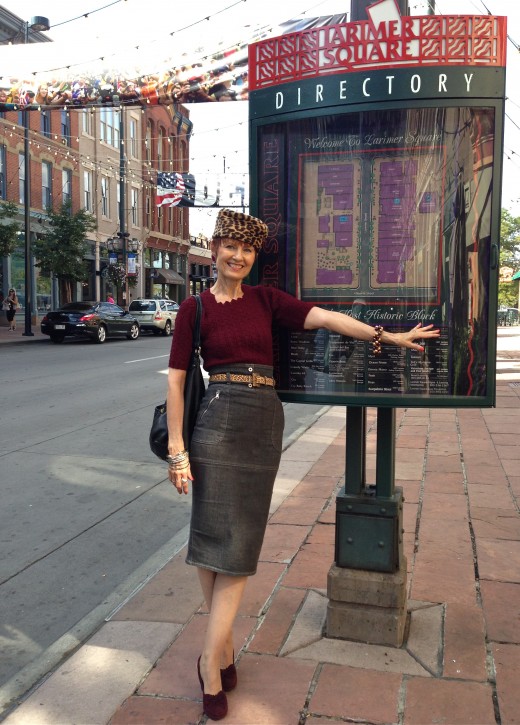 Larimer Square HERE is Denver's "oldest and most historic block and its buildings tell vividly the story of the birth and early years of the city."  In the 60's this area was saved from demolition and became Denver's first historic district in 1971.  "Larimer Square currently has more than 100 tenants with 40 retail/restaurant merchants in that mix."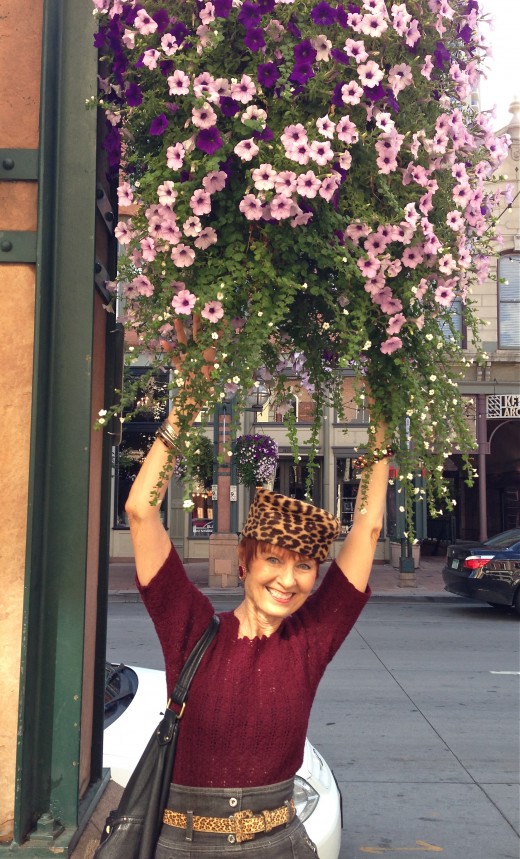 Reaching for floral abundance in leopard print pillbox and belt, both of which were estate sale finds.  When in doubt, go leopard!  Fall is in the air, and I couldn't resist the call of the wild.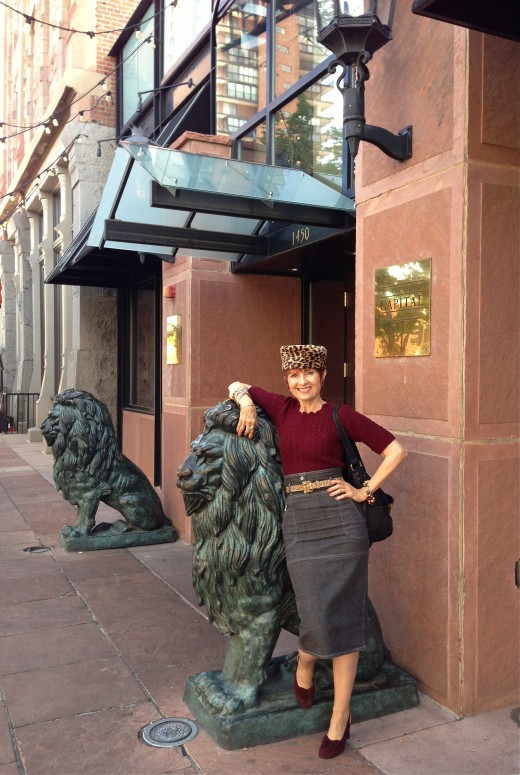 Hanging off of a sculpture at the entrance to a building, with my consignment store jean skirt and vintage shop plum suede heeled slingbacks, both purchased in Florida last summer. The plum short-sleeved sweater was discovered at an estate sale years ago. The bag was a gift from Nelson and Camille for my 65th birthday, which now seems like another lifetime!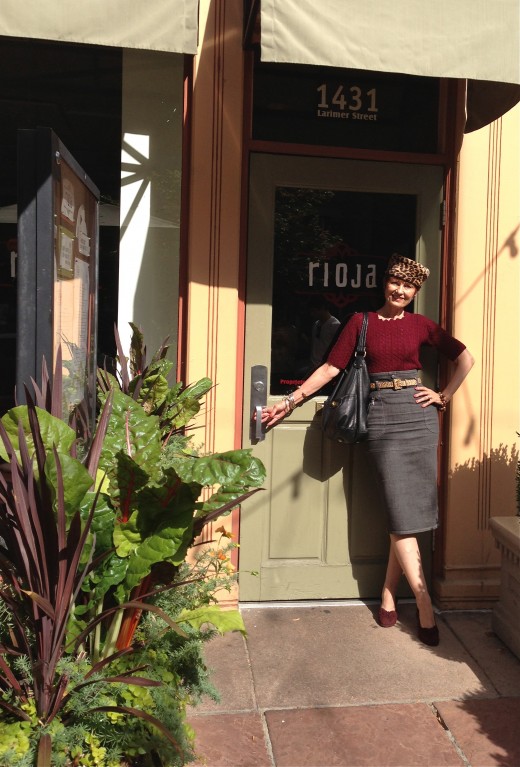 Rioja HERE, according to critics, is one of the best restaurants in Denver.  Award winning Chef/Owner Jennifer Jasinski and her team feature inspired Mediterranean food which is influenced by local seasonal products.  I've eaten at her restaurant for special occasions, and I wholeheartedly concur with the critics.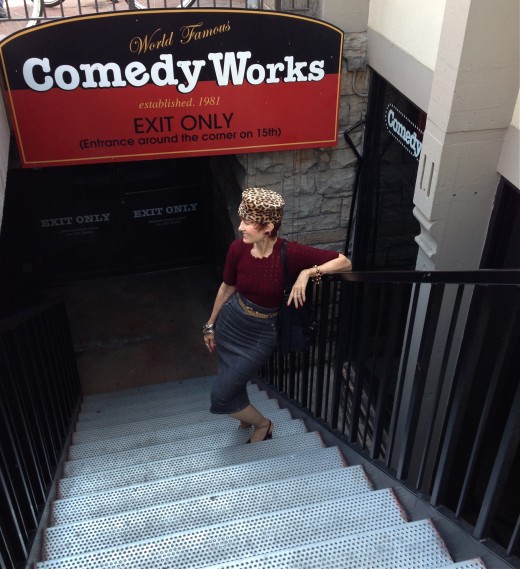 Photos By Diana
The Comedy Works HERE has been around for 25 years, keeping Denver laughing with its star-studded lineup of stand-ups.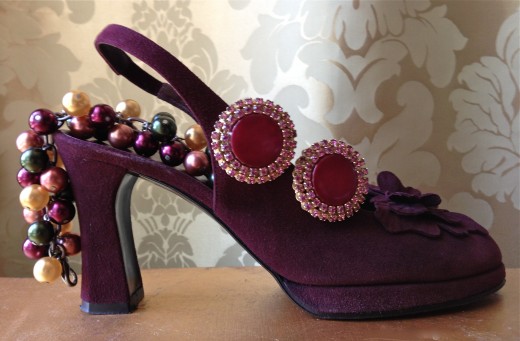 The Sonia Rykiel shoe embellished with vintage estate sale earrings and beaded bracelet, which was found at an antique shop in Minneapolis.
I'm joining Patti and the crew at Visible Monday HERE at Not Dead Yet Style.  I'm always thrilled with the diversity and self expression that shows up at this weekly event.  Thank you Patti, for gathering us all together!
I'm taking my leopard print over to Sacramento's Share-in-Style-Animanls HERE at Mis Papelicos!
HAT ATTACK #2 will be featured this coming Sunday, September 1st. 
Whoever wants to can join in!  Just compose a post that includes any hat, headwrap, headpiece, fascinator, hair flower, headband or other adornment for your head that you love on Sunday, September 1st.  Participation will be open for one week, or until September 7th.  Follow the directions HERE provided on Style Crone to post your photo and hope to see you there!