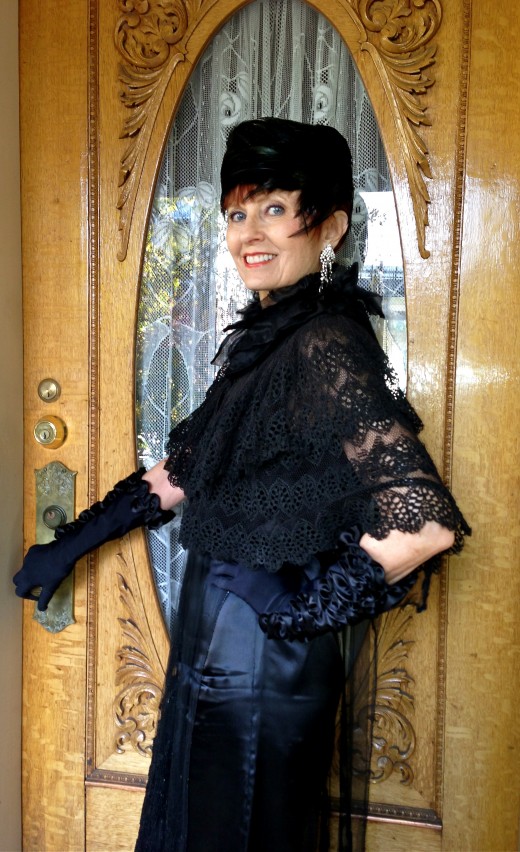 Last weekend The SC was invited by a friend to attend the Mental Health America of Colorado HERE fundraising event, which was held at a downtown hotel.  Cocktail attire was requested, which sent me straight to the closet which holds evening wear.  It's one of my favorite spots on the face of the earth.

I chose the 1920's black silk satin slip dress with beaded sheer overlay, which was purchased at an antique market.  The short vintage jacket of layered lace with sheer silk at the neckline was an estate sale find.
As I was composing the outfit, which included an antique market feather hat, my thoughts drifted to the song that was used for a radio ad during the hat shop days, before Valentines Day, 1983  The rose delivery service HERE was in high gear during this holiday dedicated to roses and romance.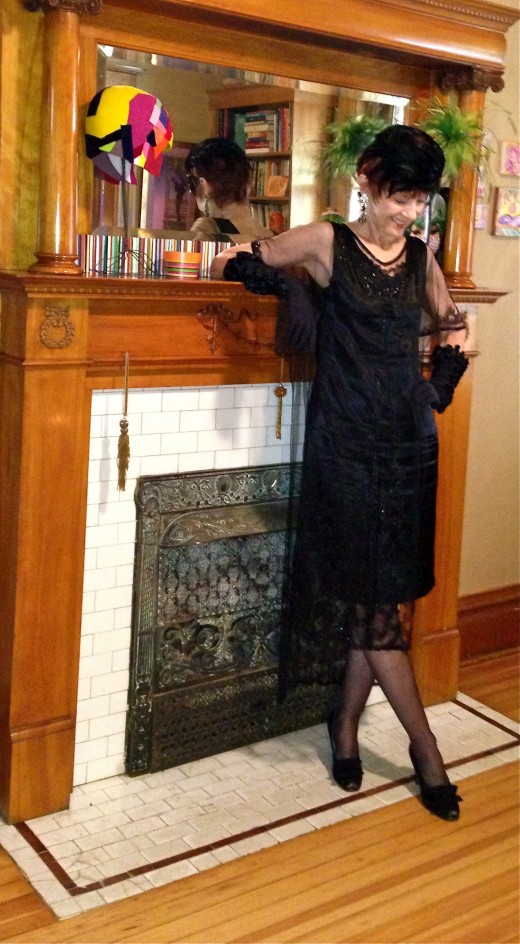 So I called our dear friend of 37 years, Phil of Phillip Klum Mastering HERE.  He found within his files what we had long ago named The Rose Ladies Theme Song and sent a digital copy for me to include in my post.  Phil wrote the piece, sang and provided the instrumentation (this was before he became famous).  My talented hat shop partner and friend Mary Lou, who died in November of 2009, sang with Phil in the second verse. So here it is!
Thank you Phil, and your family, for your many years of friendship and marvelous memories!
On the mantel sits a hat by milliner and beautiful blogger Carol Markel of Femme et Fleur HERE,  a gifted piece of drip art by friend Wendi Harford HERE, a round striped box found in Mexico City and a green feather hat wildly exploding around The SC's head.  To the right of the mantel hang mini paintings by friend and artist Lonnie Hanzon HERE.
Next to my focus on health, the energy of valued relationships is the piece of life that I most celebrate.  In the spirit of friendship, I love to surround myself with the creativity of those who I dearly love.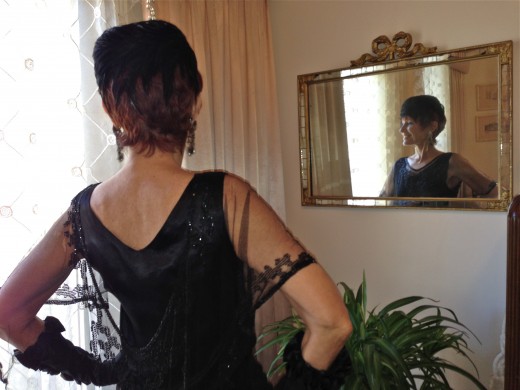 The vintage black hat responds to the distribution of its feathers as fringe around my face and as an overlay for my hair.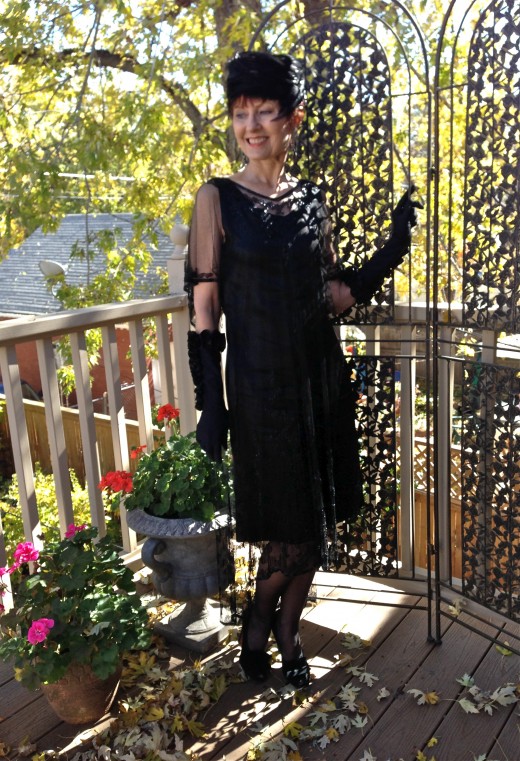 Photos by The Lovely and Talented Diana
The black vintage gloves embellished with black satin ruffles and the black vintage suede peep toe heels were purchased at estate sales. Vintage NYC flea market rhinestone earrings provided a touch of shine to finish off an outfit that took me back to the history that lives on in my heart, in my home and onto the veranda, which displays the last of summer's blossoms amidst a sea of fallen leaves.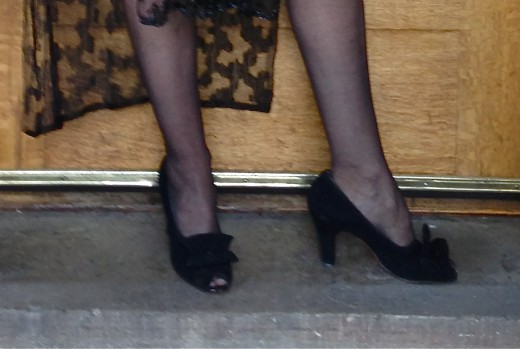 I'm taking my vintage suede open toe pumps over to the fabulous Bella's monthly Shoe Shine at The Citizen Rosebud HERE.  I wouldn't miss it.  Check out Bella's views on the art of shoe collecting!
Hat Attack #4 remains open for participation HERE until midnight on Thursday, November 7th.  Stop by if you have headwear to share!
Can't wait to get over to Patti's for Visible Monday HERE at Not Dead Yet Style.  Patti's back from her NYC adventure, so let's see what she and the other blogger beauties have to express to the world today.