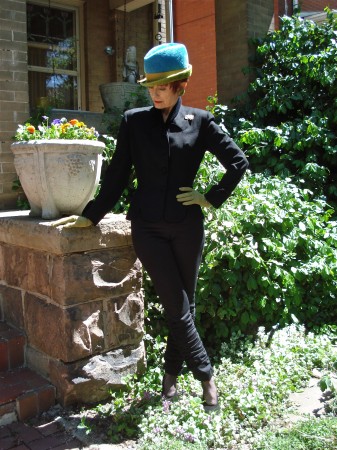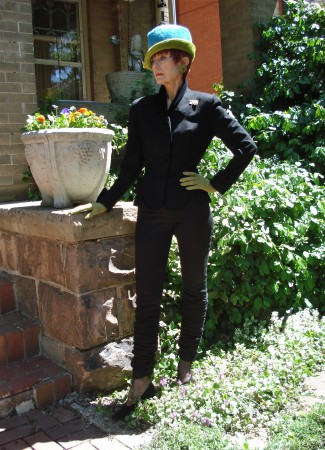 Photos by Diana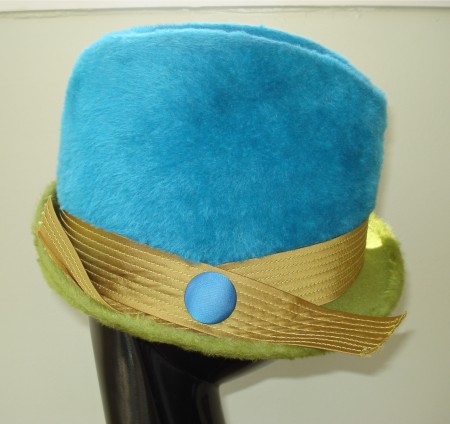 A close up of the Francois!
Vintage Francois multicolored fur felt fedora – consignment shop, vintage gloves, vintage YSL pumps, vintage jewels and vintage black wool jacket – estate sales, and the black ruched jeans that have been my uniform for the season.
The SC once again wears the outfit that she wore at the YSL exhibit (details were vague under the pink bow) and it may be the last felt hat before the spring/summer hats begin their appearance on a regular basis.  As long as the weather is chilly, felt is the favored option, even though the calender may disagree.
This past year has been a transition and at times a lesson in survival as I wandered through the wilderness of grief.  I have decided to move forward to the year of reinvention, yet at the same time aware that feelings related to loss do not magically disappear after one year. The first step requires that I direct my attention to my home which has suffered from neglect as I focused on whatever appeared before my eyes.  The scaffolding of my life needs reinforcement!  The fence surrounding my garden, which is deteriorating, will be replaced. The worn and damaged hardwood floors upstairs will be refinished and the rooms will be repainted.  I am in the process of going through every item in my inventory with the sorting categories of keep, maybe and GO.  I have already found many pieces that I had forgotten about, which sparks my creativity.  My attention is easily distracted from sorting to playing with long lost friends. And then I hear a gentle internal reminder assuring me that 'letting go' of items that no longer serve me will become easier with practice and that peace of mind is really the goal. I am learning to live without chaos, within myself and within my living spaces.
This morning, with amazing synchronicity, my yoga teacher quoted a Chinese proverb, "Be not afraid of growing slowly; be afraid of standing still."
Now I'm taking this hat over to Patti's Visible Monday HERE and Monday Mingle HERE!