The Flirtatious Phlebotomist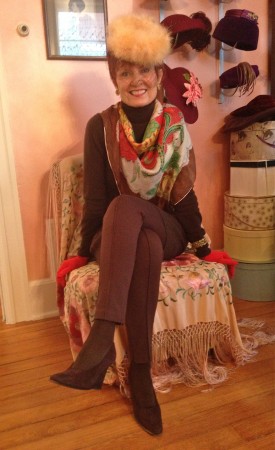 Last week after a routine visit to my physician, I was sent to the lab for a series of tests.  Health is my number one priority and thankfully all of my test results were within normal limits. However, in the process of having my blood drawn, the phlebotomist noticed on my paperwork that I had recently turned 70. He commented on my age in a respectful and bantering manner, and I responded with, 'Well, how old are you?'  He quipped, '52.'  'In reality, you're young enough to be my son,'  I replied, throwing caution to the wind.  And he said, 'In reality, you're young enough to be my girlfriend.'
Surprised with his comment and the flirtatious smile on his face, I was out of the room at the drop of a hat.  I'm familiar with health care settings and all the paraphernalia that goes with it, but I wasn't ready for a spontaneous and playful interaction of this nature.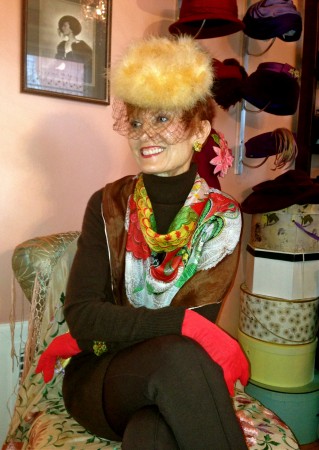 So I will immediately change the subject and talk about the hat that I wore to an Easter gathering last Sunday afternoon, which was purchased at the Manhattan Vintage Show last September.  The yellow marabou feathers with brown veil deserved a close-up, perched upon The SC's head, enjoying a small corner of the hat room newly painted in its metallic rose tones.
Attending the show with the Idiosyncratic Fashionistas HERE, this hat made Valerie smile, which seemed the perfect reason to acquire this chapeau, as though I needed a reason.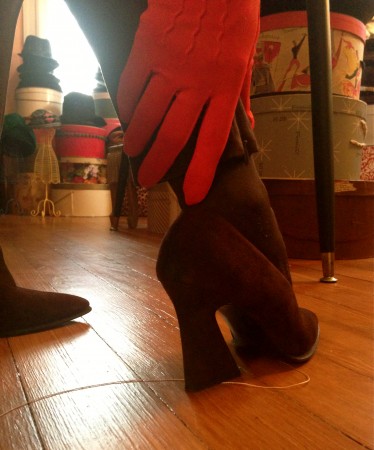 Photos by Rachel
Brown YSL suede pumps purchased at a consignment store years ago, with heel upon one lonely piece of fringe from the piano scarf covering the chair in the hat room, framed by hat boxes and vintage red fabric gloves.
A close-up of this estate sale vintage silk scarf reveals green pumps emerging from a multicolored circle skirt, embellished with patterned hose, yellow roses and ribbons.  This image was too delightful to hide draped around The SC's neck, and at some point, when framed, would make a perfect piece of art in the room that holds my shoe collection or worn as a skirt, out to lunch with friends.  Some accessories lend themselves to a multitude of possibilities and functions.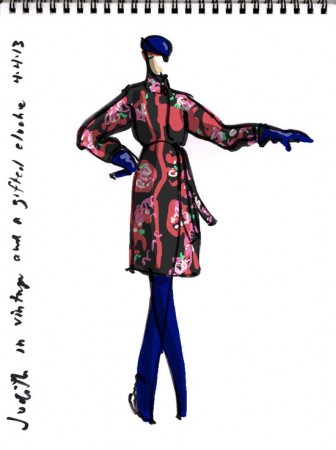 This sketch by the talented artist and blogger Anne Bray of Spy Girl HERE greeted The SC by email this week.  One of the wonderful things about blogging is the unexpected and glorious surprises that appear in my life unannounced, accessorizing my days with abundant gifts beyond my imagination.
POST PARTY PONDERS, CONTINUED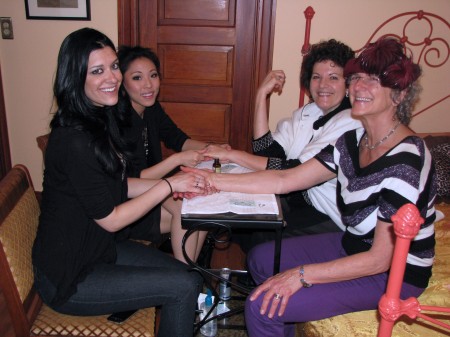 Photo by Shelley of the Forest City Fashionista HERE.
In a post composed of multiple subject changes, party memories include hand massages which were provided in the guest room to party participants by gorgeous manicurists (left to right) Oz and Angel of Tootsies Nail Salon HERE.  Massage recipients Diana and Carolyn demonstrate their appreciation with full-blown laughter, reinforcing the concept that nurtured guests are happy guests!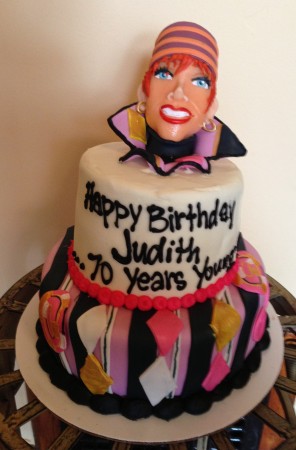 Art cake gifted by dear friend Robyn, owner of the fabulous consignment store Wardrobe Works HERE.
Off to join the crew at Patti's Visible Monday HERE at Not Dead Yet Style and 'shoe shine' with Bella Q at The Citizen Rosebud HERE.