The Lowenstein CulturePlex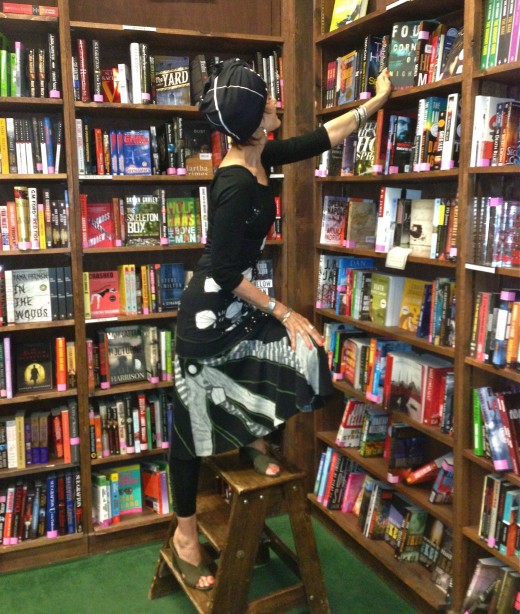 The Lowenstein CulturePlex, HERE, and HERE, is located within walking distance from my home, and is a beloved location in The SC's Denver Discoveries Series, captured in photos by Diana.  One of its main tenants is The Tattered Cover Bookstore HERE, which opened in 1971 in the Cherry Creek area.  It's one of the largest independent bookstores in the country, and now has three locations in the Denver area.  The Colfax Avenue store currently lives in what was formerly the Lowenstein Theatre, and is a treasured gem which I frequent when browsing for books and cards, catching a latte in their cafe or attending one of their famous book signings.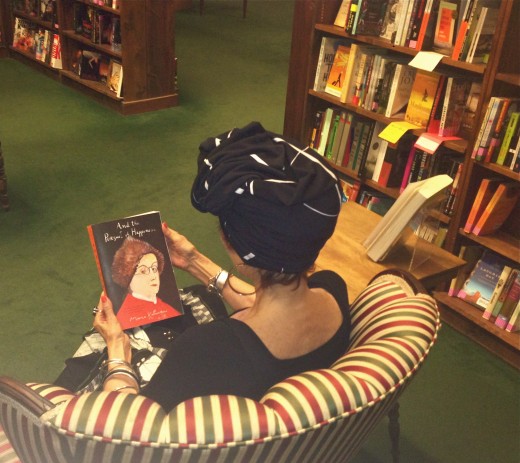 I am excited to debut one of the headwraps that has been created for HeadPeace, my line of headwear for people who have hair loss secondary to medical problems, or for those who just love headwraps.  I'm definitely in the research and development phase, and have been having fun playing with fabrics and experimenting with 'wrap styles,'  of which there are an infinite amount of possibilities that are never precisely the same twice, like snowflakes or people.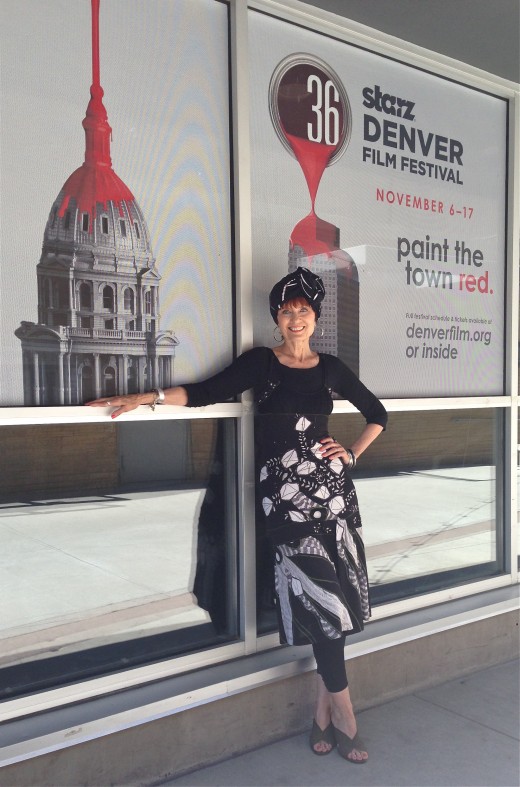 The SIE FilmCenter HERE is home to the Denver Film Society, is the most recent addition to the CulturePlex, and will be featuring a film festival HERE in November. Looks like I need to get ready to 'Paint The Town Red!'  Henderson's Lounge is located within the theatre, which offers an opportunity for a glass of wine or other libation, before or during a movie.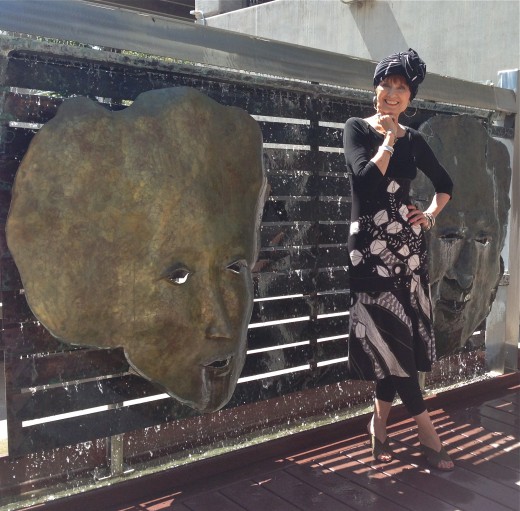 This sculpture with water feature is located between the movie theatre and Tattered Cover.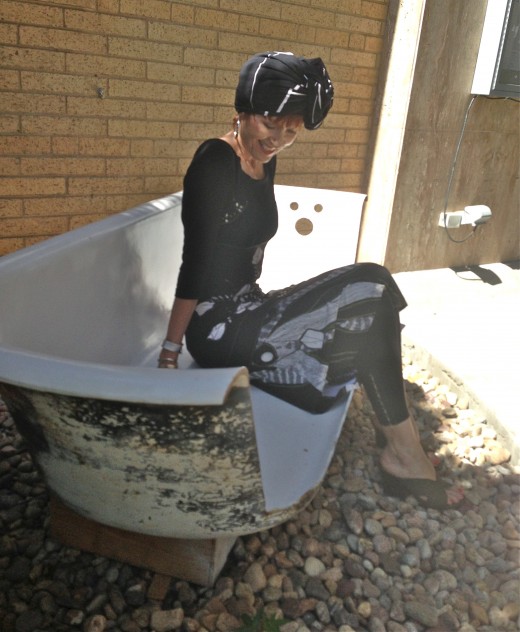 The SC in repurposed bathtub, which provides seating as part of the patio featured by Udi's Restaurant, our next stop on the CulturePlex tour.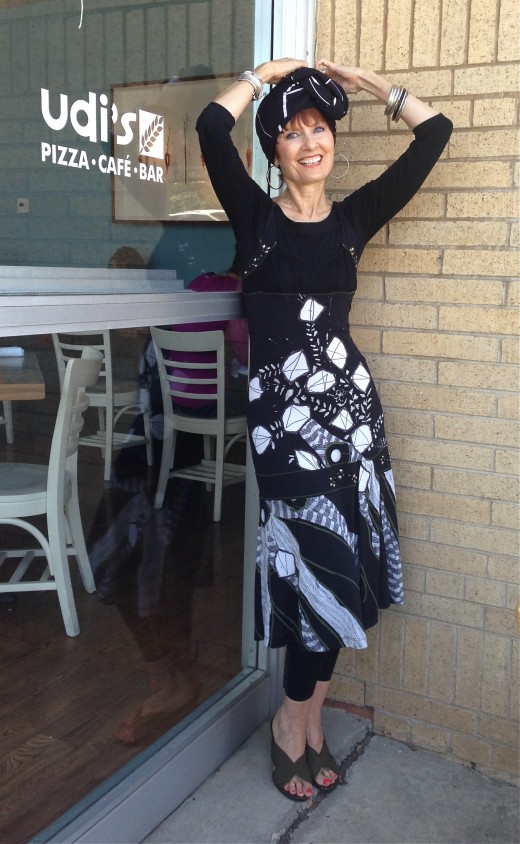 My headwrap fell apart at a crucial moment, requiring a few tucks and folds in the middle of a photo.  I did mention above that I'm in the research and development phase!  Udi's Pizza Cafe Bar HERE, located next to the Tattered Cover, provides the background for a quick fix!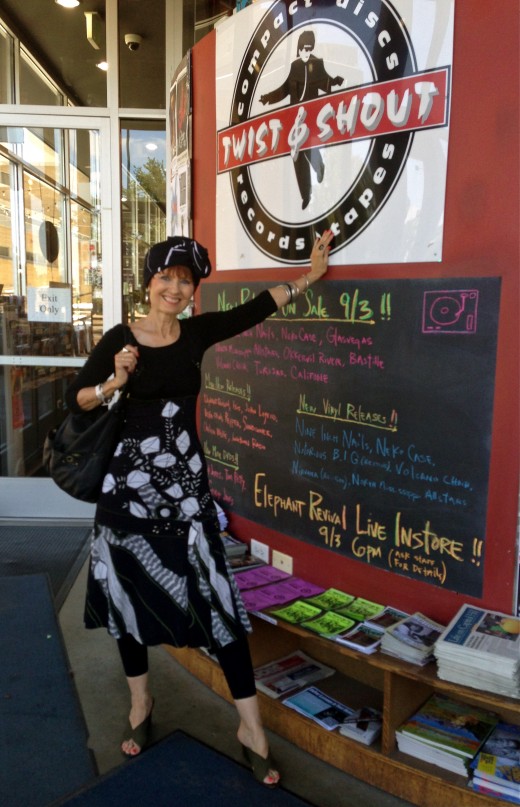 Twist & Shout HERE is another Denver institution located in the CulturePlex, selling CDs/DVDs/records/stuff.  Even in the digital age they have a loyal clientele that would follow them to the end of the earth.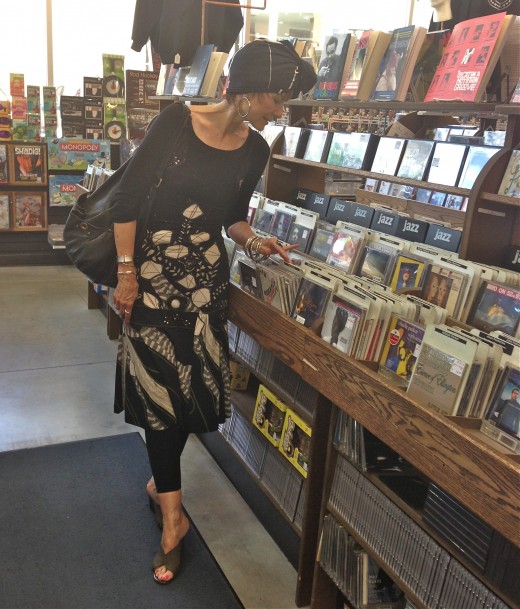 Photos By Diana
Browsing for music in my HeadPeace headwrap; black, white and with a touch of green patterned Didier Parakiam dress purchased at Fashion Avenue Consignment in Minneapolis; black leggings and top, both discovered at a summer yard sale; estate sale bangles and hoop earrings; and YSL moss-green heeled slides from Buffalo Exchange, which pick up the green details in the pattern of the dress.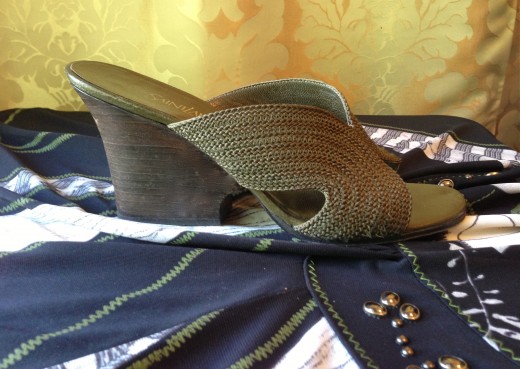 Did I mention that I love my funky, artsy neighborhood?  Books, food, music and art films!  With a little wine on the side!  Now that's something to 'twist and shout' about.
I'm heading over to Patti's Visible Monday HERE at Not Dead Yet Style, which is always a festive way to begin any week.
The YSL slides are stepping over to Bella's September Shoe Shine HERE at The Citizen Rosebud!