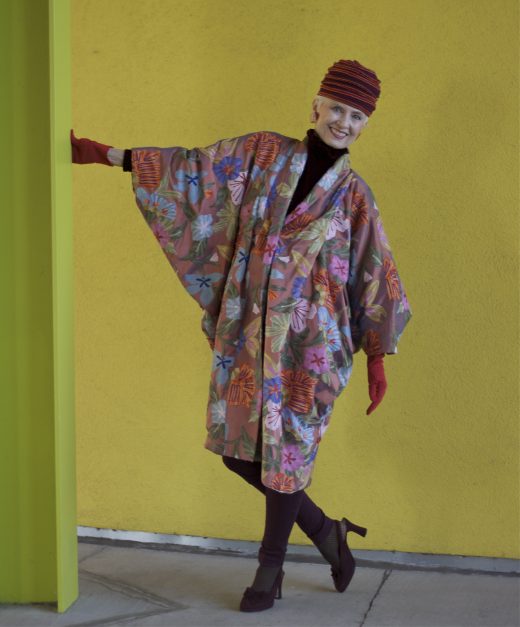 I met Colorado fashion designer Brooks of Brooks LTD HERE about a year ago in Denver at the "Cuffs" workshop presented by Debra Rapoport HERE visual performance artist and hatmaker from NYC.  Since that time, we have been working together on projects.  It's been an exhilarating and productive collaboration, which has included a spin as a model for her mother-of-the bride photo shoots.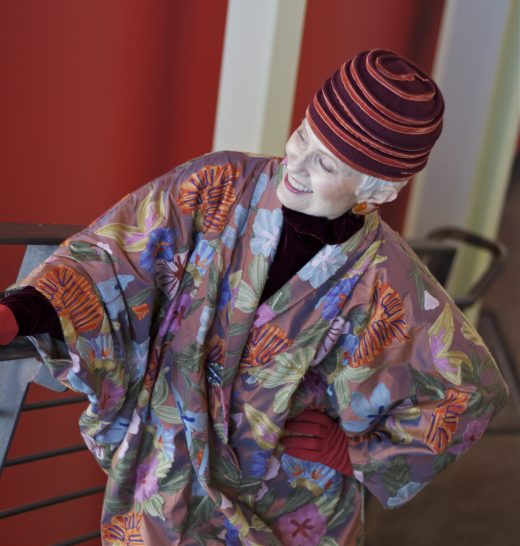 Recently I was visiting her at her studio and my gaze rested upon this gorgeous kimono/opera coat constructed of luxurious silk fabric.  Brooks states that "the pattern was designed specifically for large prints. The oversized re-embroidered floral pattern requires little seaming so as not to destroy the beauty of the floral motifs.  One size fits all and it is lined and has inner pockets."
In the spirit of not having to own everything that I adore, Brooks generously offered that I use the kimono for a photo shoot.  It satisfied my desire to inhabit its beauty and document the time that I spent with Daniel roaming around Taxi HERE in the River north area of Denver.  The Taxi development has spacious walls of many colors and materials to provide backgrounds for the plush fabric, floral pattern and sweeping wing-span of the opera coat.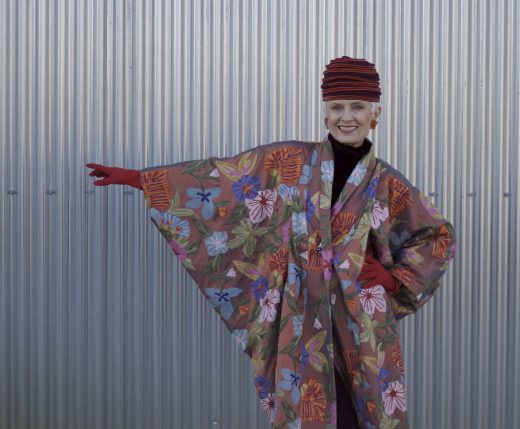 I accessorized the kimono with pieces from my collections, with touches of plum and orange, which reflected a few of the vibrant colors of this piece of wearable art.  The fabric hat was discovered at the Denver consignment store Wardrobe Works HERE and the suede plum sling-back heels were found at a consignment store in Florida.  The velvet plum top was a vintage shop discovery in the 80's and the orange gloves were purchased at an estate sale.  The plum skinny jeans were on sale in a retail spot in Santa Fe.  Style from across the second-hand continuum is a many splendored thing.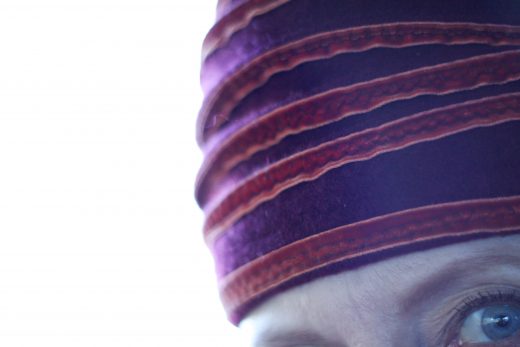 Photos By Daniel
Thank you Brooks, for the thrill of wearing this beautifully crafted and elegant piece for a few hours on a Thursday.  We had a spectacular time together!
Linking up with Catherine's #iwillwearwhatilike HERE at Not Dressed As Lamb.  Patti's Visible Monday is taking the week off.