The Food Trucks At Civic Center Park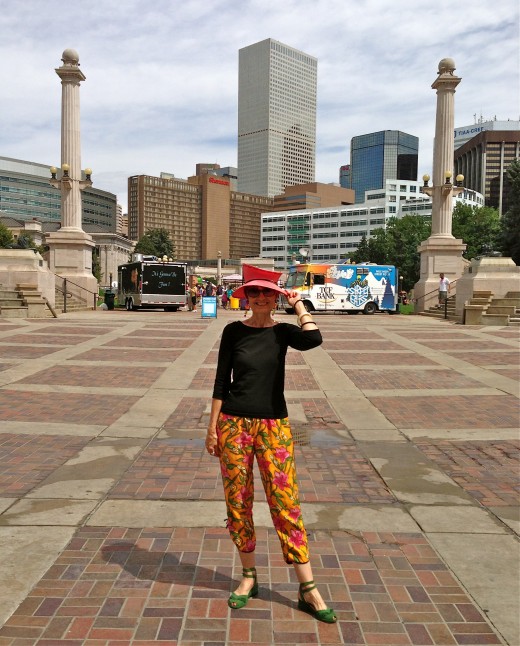 The SC and Diana took to the streets to explore the growing and vibrant food truck scene at Civic Center Park, which borders the State Capitol, the City and County Building and the Denver Art Museum.  Downtown Denver provides a majestic background for our romp through the park. Civic Center Eats HERE takes place at lunch most Tuesdays and Thursdays throughout the summer.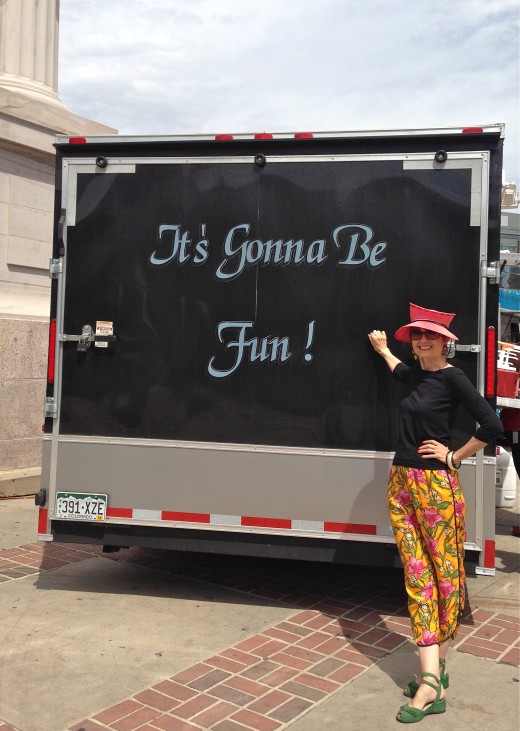 Before I launch into this week's Denver Discovery, I want to thank everyone who participated in my inaugural monthly Hat Attack series which began on August 1st and continues through midnight on Wednesday, August 7th.  You still have time to link up with the hat party if you desire.
Your gorgeous photos thrilled me and I adored each and every individual expression of fabulosity through glorious headwear.  Words cannot describe how touched and honored I felt by the outpouring of support and by your kind and beautiful words, which brought me to tears several times over the past few days.  I have had to catch my breath from the number of hat attacks that I enjoyed because of your creativity, talent, brilliance, wondrous beauty, generosity and spirit.  Thank you from the bottom of my Style Crone heart!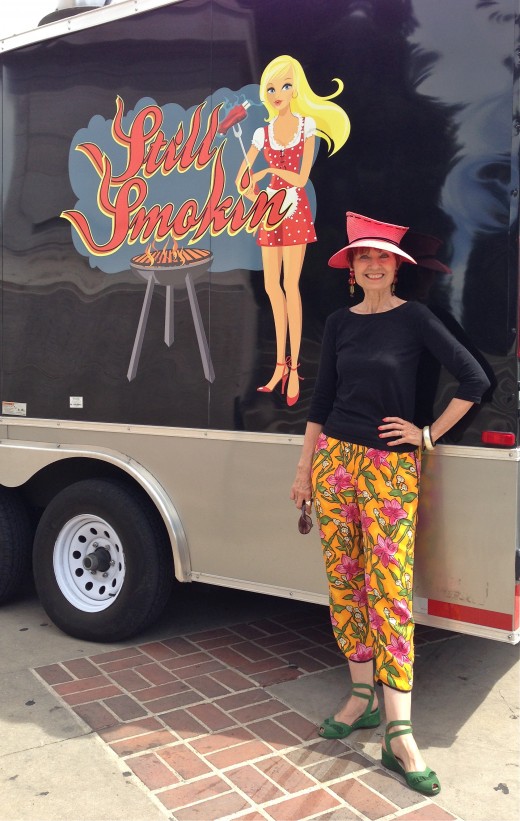 And now, my tongue is in my cheek!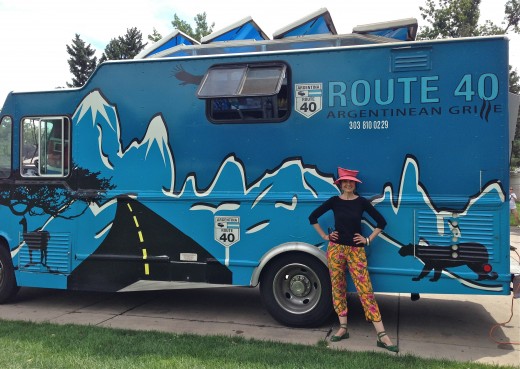 Each food truck is a piece of art, and I'm including only a small percentage of the creatively painted vehicles which provided  splashes of color and gourmet delights to the lunch crowd.  Live music was playing to further tantalize the senses. It would take an entire summer to sample the diversity of cuisine that's offered in this gorgeous setting. This photo illustrates the size of the trucks, which contain their own kitchens and serving windows.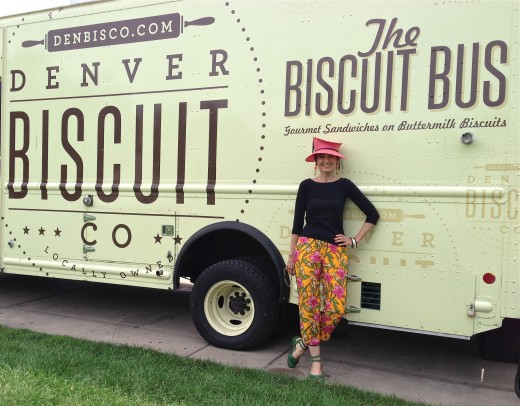 Gourmet sandwiches on biscuits anyone?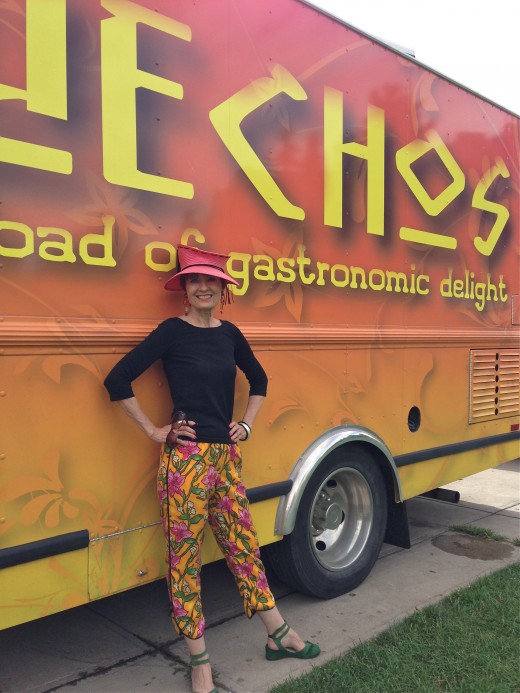 This truck of  'gastronomic delight' was the perfect backdrop for my Mark Jacobs silk floral pants (thank you Jan of Fort Smith Stylista for the inspiration HERE) with black trim, which I purchased for 75% off at the most wonderful consignment store in Minneapolis last week by the name of Fashion Avenue HERE.  And that it was! Shopping consignment and vintage in Minneapolis is grand, and as you know, I wasn't born yesterday.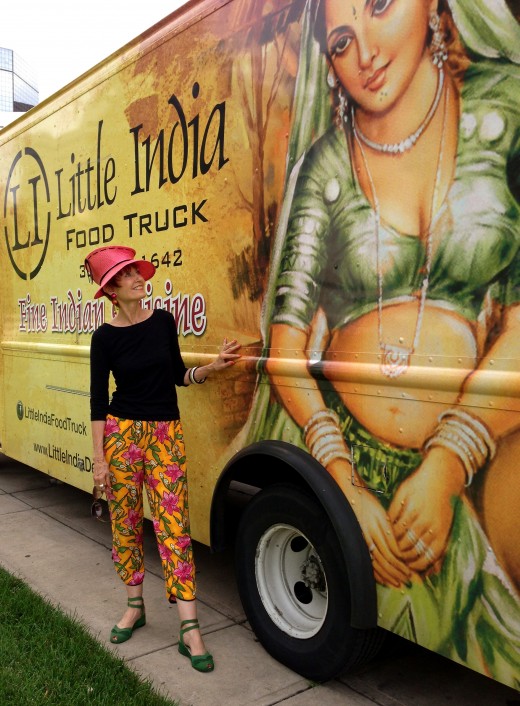 Indian food is one of my favorites and this truck represents a restaurant that is located relatively close to my home.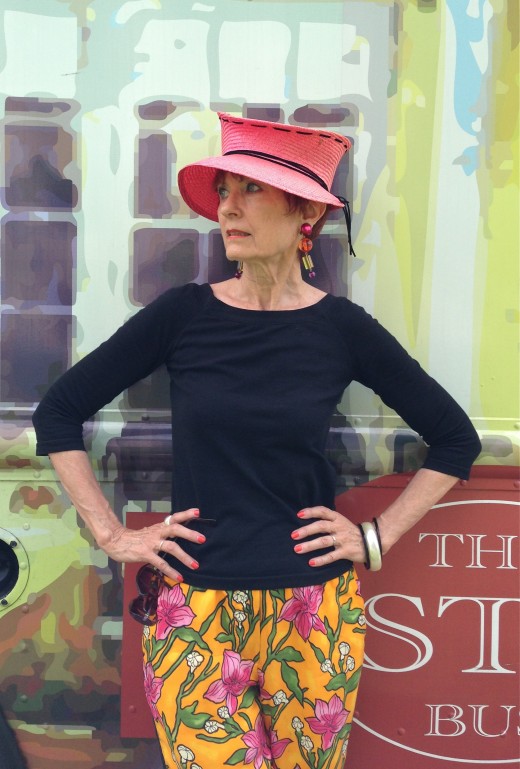 Side view of hat with estate sale dangle earrings flying in the wind and vintage store/estate sale  bangles all expressing the colors of my recycled silk floral pants.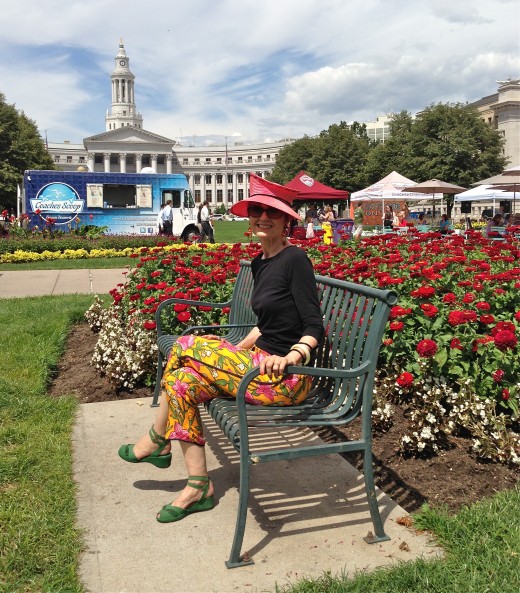 The City and County Building, in the background,  surrounds the west side of Civic Center Park.  I've paid off a few Denver boot HERE fines in this location, but that was mostly in the 70's.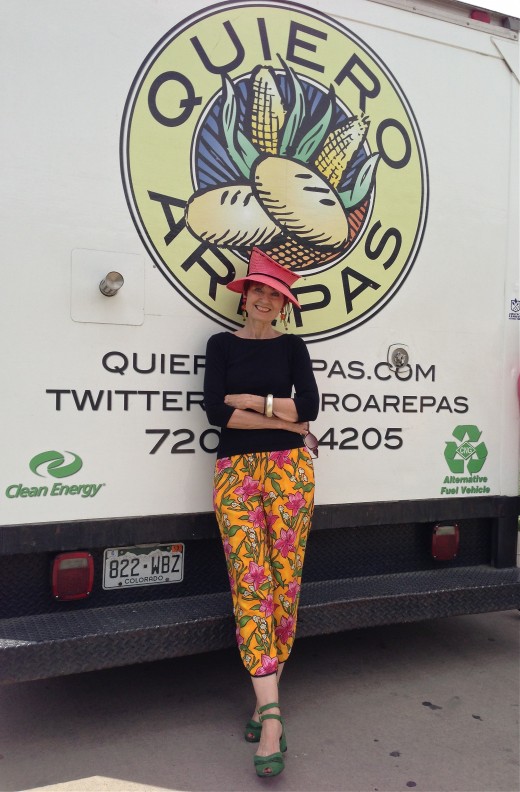 The multitalented Diana, who is Cuban born and fluent in Spanish and English, was my translator and I was fascinated by the message.
The sign behind you literally means "I want arepas."
Arepas are stuffed flatbreads popular in Columbia and Venezuela.
The word Quiero followed by an inanimate object used as above means simply to want.
When it is used in reference to a person it means to love.
I'm very grateful to have a Spanish interpreter as my photographer.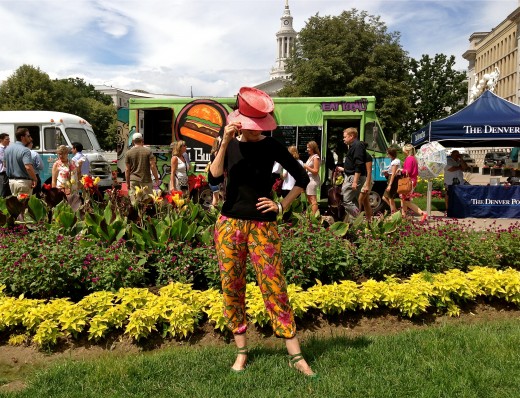 I tipped my rose-pink straw hat with black trim, created by Guy Carsone HERE of NYC, to the gardens that provided splendor as we walked through the park amidst the crowd that had gathered to partake of the 'fare for foodies' that the food trucks offered in a space with breathtaking scenery.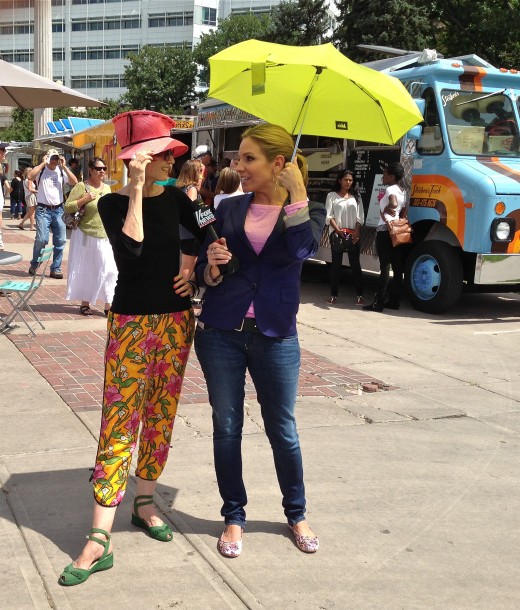 A local news reporter was covering the food truck scene, and informed me that there is a growing community of fashion trucks in Denver.  This news nearly gave me a style attack, and planted a seed that will most certainly grow into another Denver Discovery in the future.  How I would love a Style Crone Truck to offer my vintage and headwraps on the road!  Diana said it just hasn't happened  'yet.'
Nothing wrong with a dream or two!  Does that mean that I must live to be at least 92?
After all, Vix at Vintage Vixen HERE has already got Gilbert up and running.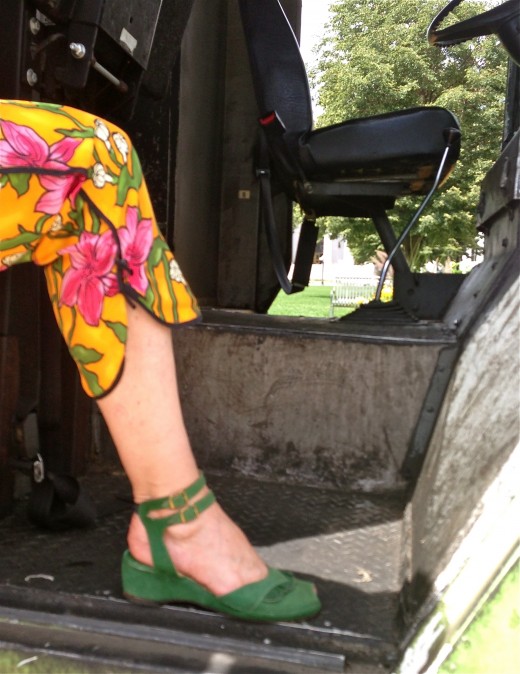 Photos by Diana.
These 1940's green suede wedge sandals with ruffle trim were made for walking the runway of the park and carrying a woman of their very age through the food truck maze in Denver on a sunny Colorado Thursday at noon.
Thank you Wendy Brandes, for the mention in your Huffington Post piece HERE on trends.  Check out Wendy's fabulous Fine Jewelry Blog HERE for a constant source of inspiration and entertainment, plus the pieces that she designs are to live for.
Now over to Patti's Visible Monday HERE at Not Dead Yet Style. Patti was one of my inspirations for Hat Attack and she always draws a crowd to her weekly gathering of the lovely and talented bloggers who grace my life with great pleasure.
The SC is linking up with the marvelously creative Anne's Tutti Frutti 52 Pick-me-up at Spy Girl HERE, with my silk fruit salad pants!