"Confluent Peoples" UnderThe Speer Avenue Viaduct
I love to discover fascinating places that have in the past escaped my radar.  In this case the Lovely Diana and The SC headed under the Speer Avenue viaduct to play amidst the murals by painter, sculptor and muralist Emanuel Martinez HERE.  "Confluent Peoples" is one of the many public artworks HERE created by this highly esteemed and nationally recognized Colorado artist.  This was the location we were searching for several weeks ago when we came upon Centennial Flower Gardens HERE,  just a few blocks away from the viaduct.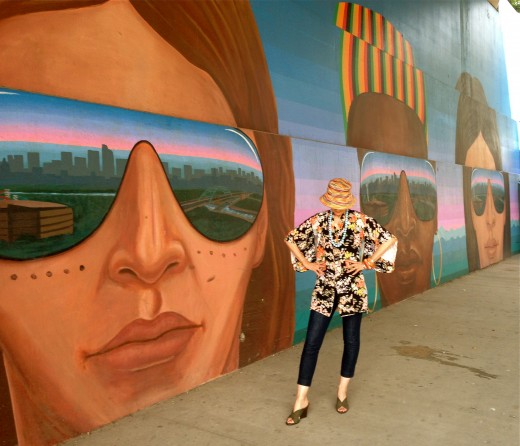 The SC's NYC street vendor multicolored fabric hat (which plays nicely with the headwear on the mural's center face above) and estate sale vintage multicolored kimono jacket reflect the colors of the mural.  I was about to downsize the kimono, but when I tried it on I reconsidered and have enjoyed wearing it this summer.  What was I thinking?  Letting go of vintage usually means that it will never appear again.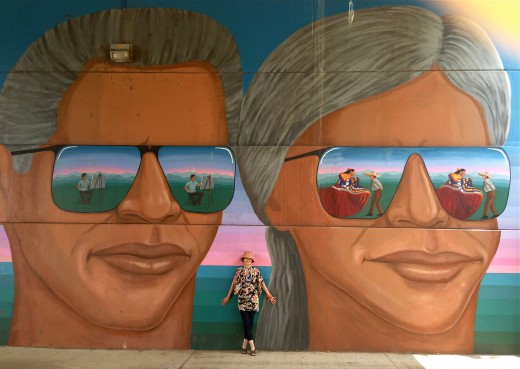 One of my favorite mural features are the scenes reflected in the sunglasses on the multiple images of "Confluent Peoples." On the above faces adorned with grey hair, the artist with easel and Mexican dancers had me up against the wall in admiration.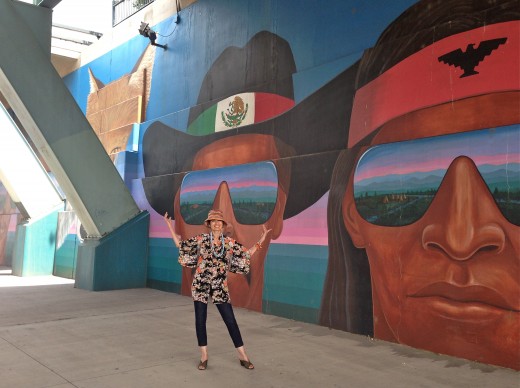 Reveling in diversity on concrete!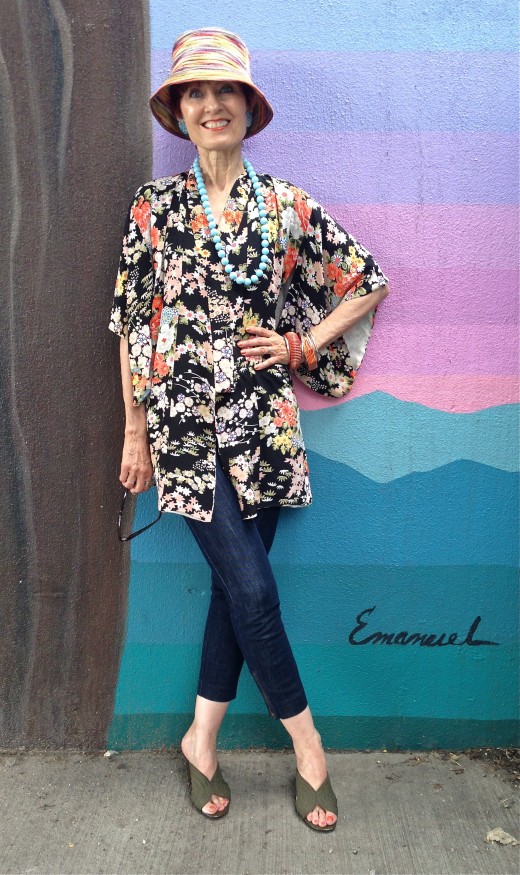 Standing next to the signature of the artist Emanuel Martinez in my YSL moss-green heeled slides and cropped skinny jeans which were both purchased years ago on separate occasions at Buffalo Exchange.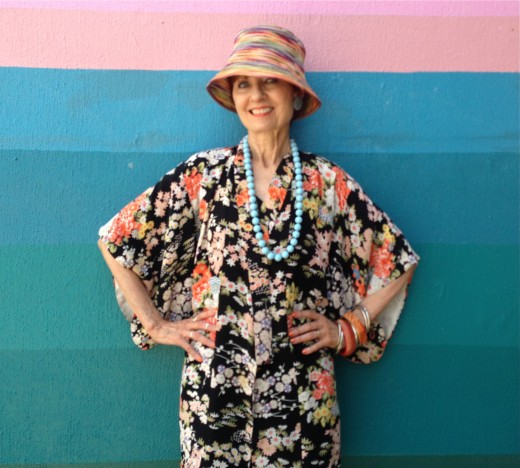 Photos By Diana
I found the blue beads at a thrift store and threw them on to pull out the small amount of blue in the kimono, accompanied by estate sale vintage blue clip-on earrings.  Bangles and bracelets are from estate sales and flea markets.  Over the past few months I have become enamored of beaded necklaces.  Scanning for these beauties has been a fresh focus, and adding this accessory to my ensembles is a source of newly discovered self entertainment.
Hat Attack begins on August 1st HERE and I've added its badge to my sidebar.  Deck yourself out in headwear and give The SC a monthly Hat Attack!
I'm taking my multicolored hat and newly appreciated kimono over to Patti's weekly party at Visible Monday HERE at Not Dead Yet Style!