Yves Saint Laurent: The Retrospective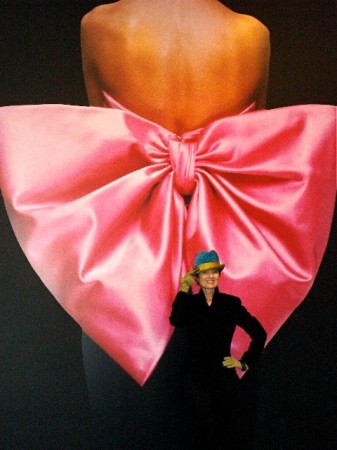 Photo by Jackie
The week prior to the anniversary The SC landed beneath the pink bow at The Denver Art Museum for the Yves Saint Laurent Exhibit HERE, along with dear friends Linda, Jeanne and Jackie (who came in from NYC).  Showing in Paris, Madrid and Denver, the show was a spellbinding display of beauty.  The designs, the colors, the hats, the history!  We were entranced for hours as we slowly walked through the many rooms of the exhibit, only to end up in a space which consisted of a presentation of tuxedos from floor to ceiling facing a long runway of gowns.  A grand finale at its best and I continue to have vivid memories of this visual celebration.
From the Denver Art Museum's website:  "A sweeping retrospective of the designer's 40 years of creativity, Yves Saint Laurent: The Retrospective features a stunning selection of 200 haute couture garments along with numerous photographs, drawings, and films that illustrate the development of Saint Laurent's style and the historical foundations of his work. Organized thematically, the presentation melds design and art to explore the full arc of Saint Laurent's career, from his first days at Dior in 1958 through the splendor of his evening dresses from 2002. The DAM will be the only United States venue for the exhibition."
I wore my YSL pumps seen in a previous post HERE and when I returned home I rushed through my closets to check for more YSL possibilities.  I found another pair of shoes, a tuxedo jacket, and two sweaters, all purchased at estate sales.  Makes me think I've forgotten much of what I have tucked away.  This calls for further exploration!