Vintage St. John And The Scarf Installation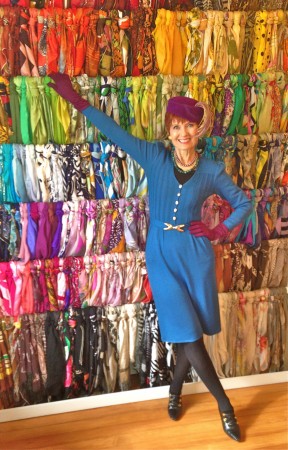 My scarf installation gives me much pleasure, and was completed just in time for the party.  I had a vision of how I wanted my scarves displayed and it took many months of talking with friends, artists and builders for this project to come to fruition.  After the structure was built and painted, Rachel and Brittni, the students from the Art Institute of Colorado who have been creating magic in my home, arranged the scarves with perfection.  My vision has become reality!
I have been collecting scarves since the 70's (almost 40 years), mostly from estate sales, flea markets, thrift shops, consignment stores and the occasional gift; the price for each piece ranged from a quarter to five dollars.  This display makes it easy to choose a scarf for an outfit and provides a piece of art to enjoy every day.  It covers a wall in the guest room and provides a soft and colorful surface with texture and detail to explore endlessly with the senses of sight and touch.  Sometimes I can almost hear them speak!
One of my yoga teachers stated this week, "Rigidity and strength are not the same thing.  Soften into the pose."  Also true off the mat for blogging and life in general, as I learn to become more flexible, I found this quote helpful as I once again began to move forward into the light, and in this case, leaning into my beloved scarves with their new life and beauty on display.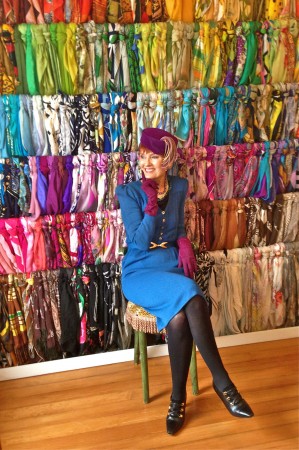 Just as I was deciding to soften into the practice of austerity, I found this vintage blue 70's St. John knit dress at an estate sale.  It fit perfectly and the price was next to nothing, so I put my cash on the table and quickly walked out the door before another tempting item drew me astray from my resolution. With this in mind, what was I doing at an estate sale anyway?
Accessorizing the dress are the St. John booties I found many years ago at a yard sale, along with the vintage purple hat with feathers that I purchased from a friend who was downsizing her vintage collection, and estate sale vintage purple gloves and vintage jewels.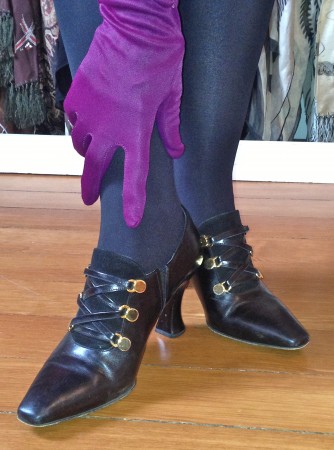 Photos by Camille.
Close-up of booties with gloved hand.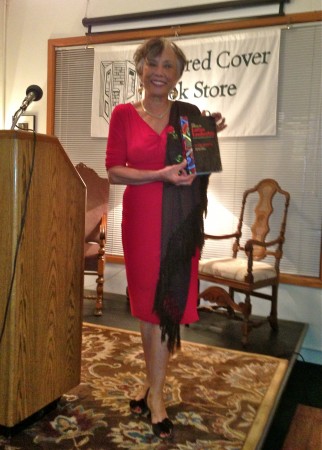 The SC wore the vintage St. John outfit to the book signing by the dynamic and stunning Juana Bordas HERE, reading from her new book The Power of Latino Leadership, held at the Tattered Cover Bookstore HERE, one of the largest independent bookstores in the nation.  I've known Juana since the 70's and it's been exciting to follow her incredible accomplishments across the decades.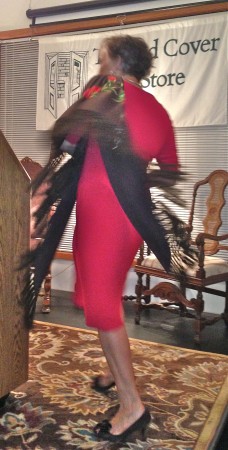 Juana, known for her spontaneity and passion, twirled her floral embroidered fringed scarf for the camera.
For some time now I've been wanting to launch a street style page, and photograph people wherever I go that inspire me with their outfits and their sense of style.  I met Veronica at the book signing, and I was fascinated by her beautiful wedge heels and her dynamic spirit.  Thus began Street Style Denver And Beyond HERE on Style Crone's sidebar.  It gives me the opportunity to document and share the creativity around me and recognize those who bring visual delight to my life.
Thank you all for your supportive, kind and empathetic comments of last week, and thank you BuzzFeed Fashion HERE for the inclusion.  And my shoes are linking up with the marvelous Bella's 'Shoe Shine' at The Citizen Rosebud HERE.
Patti is a woman who continually shares creativity and visual pleasure, and I'm linking up to her Visible Monday HERE at Not Dead Yet Style.  Thank you Patti, for creating this weekly gathering which brings connection and community to countless like- minded bloggers.