The Style Crone On Advanced Style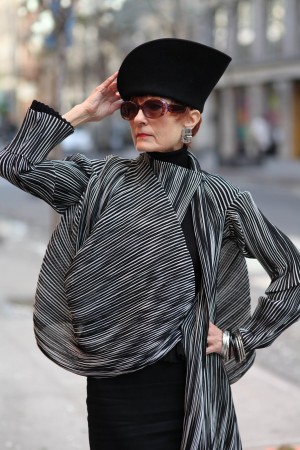 Photo by Ari Seth Cohen
Black structured felt hat – Maeve Carr from The SC's hat shop, 1985;  Issey Miyake jacket – consignment store; vintage black wool pencil skirt – purchased from a friend's inventory; black wool turtleneck with peplum – consignment store; tall black leather boots – retail winter sale (perfect for hours of city walking).
The SC met for lunch with Ari Seth Cohen, creator of the revolutionary blog Advanced Style HERE, along with videographer Lina Plioplyte and Advanced Style contributor Debra Rapoport HERE . Debra's mottos of  'Frame the Face' and 'Look Good, Feel good. Feel Good, Look Good' ring true for women of any age.  What fun, kind, inspiring and generous company!  Time flew by as we laughed and talked about aging, style, hats and healing.
I discovered Advanced Style months before I launched Style Crone; it had huge importance, power and influence.  I was mesmerized by the photos of women who approached aging with fearless enthusiasm and creative self expression. Without Ari's vibrant photos of gorgeous older women, I don't think I would have had the courage to click on 'publish' for the first time.  I am also grateful for his support and his focus on increasing our visibility as we age.
Heading out to the streets for photos and more fun, the wind was blowing with such fury that I had to firmly grasp my highly structured chapeau, which functioned as a 'wind catcher,' propelling The SC as if she were a sailboat.  Chasing after a hat in a pencil skirt in traffic was to be prevented at all costs!
I was honored, thrilled and surprised to learn that a photo of The SC has been included in Ari's Advanced Style book, which will be out in May.  A copy of this long awaited treasure, which celebrates and respects aging with style, can be ordered on Advanced Style by clicking on a photo of the book HERE. I can't wait for my copy to arrive!