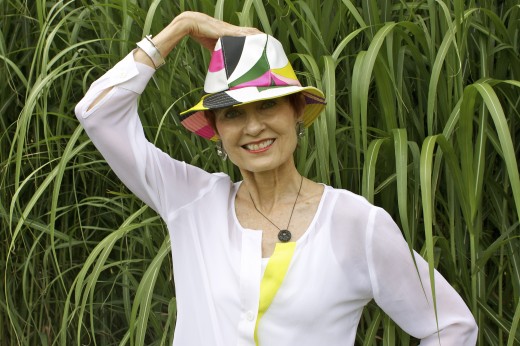 The SC and Daniel traveled to City Park just a block from home to wander its summer vistas, explore the gardens and laugh along the way while taking photos during an overcast July afternoon.  I've explored City Park on Style Crone several times over the past years, and today I visit its vast beauty in celebration of my four-year Blogiversary.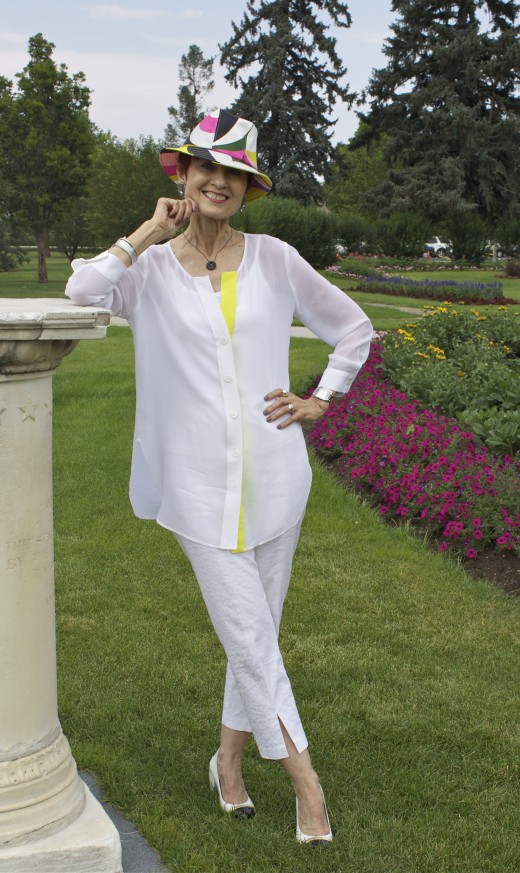 I can't remember a time when I've composed an outfit in white.  Wearing black is an easy background for me to embellish with whatever catches my eye in my closets.  It's familiar and comfortable.  However, this summer I've noticed a number of bloggers adorning themselves in white, so I decided to give it a try.  Shopping my own closet provided me with pieces that I had not thought of putting together, be it not for the community of bloggers that are a constant inspiration.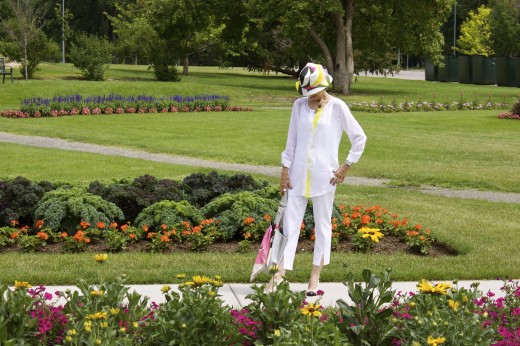 Perhaps it was the color white that I wore from head to toe in nursing school in the 60's that created resistance to the concept of wearing it in my life in the here and now.  The utilitarian shoes.  The white hose and uniform with my name in blue letters stitched above my school's insignia in blue and yellow on the pocket of the bodice. The large white fabric hat representative of my school of nursing, heavily starched into shape and extending upward, pinned firmly into my hair sprayed hair, no matter the caregiving task or medical procedure that was part of nearly every day over 50 years ago.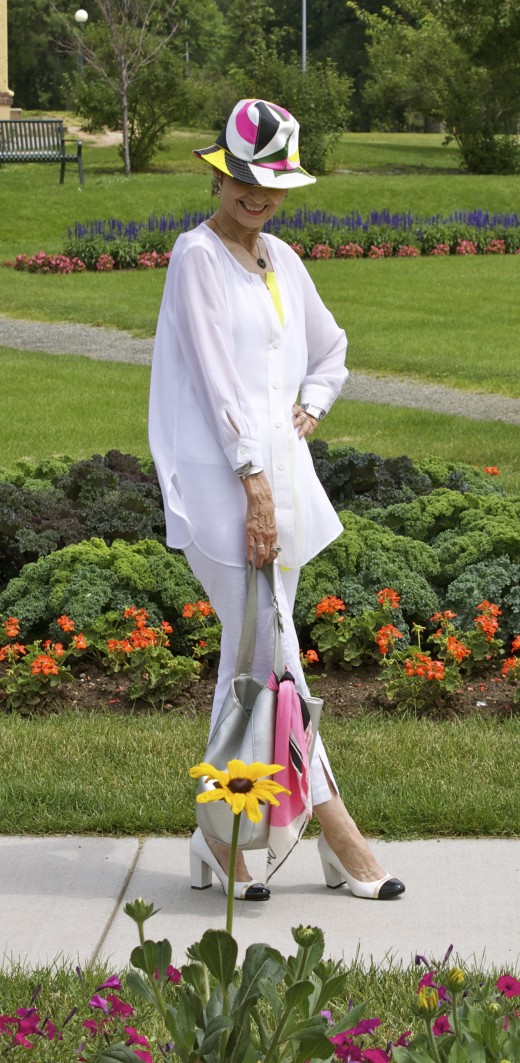 However, my consignment store Pucci hat bears no resemblance to the headwear that I wore as a nursing student in the 60's.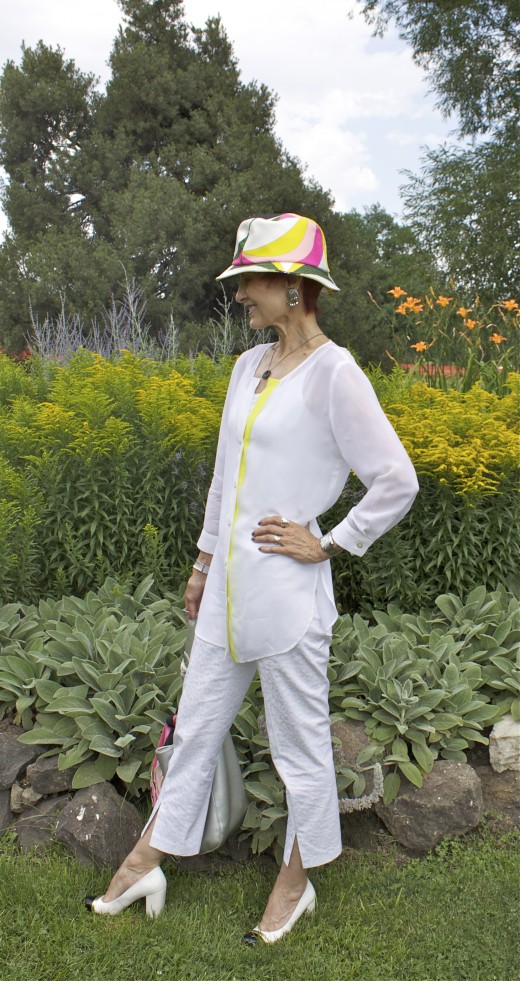 The silhouette that it creates from every angle is very different from the nursing "headpiece" that wandered the halls of a large teaching hospital in Minneapolis, Minnesota in the early 60's.  But the colors and the pattern are reminiscent of that era of time.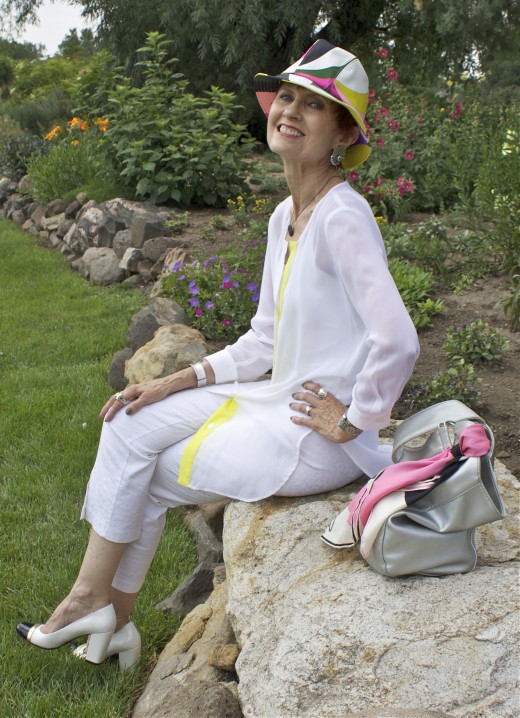 I have my memories of wearing white a half century ago and the experiences are a part of who I am today.  I treasure and honor most of what I recollect.  Whether painful or filled with great pleasure.
My ensemble today is a contrasting expression, as I focus on caring for myself instead of caring for the many that crossed my path over the years of my career.  It's a transition that is unfamiliar and at times confusing, but overwhelmingly I feel curious and excited about life's unfolding journey.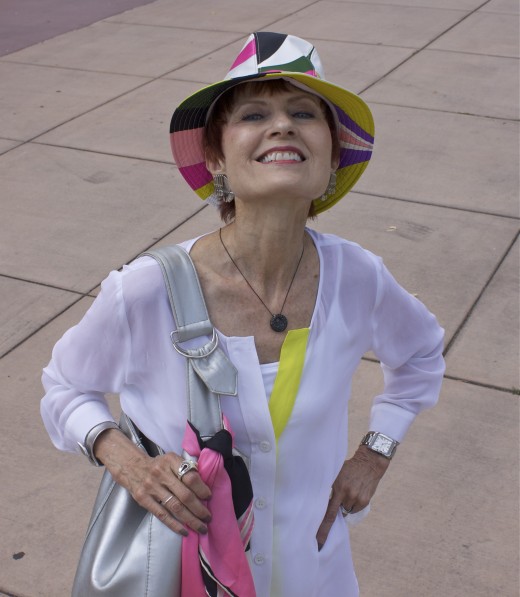 I'm finding my 71st year to be filled with much to savor.  A time of growth, expansion, learning, listening and an opening to the new.  Which includes a "White Out" in the park.  And the beginning of another year of expressing myself with outfits and words, written or spoken, on Style Crone and in my life in 3-D.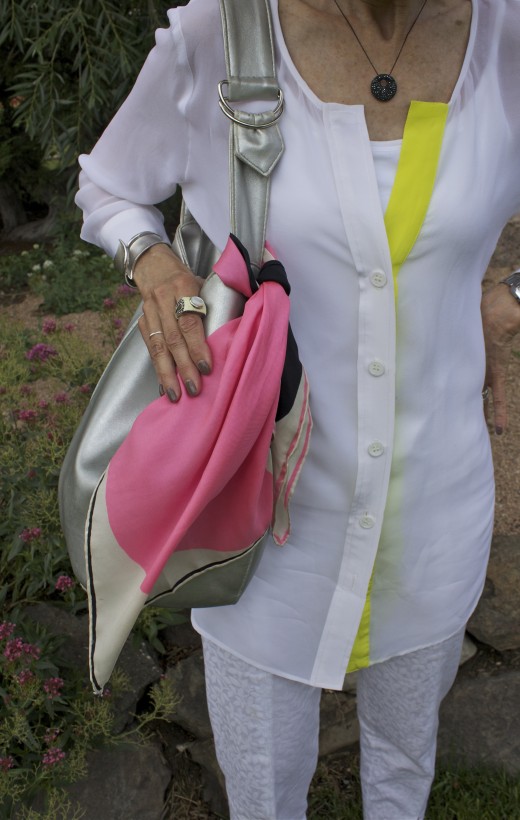 Photos By Daniel
Pucci hat – Minneapolis consignment store years ago, white silk blouse with yellow trim – Zoe's Consignment Denver HERE, white cropped pants – Florida retail sale two years ago, metallic bag, vintage Vera scarf, white/black patent leather heels, vintage silver earrings and bracelet – estate sales, ring with moonstone – d Forsythe Jewelry HERE, crystal pendant and watch – gifted.
How magical that Sacramento's Share-in-Style HERE theme this week is white!  I'm taking my ensemble directly over to Mis Papelicos to join in the fun.
Edit – Linking up to Sheila's Shoe Shine HERE at Ephemera.  Thanks Sheila, for this glorious shoe party!