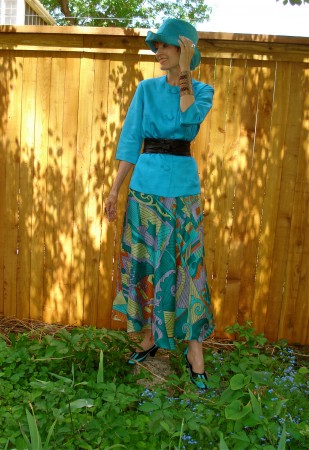 The SC stands in front of the new fence in the garden.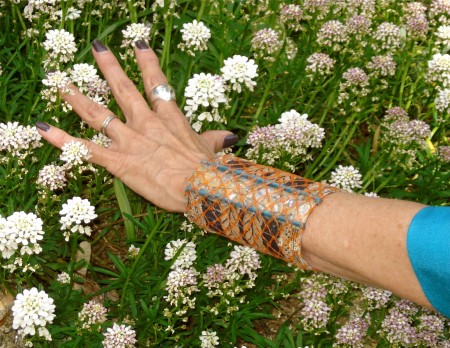 Flaunting crone hands with cuff in floral ground cover.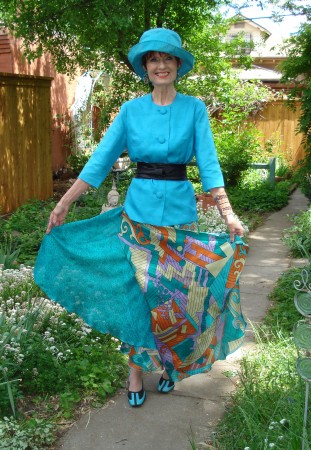 Photos by Diana
Cuff by Debra Rapoport HERE, multi-colored patterned silk wraparound skirt with turquoise lining – NYC street vendor, silk hat – flea market, vintage silk turquoise jacket – estate sale, black/turquoise shoes – Buffalo Exchange, and black obi from deep within my closet.
The first phase of the partial renovation of my home and garden involved the replacement of my backyard fence.  As I  watched the destruction and the disappearance of the old fence as it left the garden, I felt exposed to the openness of the evening and sleepless through the darkness of the night. This structure had been my protection since 1989 when Nelson, Camille and The SC moved into the home that remains my sanctuary.  It had witnessed many years of backyard parties, dinners on the patio, gardening extravaganzas and Camille growing up within its boundaries. The fence was slanting in places with large gaps that interrupted privacy. It was broken and battered, yet comforting in its own way.
The following day I witnessed the building of a new enclosure which beautifully wraps around the garden. The loss of the familiar is a mirror of my own process of reinvention.  I view it as an exercise in healing, but it touches the hole in my heart.  That tender place that still feels raw and broken, like the old fence.  Will building something new as my protection also construct confidence?  Did I make the right choice?  All of the decisions regarding my living space that I'm now making by myself without my partner's reassurance feel uncertain, unsettling, hesitant.
In celebration of the new fence that now surrounds my garden, I chose to wear the cuff created by Debra, which was the focal point for the pieces that I selected for my outfit. In this case, every color in the cuff can all be found in the patterned silk skirt.
As I explored the meaning of the color turquoise HERE, open communication and clarity of thought seemed relevant as I admired my new fence, surprised by a new feeling of empowerment.  The first in a series of changes has been completed.