Bathing In The Pool Of Acceptance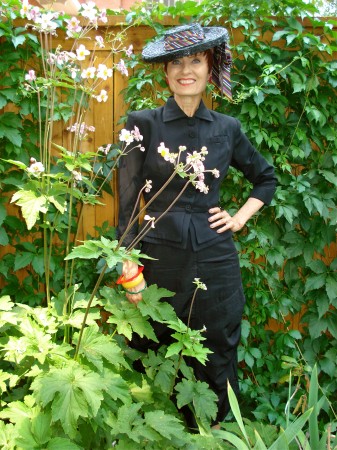 Now that I'm one year and 4 months removed from the day of Nelson's death, I'm aware that my perspective on life is and has been changing as time passes.  I'm clear that I no longer have the daily experience of bathing in the pool of acceptance that I appreciated during my years with him. I'm going to have to find my own body of water to float in.  As I move in this direction I notice that the waves can be turbulent or the water peaceful and as still as stone. The shore is in the distance, covered with abundance.  I can see it from here!  Should have spent more time on Nelson's rowing machine, gaining a little practice.
I remember the last time I wore this estate sale vintage black lacquered straw hat with multicolored, striped fabric trim draped from one side of its brim. The similarly patterned bag was discovered at a separate estate sale several years after the hat was purchased.  I could not believe my good fortune!
In my mind's eye, Nelson and The SC were strolling on hot pavement at an art fair, viewing a diverse display of beauty on a sunny summer Sunday afternoon.  Sometimes I think my hats contain the memories of my life, and downsizing is more than making decisions about something I no longer wear.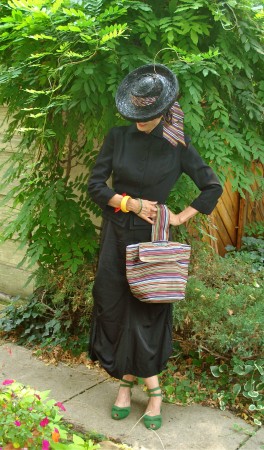 Accompanying hat and bag: vintage black jacket with peplum, vintage green suede strappy peep toe sandals with ruffle trim (previously worn on SC HERE and in close-up HERE), bangles and earrings – estate sales, black nylon parachute-esque maxi skirt – NYC boutique years ago.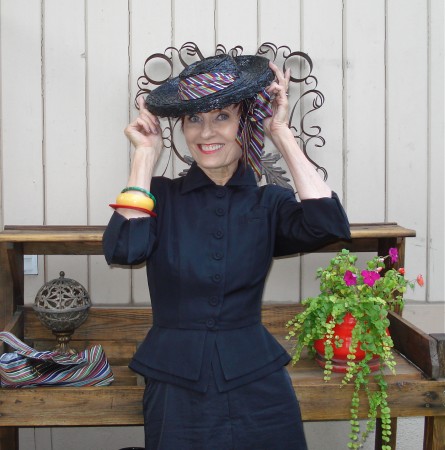 Photos by Diana
The SC has made a discovery that has been fully exposed without the daily pool of acceptance that provided a loving, consistent and rational counter to a negative thought pattern which would intermittently emerge.  It's a pathway in my brain, which over the years has become a superhighway paved with fear; with stress my thoughts travel down this familiar groove which is as automatic as breathing or the beating of my heart.  An inner terrorist or a midnight stalker, inducing immobilization is its specialty.  It no longer matters if this negative pattern occurs on an irregular basis.  I feel an urgency for change.
Fortunately there has been an explosion of brain research and I'm on a quest to solve the complex issue of developing new, more gentle pathways like the dearly loved veins on my crone hands.  Not that I haven't tried to solve this puzzle before, but it has become more compelling in this phase of my life as I see unwanted interruptions to my creative flow.  There are many headwraps to create and hats to discover with no time to waste.
If only this pattern were as easy to shift as adjusting the hat on The SC's head. However, I'm convinced that it can be done and it may be a gift slipping through the back door of grief.  To once and for all transform the energy thief into a self created pool of inner acceptance, more powerful and independent than any external force has the ability to provide.
In the spirit of Bella's (the citizen rosebud HERE) call out to spread blogger love, I would like to express appreciation for beautiful blogger Lynne of Practical Paralegalism HERE as she shares the experience of caregiving in the midst of dealing with her beloved daughter's chronic illness and recent hospitalization. Returning home after an overwhelmingly difficult and emotional day with her hospitalized child,  she threw on this stunning vintage green sequin tank.  This is the image of facing adversity with inspiring grace.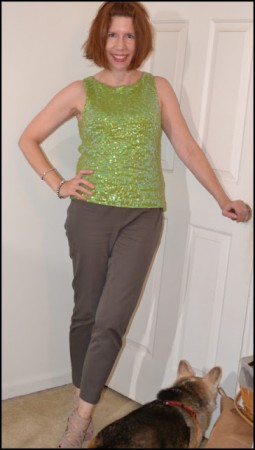 I'm taking this hat with fabric trim over to Patti's Visible Monday HERE.  Patti inspires so many of us on a weekly basis to share our self expression and discover new bloggers in the process.