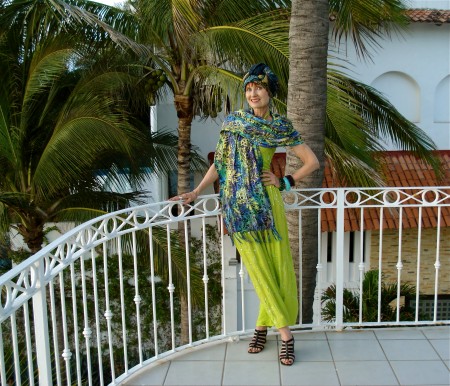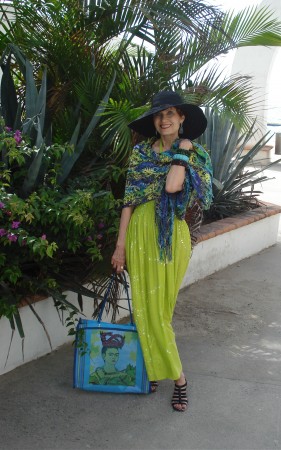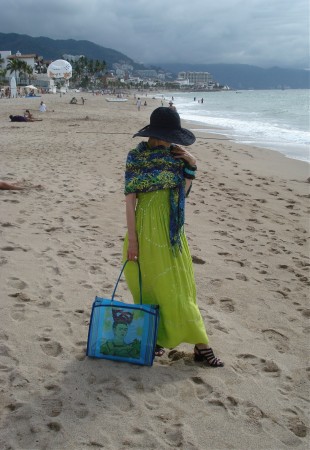 Photos by Daniel N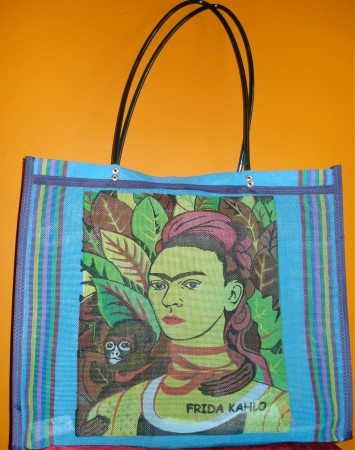 Returning to the splendor of Mexico!
The SC traveled from Mexico City to Puerto Vallarta – from city to beach for a radical change of pace with my 'Soul Brothers' since the 70's.  I was surrounded by beauty of a different nature with the ocean, palm trees and the ever present and colorful street markets.  Leisurely walks replaced the goal oriented days that were spent moving about in an urban area.  I loved the contrast and welcomed the sound of the ocean as I drifted off to sleep after a day that flowed without a plan.
I challenged myself to put an ensemble together from thrift shop priced street market finds.  I was able to accomplish this task except for the heeled strappy sandals and the black wide brimmed packable hat. A fan of head wraps, the colorful scarves were a constant attraction.  The 'Frida' tote became my focus and continual companion, finding it easy to discover choices at the markets that blended well with its blues, yellows, and greens.  The lime green maxi halter dress made itself irresistible on the way to breakfast one morning.  As I view the photos of my 'days on the beach' I realize the photos are as hazy as the sky over the ocean and mountains and the pleasant pace of my experience.
My yoga teacher's quote of the day, 'Breathe into the great expanse that is your full potential,' reminds The SC of how Patti at Not Dead Yet Style HERE generously expands the blogging community with her Visible Monday series!