Photo by Daniel N
Inspired by the sunset over the ocean, The SC draped herself in color.  I discovered this textured orange scarf at a street market and paired it with a fuchsia head wrap as a tribute to my varied and life changing Mexican adventure.  I will never forget the soothing sound of the ocean's waves and the beautiful, vibrant display that magically appeared over the water every night before dark.  No wonder why the markets were filled with brilliant color!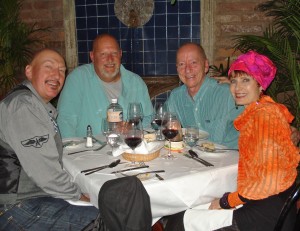 Thank you to my 'Soul Brothers' from the '70's, Douglas, Dan and Tom, for generously making the arrangements for the trip!  The SC's responsibilities were to show up, pay my share, have fun, laugh and dress up.  An offer from dear friends of 40 years that I chose not to refuse!
This weekend I will be in New York City with Camille for the purpose of scattering some of N's  ashes in the areas of his favorite haunts.  With friends.  With ritual.  To honor his love of the city and the memories of the times we spent together exploring its diverse treasures.  I will be taking a short break as my journey through this year of loss nears an end.