The Collaboration With Two Sole Sisters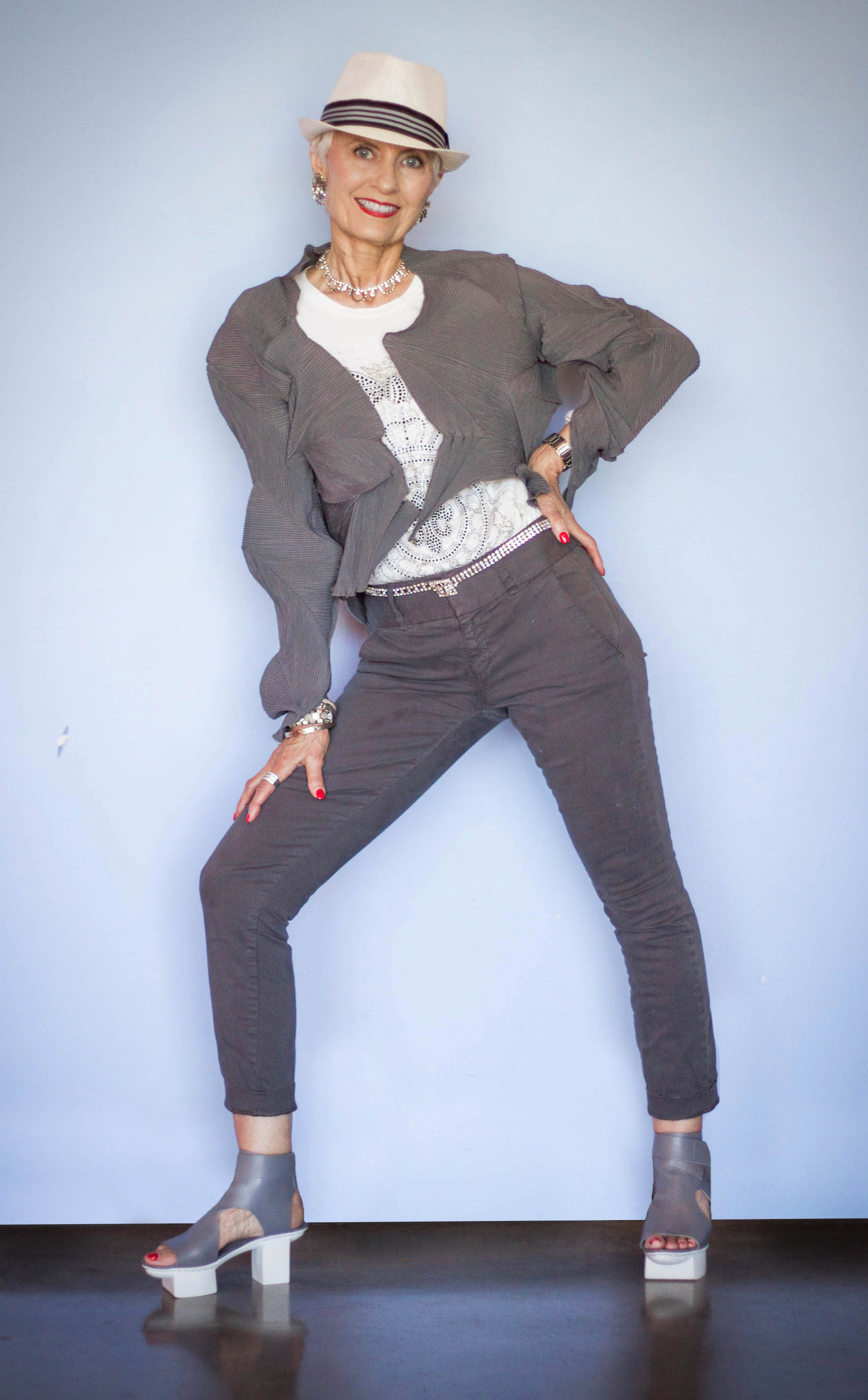 Have you ever walked into a store and had the feeling that you were in a special space? That you were surrounded by beauty and a sense of wonder?  A store that felt like a gallery, yet warm, welcoming, and inviting? This is what happened when I entered Two Sole Sisters HERE , a shoe boutique with locations in Denver's Washington Park area and in Boulder. Owned by sisters Lindsey and Laurel Tate, the store is a reflection of their creativity and dedication.  I believe that I've found two women who are as passionate about shoes as I am of hats! With this post I am honored to be sharing their love and enthusiasm for footwear with you, my wonderful followers.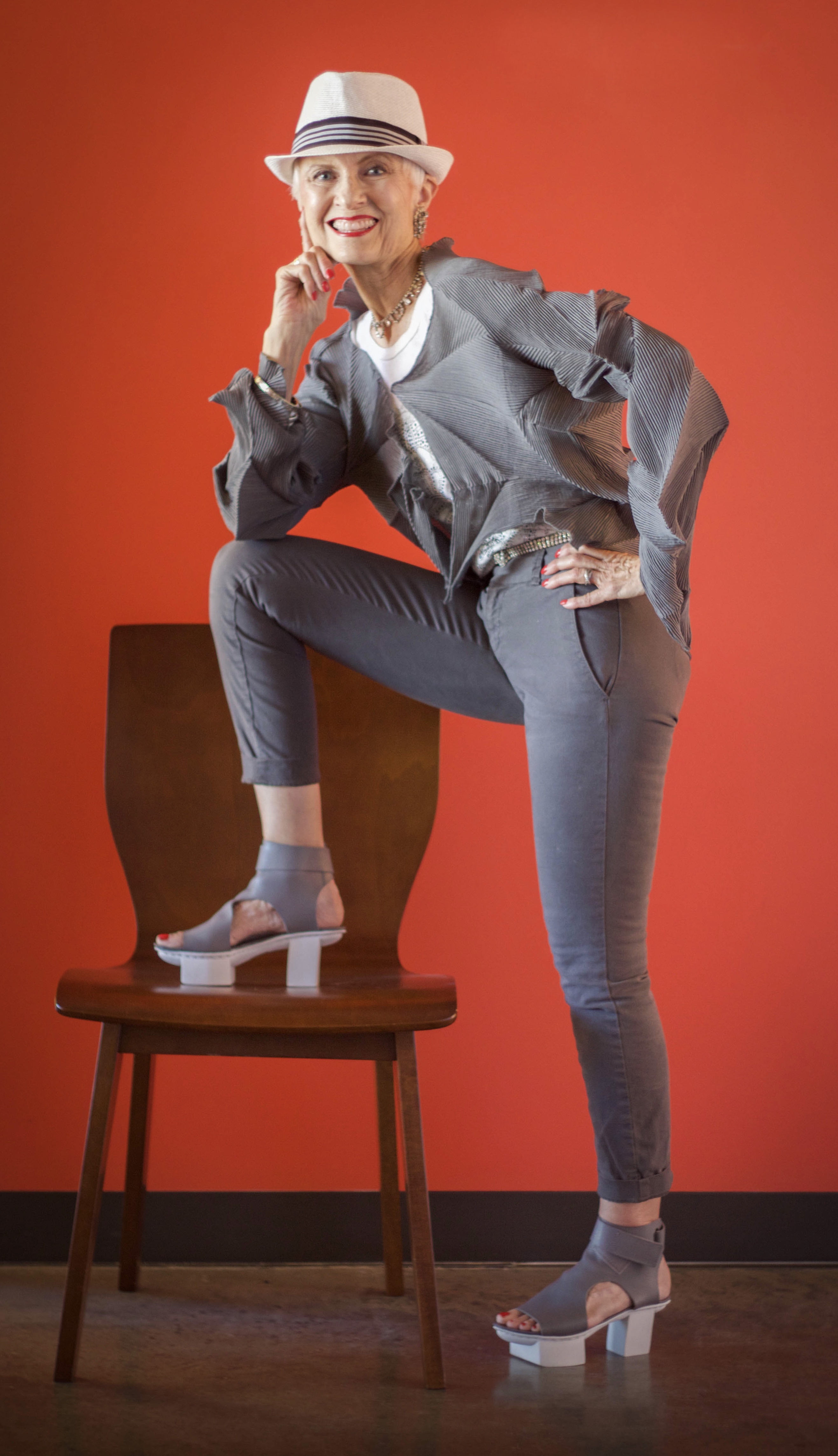 I've been fascinated by Trippen shoes ever since I first saw them worn by my New York City blogger friends Jean and Valerie of The Idiosyncratic Fashionistas HERE This is just another example of how blogging has opened my eyes to endless style possibilities. Imagine how thrilled I was to discover that Trippen, a shoe company from Germany, was carried by a store in Denver. In the photo above I'm wearing the grey and white Bollard, with leather uppers, peep toe, and rubber sole.
I love the unique and interesting design of these shoes and the rubber soles are exceedingly comfortable and would be great for travel. I'm wearing these Trippens with jeans, a casual straw hat, rhinestones, a white tee, and a favorite  grey jacket with architectural details.
Laurel and Lindsey shared with me that, "The Trippen experiment, contrary to the popular opinion that a company can only be economically successful by ducking its production responsibilities, proves the opposite. Modern designs that make you stand out in a crowd have been combined with environmental friendliness, sustainability and social responsibility."
In the above photos I'm wearing the Two Sole Sisters' rose gold Coclico UFO, with metallic leather and suede uppers and leather and rubber sole.  Made in Spain, they are sleek and comfortable with an edge.  I was instantly inspired to accessorize these beauties with a hat embellished with a veil, gold metallic jeans, and my hi-lo swing shirt.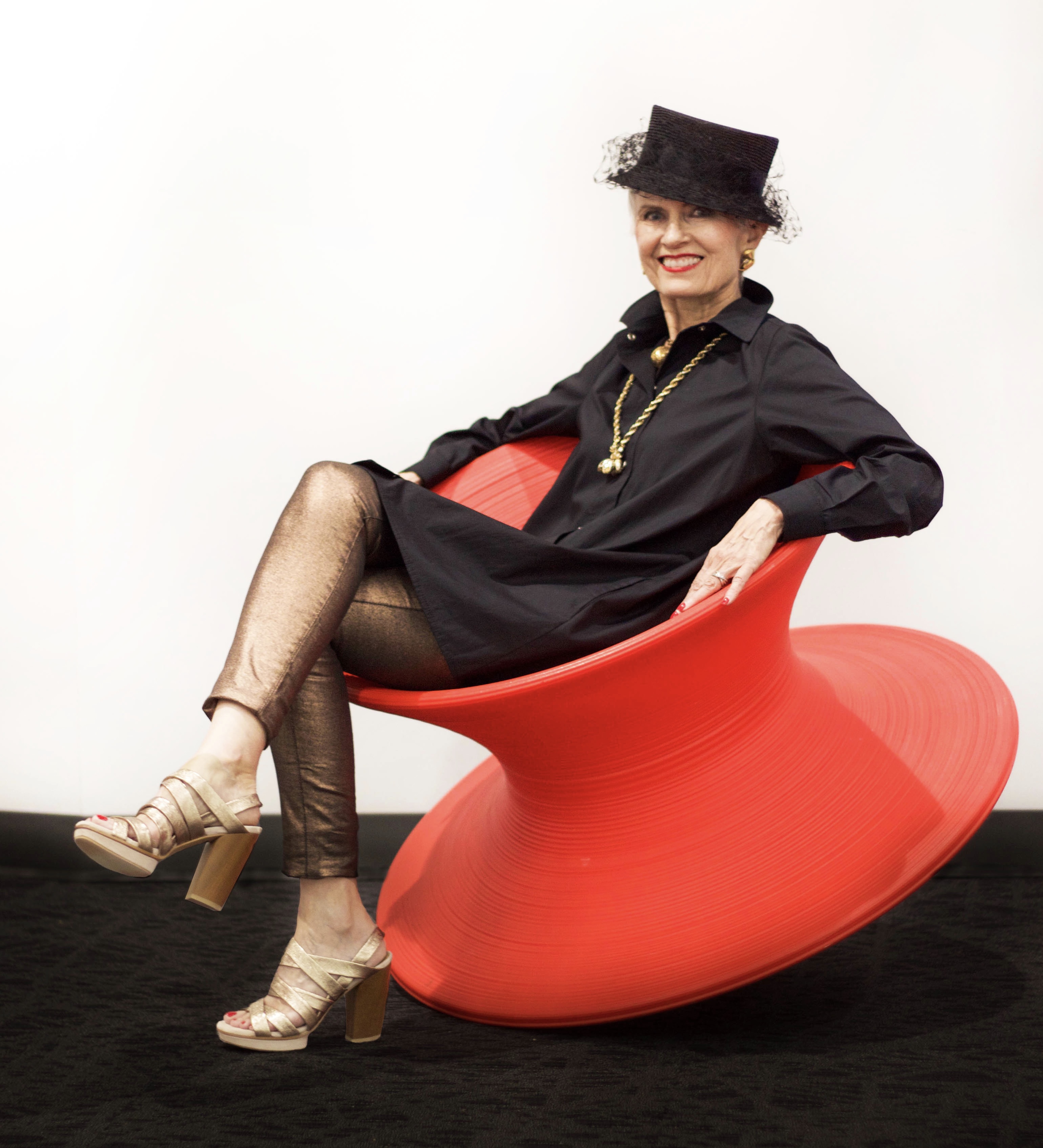 Laurel and Linsey inform me that:
The brand Coclico speaks to a personal identity that extends beyond style and luxury to a way of living in the world. Consciously, artfully, elegantly. This brand believes that luxury isn't the ability to purchase endlessly, but the privilege of choosing wisely. Their materials are sourced locally in Europe, near their small, family-run factory in Mallorca, Spain. They not only work to underpin the design process behind each collection but also seek the highest standards of ethical and environmental responsibility. The result is a union of modern minimalism and traditional quality…Laurel and Lindsey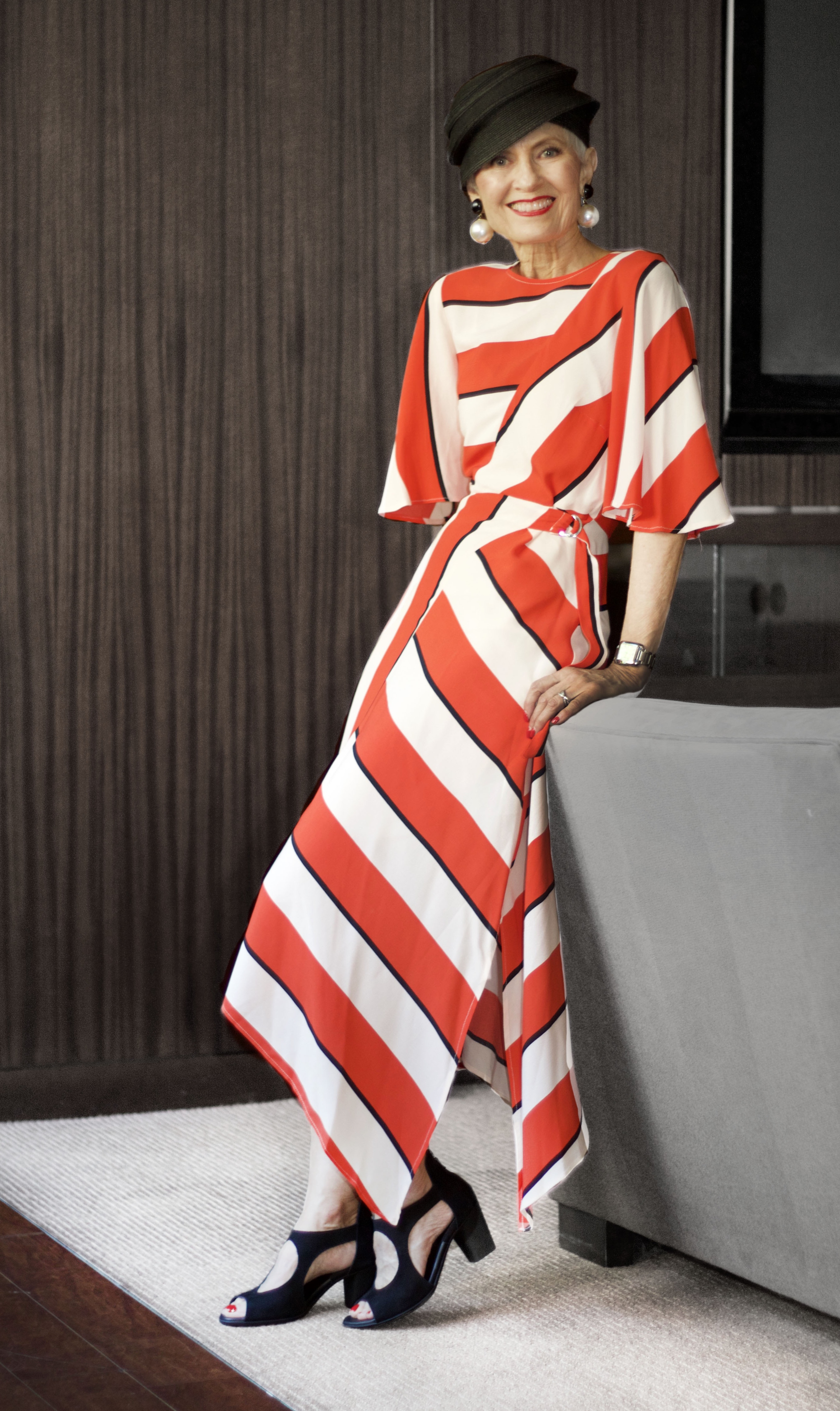 In the photo above I'm wearing the Farako shoe in black by Arche, which is a French Company that has been in business since 1980. This brand is known for creating shoes for comfort. I love the architectural design and the rich nubuck suede has a luxurious, velvety feel on my feet.  I feel like I'm walking on air. The back ankle zipper gives these shoes a distinctive touch.
I accessorized the Arche shoes with a striped summer dress and straw hat, but they could be paired with a wide variety of looks, from casual to dressy. The choices are limitless!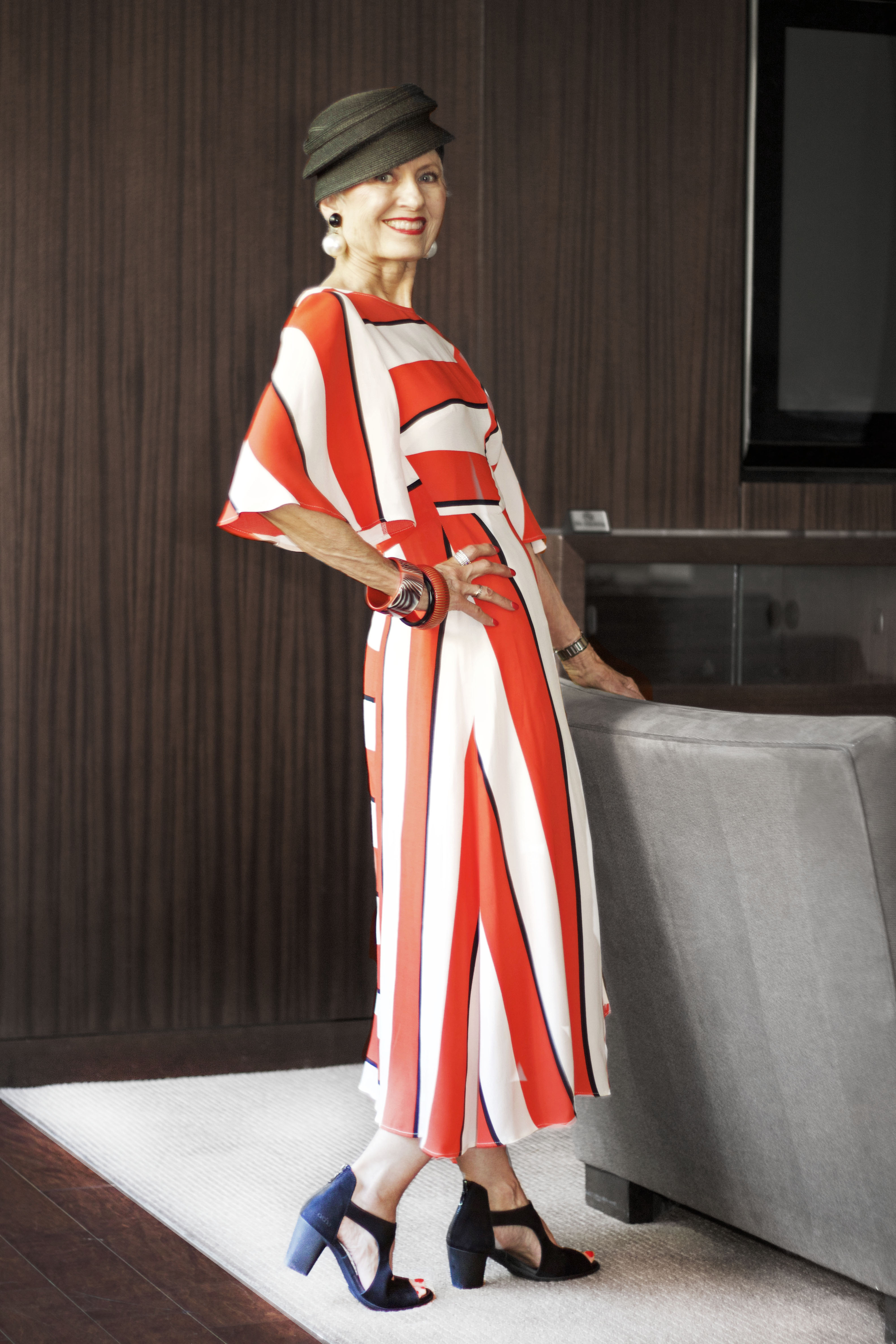 Photos By Daniel
The Two Soles Sisters also carry other accessories, including handbags, jewelry, and other accessories HERE and they also sell online. This is a sponsored post. My heartfelt opinions and enthusiastic response to this incredible business are my own. I respect and admire their attention to sustainability and style and their devotion to customer service. The Sole Sisters have soul!
Photo of The Two Sole Sisters, Lindsey on the left and Laurel on the right, in front of their charming store front at their Denver location in the Washington Park area at 1078 South Gaylord Street.
Laurel and Lindsey about their business and their relationship:
Most of what we have you can't find in department stores. We curate a tight collection for our customers from Europe and the United States.  We choose the best styles from each vendor.  We try on everything and the shoes have to pass the litmus test for comfort.  Our relationship has changed a lot in the last 10 years and it has taken a lot of work. Our different creative visions force us to keep in mind the other person's perspective.  Laurel is more edgy and Lindsey is more preppy.  At this point we appreciate our differences and we have an equal partnership with the same end goal…Laurel and Lindsey
INTERVIEW OF LAUREL AND LINDSEY FROM THEIR WEBSITE HERE
Lindsey: This obsession started with our grandmother's amazing shoe collection. She had what we referred to as roach killers (pointy toe high heels) in just about every color imaginable…teal, green, light blue, fuchsia, light pink, etc. Playing dress up in her clothes and shoes was a favorite pass time with Laurel and my friends.
Laurel: I have been obsessed with shoes for as long as I can remember! Lindsey and I used to play dress up in our grandmothers' high heeled "roach killers." -those are extremely pointed toe pumps in Texas lingo. We loved a particular pair of red satin heels that had red velvet applique around the upper of the shoe. We still have and cherish our two grandmothers' shoe collections.
How many pairs of shoes do you own?
Laurel: Don't ask! It's embarrassing! My house is filled with teetering towers of shoe boxes because I don't have enough closet space. Plus, I have a secret obsession with cowboy boots.
Lindsey: I have a very small closet, so I have a rule….if I bring a pair of shoes home, I must donate something! I haven't counted in a long time, but maybe around 55? Not outrageous for a shoe store owner, right?!
What is it like working together and being sisters?
Lindsey: It can be really tough, but working together has forced us to communicate better. Like any deep relationship, it takes work, but it's so worth it. Plus, there's an automatic trust that's built in and I wouldn't trade it!
Laurel: It's challenging and extremely rewarding. It takes a lot of practice to not fall into those old family dynamics, but the trust and love we have for each other is unconditional.
How would you describe a shopping experience at Two Sole Sisters?
Laurel: It's a really warm and relaxed environment in our stores. We want customers to feel valued and appreciated like they are part of our family. We are not a "hard sell" store…we want our clients to love the purchases they make at Two Sole Sisters. We hope people find shoes and accessories that they have never seen before.
Lindsey: Friendly, fun, and comfortable!
What have you learned about yourself, shoes, retail or life since owning TSS?
Lindsey: I appreciate small businesses more than ever. I have a lot of respect for the retailers who have been in business over 20 years! Delegating is key and finding good managers who have skills you don't is important. I've personally changed too much in the last 9.5 years to talk about myself!
Laurel: I've learned that only 10% of this business is about shoes, the other 90% is about the relationships we have with the people in our community. We know the artisans creating the shoes, handbags, and jewelry for our stores and we relish the opportunity to share their stories with our clientele.
Linking up with Patti's Visible Monday HERE, Catherine's #iwillwearwhatilike HERE at Not Dressed As Lamb and Cherie's Shoe and Tell Fashion Link Up HERE at Style Nudge.