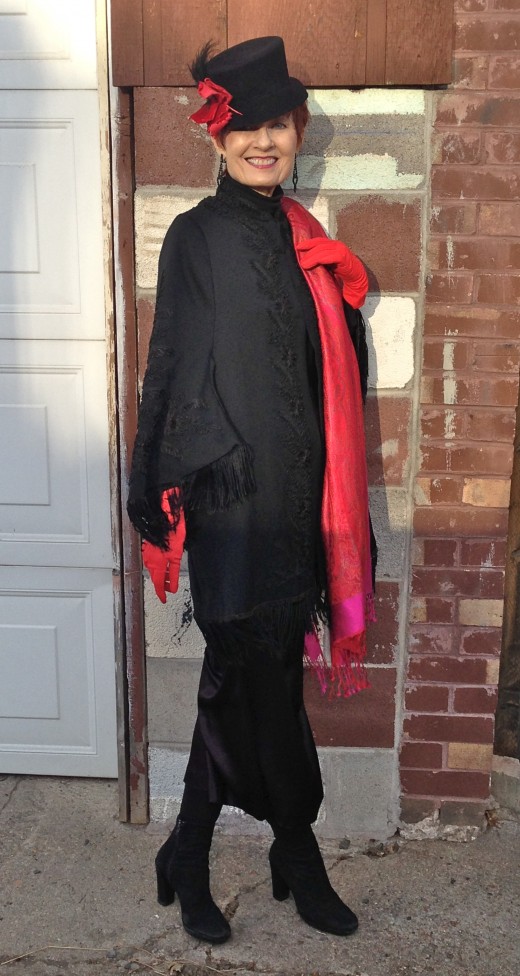 Going out to dinner is like going to the theatre.  It's about the food and its presentation, but so much more. The other patrons.  The servers and staff.  The space that contains the restaurant.  The decor that is the set.  The conversations.  It stimulates the senses!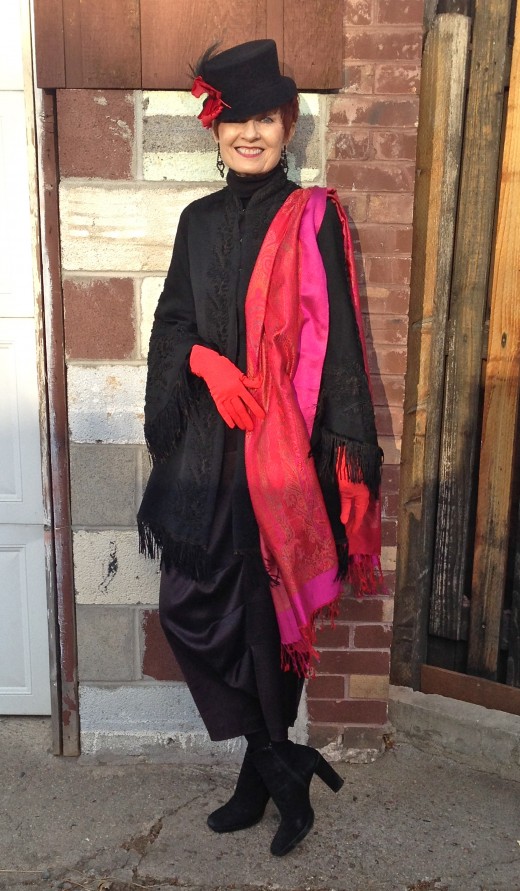 I love to build an outfit to participate in this intimate community experience.  It allows me to wear whatever catches my eye and gives life to my creativity.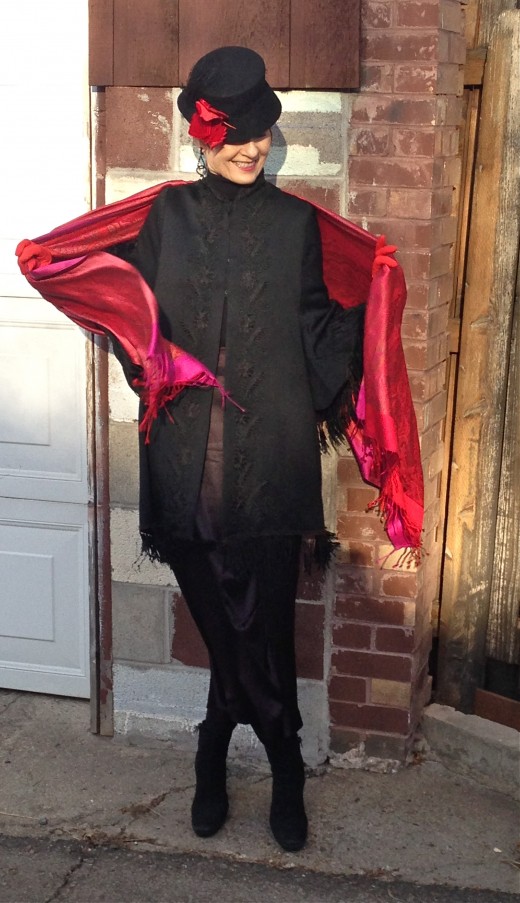 My rule of thumb has been that if a piece can be worn once in 20 years, it's a keeper. I'd better get busy, because in 20 years, if longevity is my destiny, I will be 91.  This is not the time to hold back!  My collections are calling me.
Why wait to wear this estate sale Victorian cape which moves into sleeves and is adorned with silk fringe and embroidery.  I adore the movement the fringe creates when I walk and when the wind picks up it's delicate ornamental border of silk threads.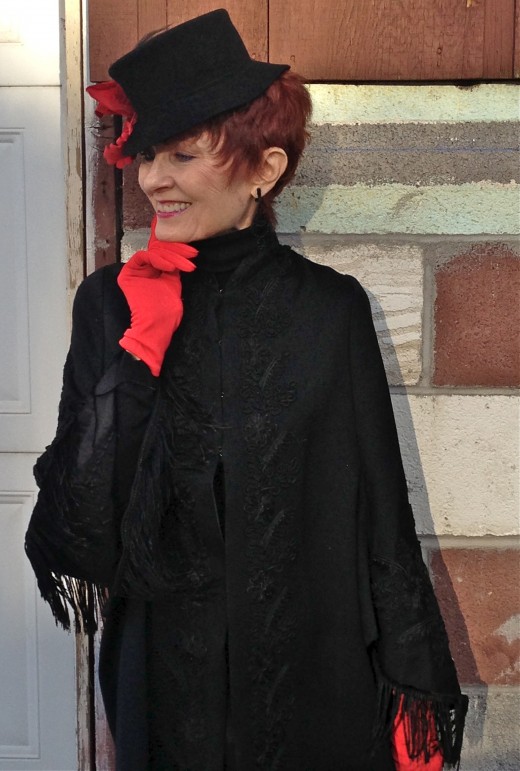 I chose to wear this headpiece trimmed with flower and feather by Angie Sandifer of Angie's Hats HERE, which I purchased during a trip to Minnesota several years ago. The red gloves are an estate sale find.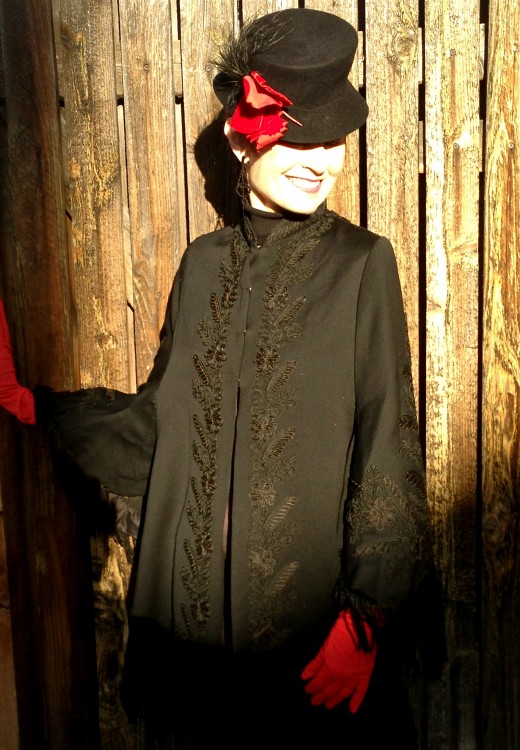 The late afternoon sun provides a brightened view of the cape's beauty.  This piece of history was calling for an outing, and I wanted to give it a new life.  It matters little to me that Denver trends toward the casual.  My heart beats to a different drum.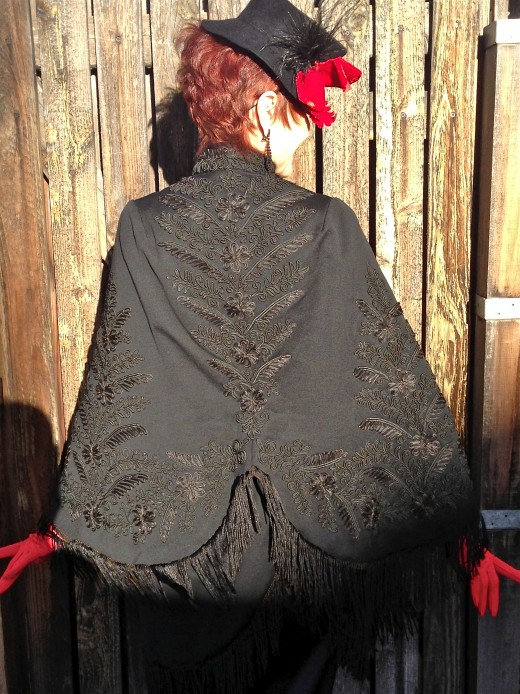 Photos by Camille
My friend who is a costume designer was of the opinion that the dip up in the center back of the cape suggests the bustle period.  However, I lack a bustle, and therefore chose to wear a consignment store skirt with draped details and heeled platform boots that were purchased retail about 15 years ago.   The vintage black jet earrings were another estate sale find and the red/pink silk scarf with subtle pattern was discovered at the Bryant Park Holiday Market in NYC this past December
Voila!  The SC is ready for the theatre!  Or rather, dinner at an elegant downtown restaurant.
This is the week for Patti's Visible Monday HERE at Not Dead Yet Style.  I'm taking this Victorian treasure over to the party, which is a fabulous piece of community theatre held every other Monday.  Thank you Patti, for hosting this ongoing event!
HAT ATTACK #9 will be featured on a week from this coming Tuesday on April 1st.

Whoever wants to can join in!  Just compose a post that includes any hat, headwrap, headpiece, fascinator, hair flower, headband or other adornment for your head that you love on Tuesday, April 1st.  Participation will be open for one week, or until Monday, April 7th.  Follow the directions HERE provided on Style Crone to post your photo and hope to see you there!