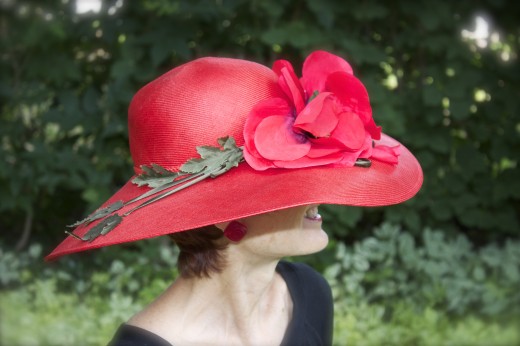 Photo by Daniel N
Welcome to the first edition of Hat Attack, a monthly series taking place on the first day of every month.  Please display your hat, headwrap, headpiece, fascinator, hair flower, headband or other adornment for your head that you love and give The SC a hat attack.  I can't wait to see the beautiful creations that you have to share.
In celebration of the first edition, The SC is wearing a red straw wide-brimmed chapeau trimmed with poppies by Frank Olive HERE from his Private Collection.  We loved to go to his show room in New York twice a year to choose the hats to sell for the season and we had the honor of a visit by him in our shop in the mid 80's. He was a true millinery celebrity!
This hat began its journey in Les Chapeaux, the hat shop which I owned with my friend and business partner Mary Lou. Its first owner was Mary Lou's mother who was named Doris, but we affectionately referred to her as Dorie-Doo.  All three of these hat lovers are no longer with us, so I dedicate this post to them in honor of the influence that they had on my life and my affinity for my favorite accessory, the hat.
[inlinkz_linkup id=288664]