The Headwrap In The Garden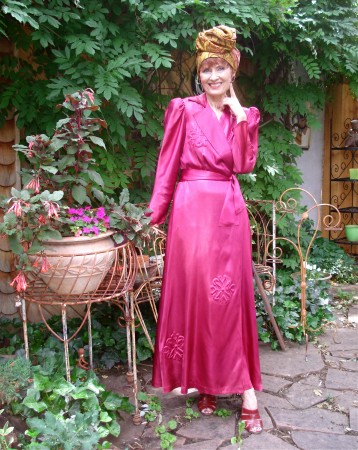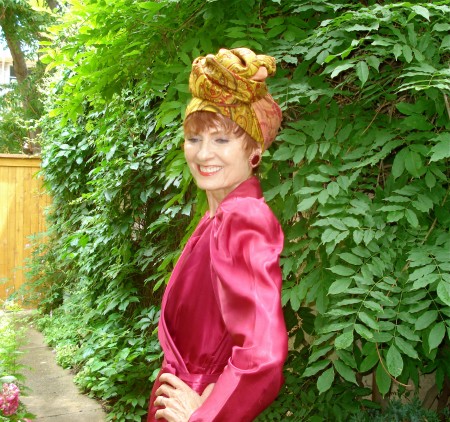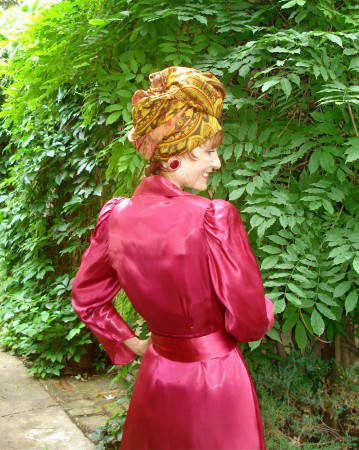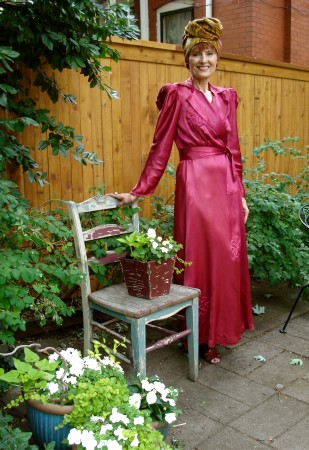 Photos by Diana
The SC has limitless work to do in the garden, which has been neglected for several years.  I managed to do the bare minimum last year, but now I've become aware that it needs my attention as much as my home does.  It must be part of 'waking up.'  In an attempt to show my garden some love as I strolled through its pathways and small patios, I donned a luxurious 1940's burgundy silk satin dressing gown, vintage jewels and vintage burgundy heeled sandals.
I wanted to accessorize the ensemble with a headwrap, but none of my scarfs seemed to fit my vision perfectly.  I planned to go vertical and a large piece of raw silk is usually what provides the ideal volume and texture.  But my scarf inventory lacked the piece with the perfect color or the correct character of fabric. In the process of this quandary I walked past one of the racks of clothing temporarily standing in my living room, and my gaze fell on a silk patterned mustard/burgundy reversible wraparound maxi skirt.  So there is an advantage to having my closets from upstairs exploding unto racks on my first floor!  With a few swoops and playful twists, the headwrap was created in moments and ready to join the garden party. An entirely new universe of headwrap possibilities has opened up in my world.  A skirt can become a headwrap can become a shawl can become a tablecloth can become the wrapping for a gift.  Just as in life, the possibilities are endless if I can just wrap my mind around it!
It's Monday, so linking up with Patti's Visible Monday HERE and Monday Mingle HERE.