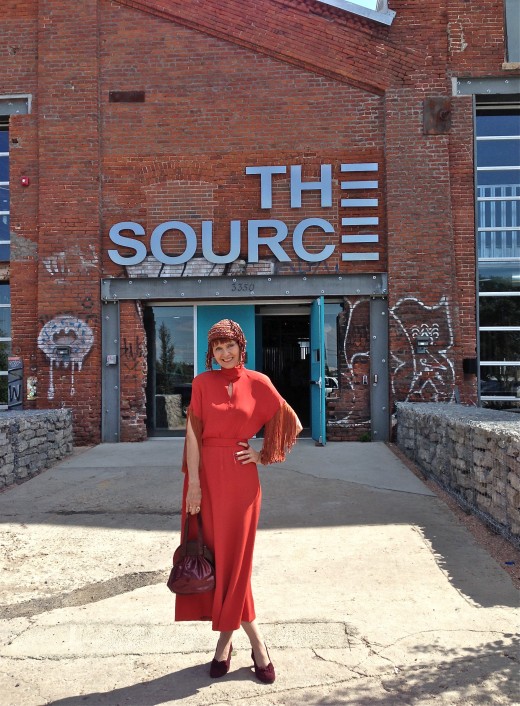 The Source HERE is a new marketplace unfolding in the RiNo area of Denver, which "collects artisans and foodies under one roof." Diana and The SC ventured down Brighton Boulevard to check out this exciting and emerging creation by Zepplin Places HERE.  The proclaimed mission of this new development is to "salvage, reuse, and reclaim."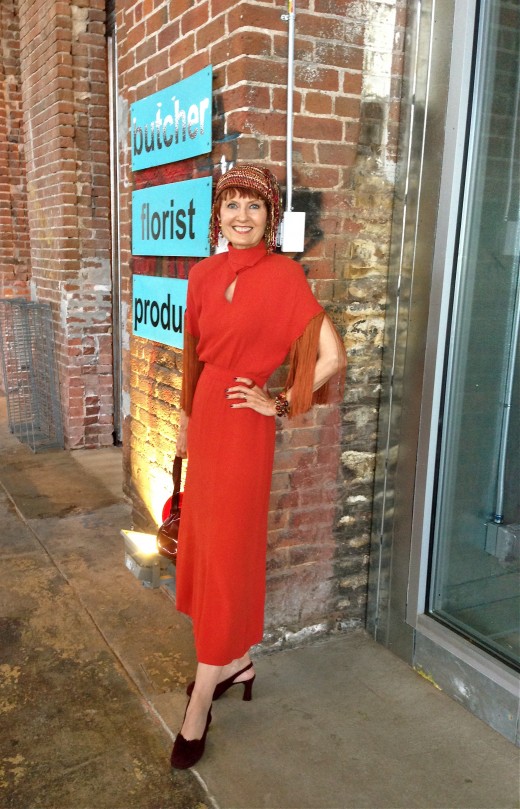 Restaurants Comida HERE and Acorn HERE reside at the front of the building, and both feature outdoor patios. Last week I went to lunch at Comida with my friend Susan Wick HERE, and it was absolutely delicious.  Babette's Artisan Breads HERE, a french bakery, is also open.  There are plans for other vendors, including a butcher, brewery, produce department, liquor store, coffee shop and to top it all off, a florist.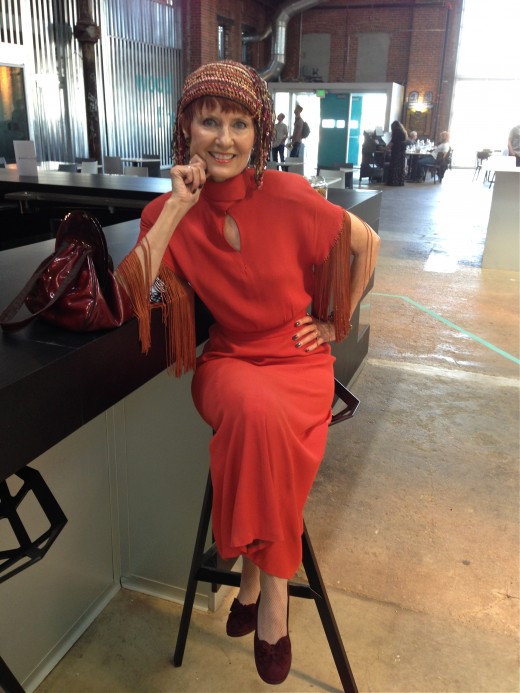 At the very center of the former foundry building is the CapRock Farm Bar HERE, which serves up cocktails with culinary features.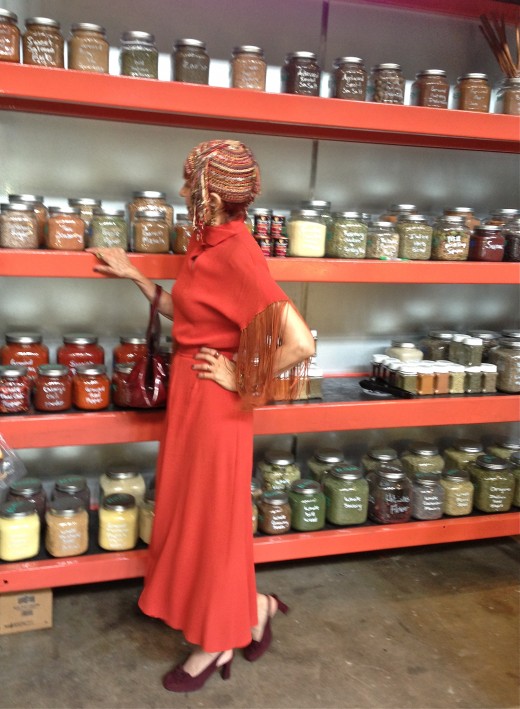 Purusing the vast collection of spices procured locally at Mondo Market HERE, which also features cheeses from around the world, Italian products, sandwiches and more.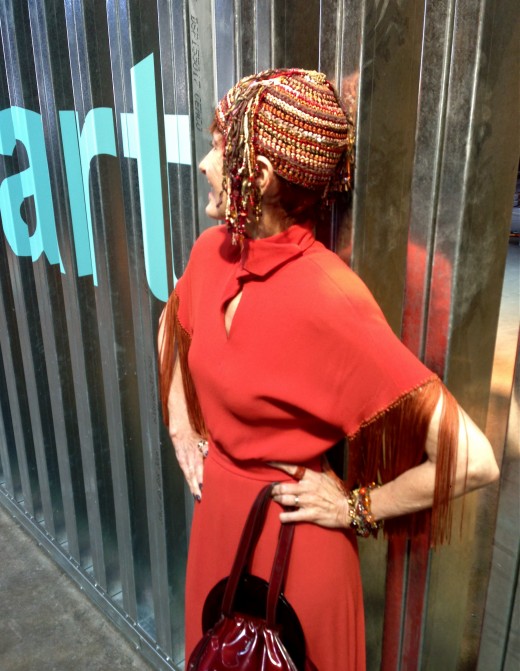 An art gallery and design store will soon be added to the mix of merchants at The Source.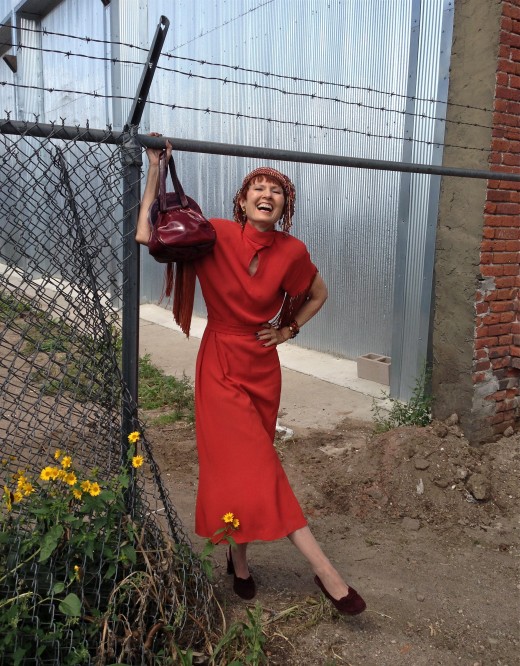 The "source" can mean varying things to different people.  For me today it is the search for the origin of what's driving me at this stage of life.  A deep inner yearning that provides motivation and desire.  A wish to accomplish and give back.  To take risks!
I have a longing to ride the fine line of intentional change, accessorized with a dash of fear and illustrated by the barbed wire on the fence above, with yellow blossoms wildly asserting themselves from below. There is something about the rapidly emerging RiNo neighborhood that reflects my current feeling state.
Eleanor Roosevelt proclaimed,  "Do one thing every day that scares you," and Susan Jeffers HERE  explores the concept, "Feel the fear and do it anyway."  The wonderfully wise Pema Chodron states, "Fear is a natural reaction to moving closer to the truth."  Beautiful blogger and wearer of hats, Kathleen of That's A Pretty Hat HERE, talks about the fear of wearing hats and includes a video exploring the lizard brain.
My fear declares itself when I experiment with the new and unfamiliar, which I find irresistible.  Life is uncertain anyway, so why not consciously toss myself out of my comfort zone and mirror the inversions of yoga.  The excitement of the new, colored with anxiety associated with the unknown.  A challenge makes me feel alive! Every time I embrace life's edge, I meet at least one person that interests me or I learn something that propels me to expansion.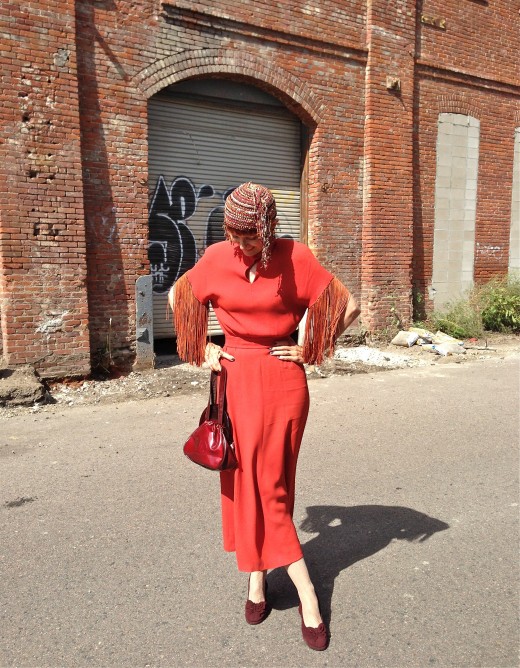 The back of the structure that is The Source is a visual wonderland of photo background opportunities, and the perfect ending to an early afternoon of discovery.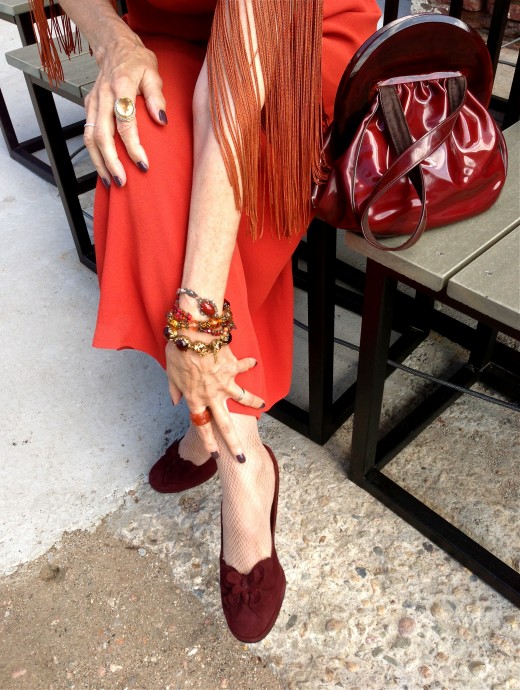 Photos By The Lovely Diana.
For the excursion to The Source, The SC once again pulled out an outfit that was worn at the wedding of dear friends Sarah (of Sarah Ashford Studio HERE) and Zandy in England 10 years ago, minus the jewelry, shoes and bag.  Having been impatiently waiting for an outing since the wedding, this ensemble was chosen to celebrate the 10th anniversary of these same friends at a festive party last week.
I purchased the vintage burnt orange dress embellished with fringe at a vintage shop years ago and the hand woven headwear trimmed with beads by Nini K HERE was discovered in a NYC boutique.   The Sonia Rykiel suede plum heeled slides from a Florida vintage shop played kindly with the estate sale 40's bag of a similar color.  Earrings, rings and bracelets were gifted or 'sourced' at flea markets and estate sales, and the nude fishnet hose a retail purchase.
HAT ATTACK #3 will be featured on Tuesday, October 1st! 
Whoever wants to can join in!  Just compose a post that includes any hat, headwrap, headpiece, fascinator, hair flower, headband or other adornment for your head that you love on Tuesday, October 1st.  Participation will be open for one week, or until October 7th.  Follow the directions HERE provided on Style Crone to post your photo and hope to see you there!
Thank you to Ari Seth Cohen of Advanced Style HERE for including The SC in the Advanced Style Coloring Book HERE, illustrated by Ilan Schraer and created for ages 1 – 100+.  I am grateful for the honor!
Patti is featuring Visible Monday HERE at Not Dead Yet Style.  Check out the dazzling bloggers at this every other week extravaganza!