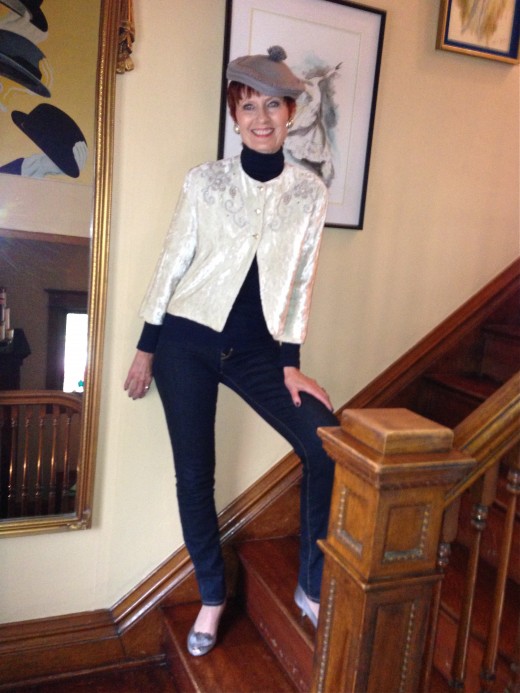 I'm happy to be home, even though the Denver Discoveries Series was invigorating and I learned more about the city I live in by preparing posts about some of my favorite spots.  I love going up and down the wooden steps between the first and second floors and taking in the dancers that populate the walls on the staircase.  A sketch of dance icon Judith Jamison, former director of the Alvin Ailey Dance Company HERE, gracefully adorns the wall behind me, inspiring me daily with her dramatic and artful beauty.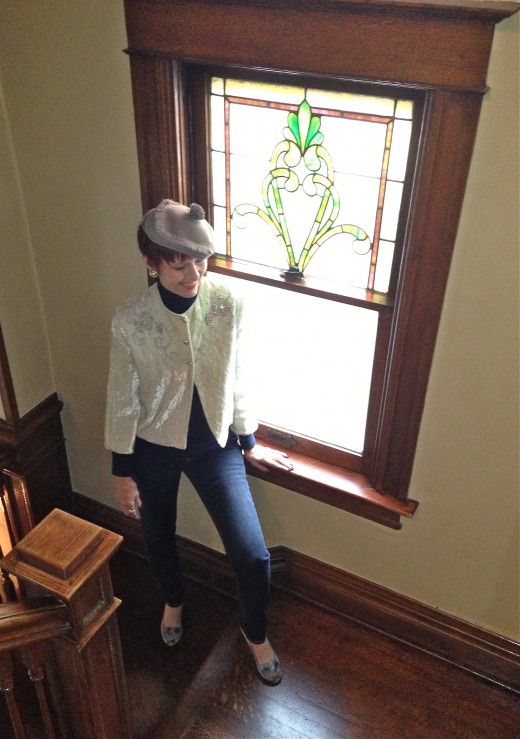 My home makes me feel warm and supported; a structure has its own energy and I feel safe and nurtured within the walls that surround me. The stained glass window on the staircase landing has been the background for my home's occupants sine 1907.  I often wonder about the people who preceded me in residence, as I speculate on who in the past wore this vintage grey headpiece trimmed with short fringe and playful pom-pom. It was a find at Frock NYC, which sadly has now closed.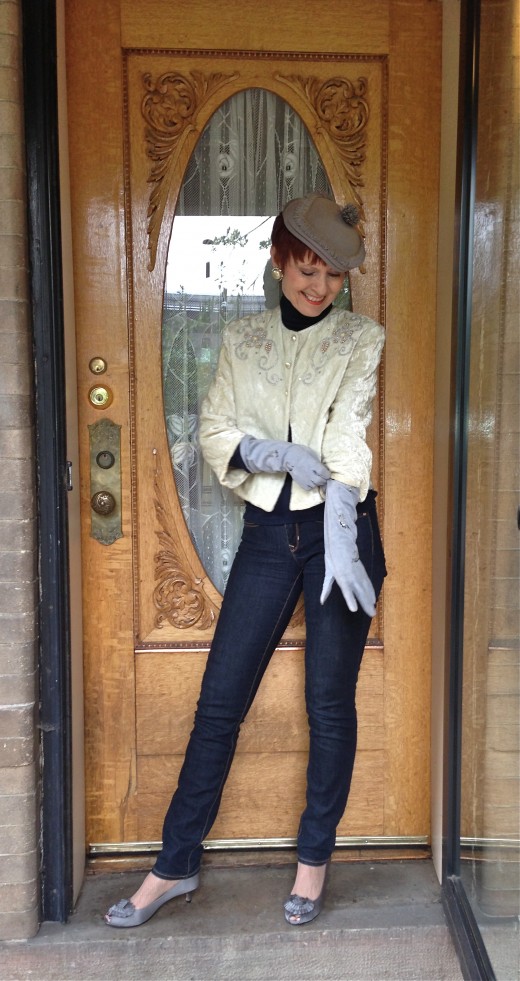 It's the season to delve into my glove inventory and add another accessory that provides huge amounts of entertainment to my life, as I leave through the front door that provides the entry into my oasis in the city.  Grey/blue is the expression of the day, and these vintage gloves trimmed with the most amazingly minute star-shaped sequins give me much pleasure.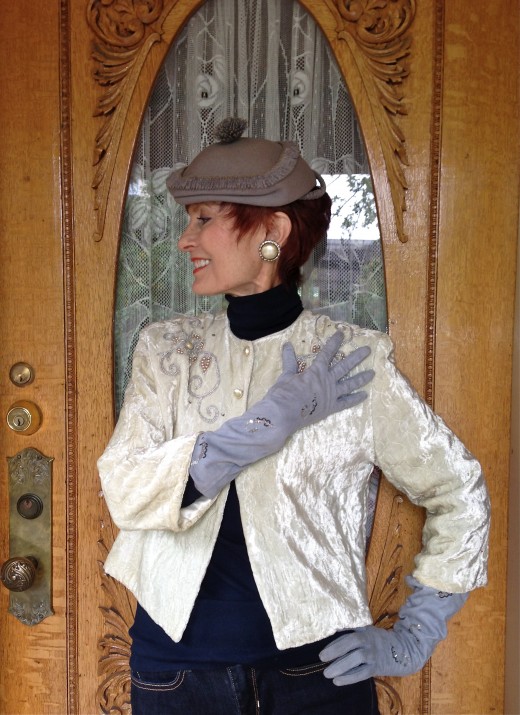 The very pale blue vintage velvet bed jacket embellished with pearls and delicate stitching was purchased at a friend's inventory downsizing sale.  The estate sale pearl earrings trimmed with rhinestones create shimmer and shine on a day that the sun was hidden from view.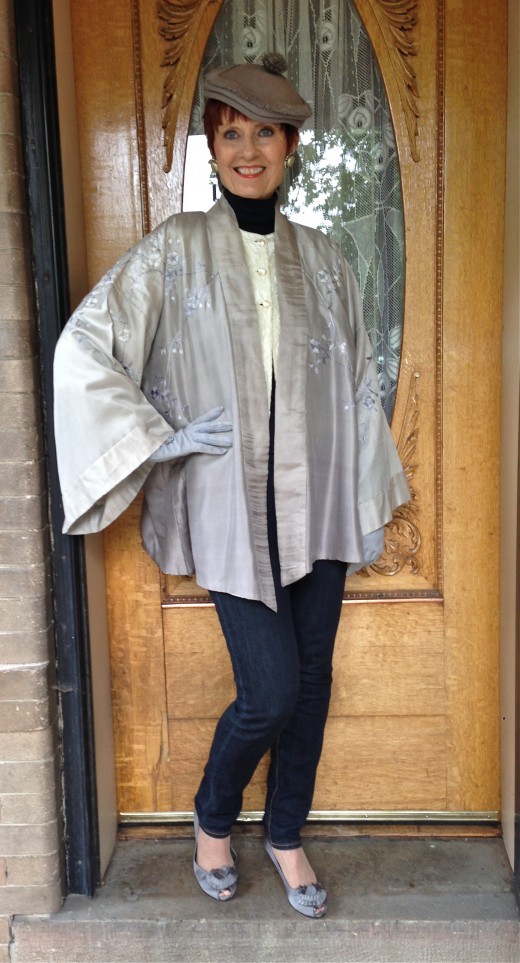 The SC adds another layer to provide warmth to meet the chill of the day as she leaves home with Diana to catch the Gypsies Collection Show at our friend Carolyn's home. Years ago Carolyn had a well-known and beloved clothing boutique in Denver by the name of Tapestry and is featuring gorgeous vintage jewelry, textiles and other treasures at various shows and on Etsy HERE.
And what did I find?  A hat, of course!  A large brimmed straw beauty not to be revealed until next summer.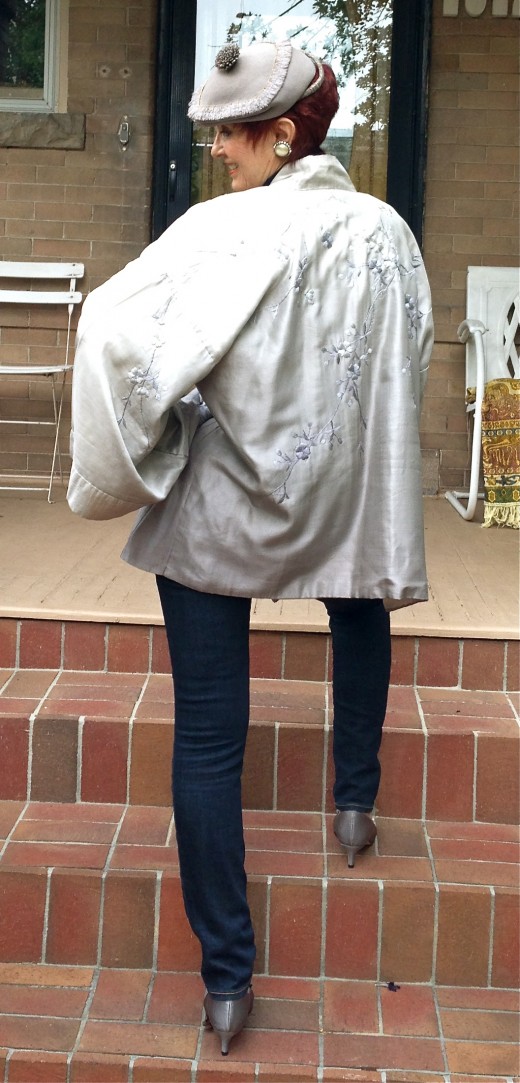 Photos By Diana
The vintage embroidered silk kimono was purchased at an estate sale this summer.  It was covered with stains, and therefore was offered for the price of two dollars.  Taking a chance that it could be restored to its original elegance, I was happily surprised when my dry cleaner, who specializes in vintage, was able to clean it to perfection.
I'm giving it a new life today, which is one of the thrills of wearing vintage.  Saved from sudden death at a landfill, this piece of history now has a special spot amidst my vintage kimono collection.  I have many pieces that have been rescued, restored and revered, which I've noticed can also happen with people.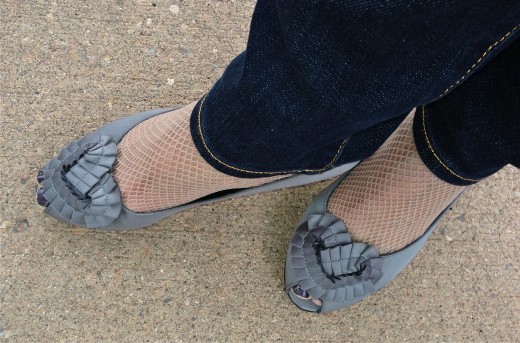 I discovered the grey open toed kitten heels at a Minneapolis boutique summer sale in August.  Today was their first outing, accompanied by nude fishnets, and a pair of skinny jeans purchased at a retail sale years ago.  I adore the heart-shaped fabric embellishments on the shoes, which I didn't conceptualize until a friend viewed this photo and noticed the design.  Sometimes it takes time to see what's before my very eyes.  Today my shoes speak for themselves, sending love and gratitude to all who read and comment on Style Crone.
I'm off to participate in Sacramento's Share-in-Style at Mis Palapios HERE and Ariane's Show Me Your Style at Style Sud-Est HERE.  Thank you both for your creative and inclusive series!
The November HAT ATTACK falls on Friday, November 1st.  I've been scanning the hat room daily to decide which beauty is up next for the coming month's hat party.