Blue Hat With Kimono Amidst Trees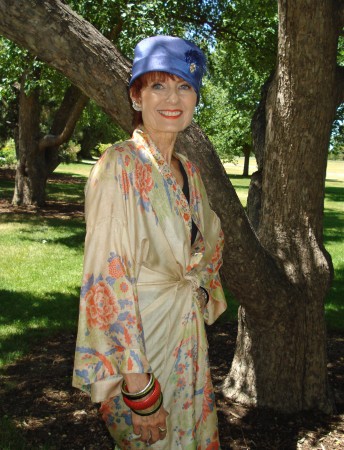 A dear friend's birthday party presented the opportunity to create an ensemble, which was then accessorized by trees in City Park (or rather, The SC was an accessory to the majestic trees).  The blue straw fabric hat with delicate blue feather and rhinestone trim has had a perch in the hat room since the days of the hat shop in the 80's.  The designer is Joan Carney, who was from NY and worked out of our shop as a milliner for a period of time.  I am trying to track her down, and I may have found her.  I will keep you posted on my detective work!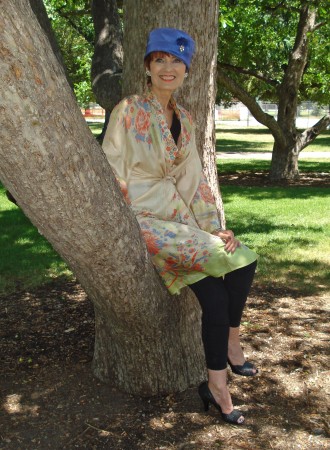 Speaking of trees, it feels as though beautiful, colorful Colorado is burning.  There are eight wildfires in the state and with friends living in the mountains there is an underlying anxiety surrounding our day to day lives.  Thousands of acres have burned, evacuations are occurring, homes have been destroyed, landmarks are at risk HERE and with our over 100 degree temperatures (very unusual for this time of year) with no rain in sight, it's a tinder box in the mountains.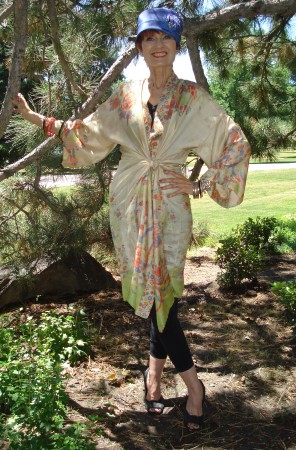 Even more reason to dress up and hold hope in the face of tragedy and loss.  Creating outfits isn't just for the good times.  It is the constant thread that holds life.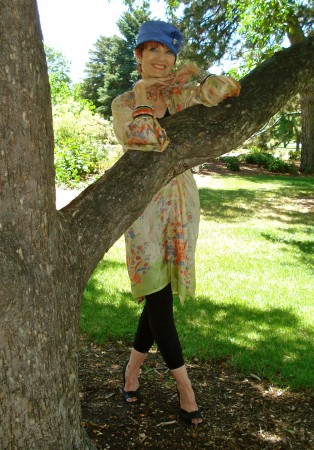 Photos by Diana
Vintage silk multicolored kimono knotted at the waist, vintage Troylings open toed heels and vintage rhinestone earrings and bangles – estate sales, all on black background with a silhouette that includes leggings and tank from my trusty and easily accessed renovation outfit.
The SC is joining the party today at Patti's Visible Monday HERE.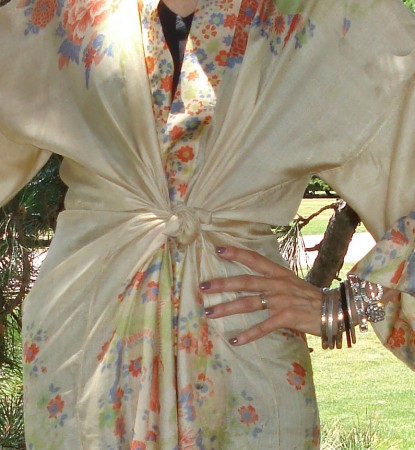 A close up of the kimono and the knot that The SC tied at its waist is shown above per request of several commenters.