Lounging In Leopard And The Pensionistas Of Look.UK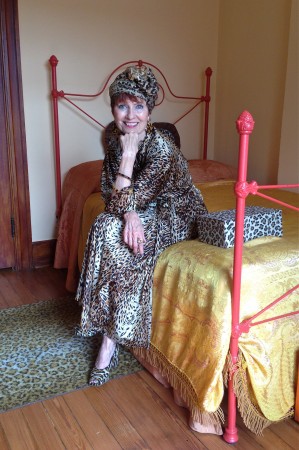 This past week The SC was honored and thrilled to be included in a feature in Look.UK, the best-selling fashion magazine in the United Kingdom.  Click The Pensionistas to view the article.  Jean and Valerie, The Idiosyncratic Fashionistas who were also in the piece, wrote about the feature HERE with their usual brilliant and witty commentary.
I decided that the only thing to do in celebration would be to lounge in leopard while savoring this fun and unexpected surprise.  To be in the company of the magical and phenomenal Jean and Valerie, Tziporah Salamon, Lynn Dell, and Linda Rodin has me over the moon and wearing animal print from head to toe.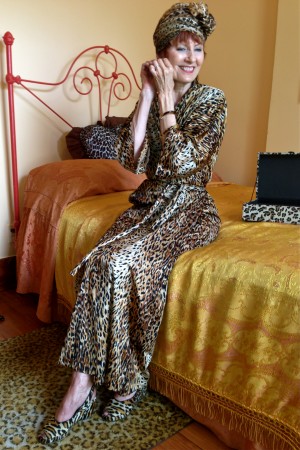 I have been an ardent fan of leopard print going back to the 70's  I see it as a positive addiction, like yoga, frequenting estate sales or collecting hats.  I never have a hangover, side effects or withdrawal after I overdose with this heavenly neutral.  Although I do have to admit that sometimes it does have me wanting to acquire more because I can't get enough!
I've wanted to dress in total leopard for some time now, and today I took the leap with this 70's polyester robe, vintage dangle earrings, bracelets, scarves as head wrap, and 40's wedge peep toes all purchased over the years at estate sales.  Even the leopard print rug, leopard pillow in the shape of a heart and jewelry box (which of course holds my leopard jewelry collection) threw themselves into the act.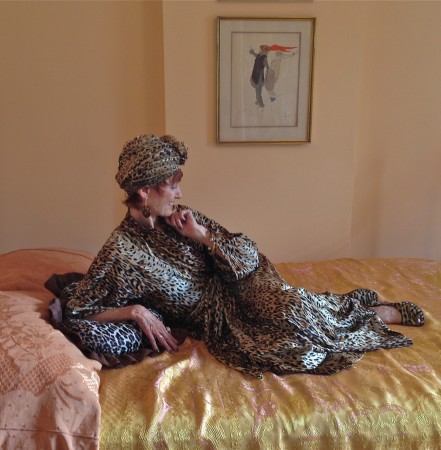 Lounging in leopard in the guest room.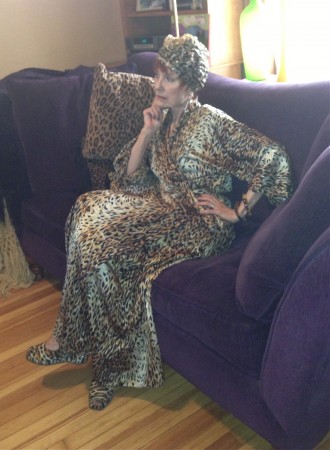 Photos by Diana
The SC landed in another area of her home embellished with leopard in the form of pillows on the purple couch in the living room.  Whether as accent or full body adornment, leopard love adds playful pleasure to a time of celebration or just an extraordinarily ordinary day.
The SC is flying over to Patti's Visible Monday HERE for another magical gathering at Not Dead Yet Style.