What To Wear To A Jimmy Cliff Concert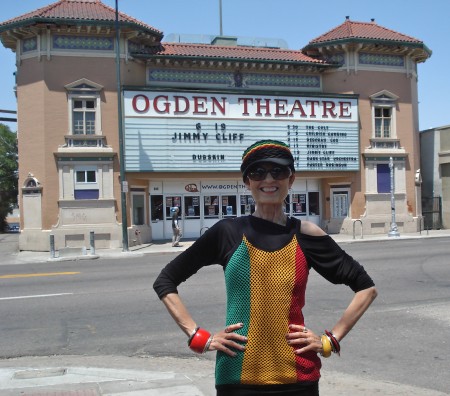 The SC would not miss the appearance of the legendary Jimmy Cliff, who is making a much appreciated comeback, at the historic Ogden Theatre just a few blocks from my home.  According to the review in The Denver Post, I wasn't the only one who thought this was an event not to be missed HERE.  At the age of 64 he owned the stage with his mastery of reggae, dance and stage presence.  Talk about aging with style and creativity!
Knowing that Nelson would have been there with me if he were here and feeling good, I wore his knit cadet cap and tank with rasta colors.  Pieces of my renovation outfit were readily available to assist with the outfit choice of the day.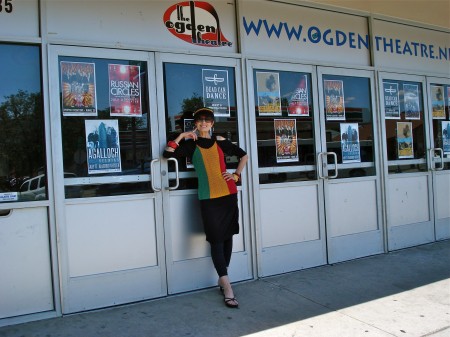 The Ogden Theatre was built in 1919 and is an official Denver landmark and a national historic landmark. The last concert I  saw at The Ogden was Etta James, with Nelson.  Lovers of live music, we frequently attended concerts at small and large venues across the city.  Music was a major part of our lives, always in the background or foreground, in our home, our car, at parties, and providing an ever evolving sound track to the events of our life.  I'm determined to keep this tradition alive.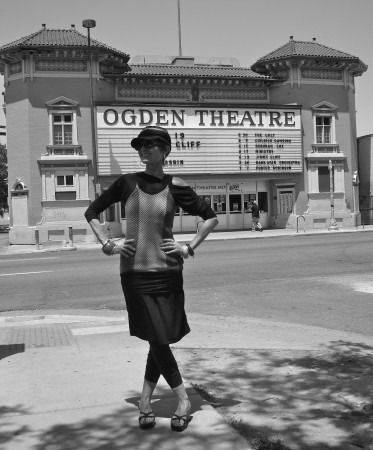 Jimmy Cliff frequently yelled out to the crowd, 'How you feeling?' and the crowd responded with animated cheers.  There was no room for anything other than exuberance.  He ended the night with his new song, 'One More,' performed recently on David Letterman HERE.  By this time the audience was dancing and smiling, not ready for his performance to be over.  Check out Cliff's website for more about his history and his music HERE.  And one of my personal favorites on YouTube, 'Rivers of Babylon' HERE. Who doesn't want to be inspired by a a declaration of peace, love and justice!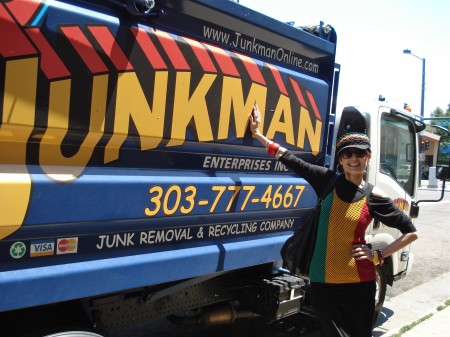 I couldn't resist!  The colors were just too good to pass up as we rounded the corner off of Colfax.  Very seldom do you find a truck that mirrors an outfit. Taking advantage of the moment and promoting recycling, as I did with this outfit. seemed the perfect and festive thing to do.  After all, one of Jimmy Cliff's messages was to focus on saving the planet for future generations.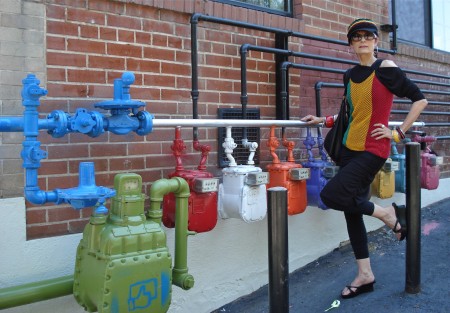 Meter Art!  Across the street from the truck off of Colfax.  Inspiration appeared everywhere and Colfax Avenue never disappoints.  This photo features my Charles David platform/wedge sandals, which serve as elevated flip flops.  They've been summer favorites for many years and allow dancing for hours with comfort.  The energy in the theatre was magnetic and there were very few in the audience who didn't respond to the wave of movement in the crowd.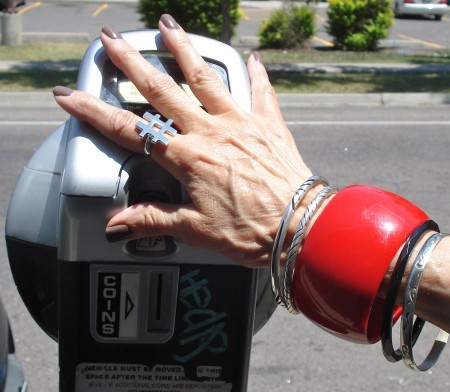 Photos by Diana
This was the perfect time to debut my hashtag ring created by the beautifully vibrant blogger and talented fine jewelry designer Wendy B HERE.  After all, Wendy B loves live music and concerts, so it seemed fitting to flaunt crone hands on a parking meter off of Colfax to highlight her creativity, silver on silver. I didn't notice the bit of graffiti as accessory on the meter until reviewing the photo when I returned home!  Surprises abound with increasing regularity when I'm open to the details which surround my life.