The Yellow Wide Brimmed Hat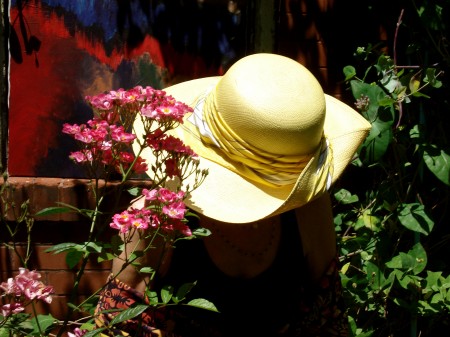 The vintage yellow wide brimmed straw hat with scarf providing shade for The SC in the rose garden.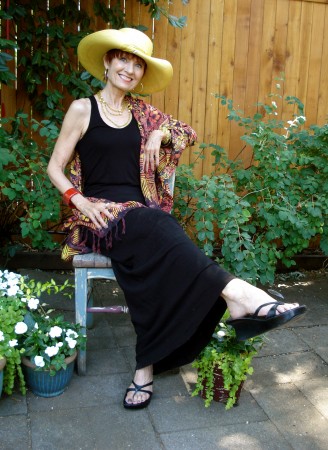 The Charles David platform flip-flops are a frequent companion as locating most of my summer shoes in the chaos of renovation has become a difficult task.  It will feel like I have an entirely new shoe wardrobe when this transition is complete.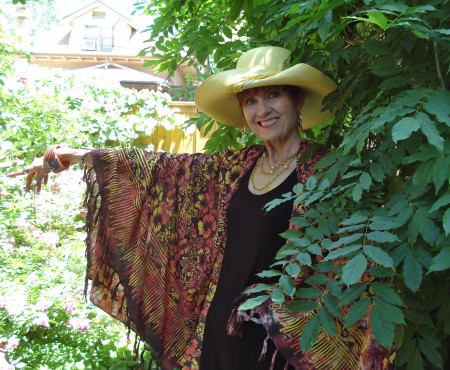 Multicolored cotton shawl – flea market, yellow beads and multicolored bracelets – estate sales, black tank maxi dress – yoga studio.
Photos by Diana
I love wide brimmed hats, but wear them infrequently.  I tend to go vertical in my hat wearing choices. But when it come to a sunny day, I check out the wide brims waiting for an outing and off into the sun I go, protected by the shade that I carry with me in the form of a chapeau.  According to the site Metro Denver HERE we have 300 sunny days per year, which means that I will always have a number of wide brims to wear, especially in the summer.
The brutally hot weather continues to contribute to the raging wildfires.  At times the sun disappears behind the clouds, the wind blows and then it's completely silent and still, the calm before the storm. But the clouds give up little rain and refuse to refresh the torched and dry earth and provide relief for firefighters and the many directly and tragically affected by this crisis.
Last evening I spoke with someone who had been evacuated from her home in Boulder, which is northwest of Denver, and hundreds of homes have been destroyed in Colorado Springs, the second largest city in our state and to the south of Denver.  A friend told me that he heard a spokesperson from the sheriff"s department in Colorado Springs say , 'The firefighters had to move from one of the fire lines because a semi was heading toward them at 75 miles per hour, only it was three miles wide and on fire.'
There is a perceptible heavy sadness floating in the air like the smoke across the state, as the surreal reality of loss is slowly sinking in throughout this region whose residents have long seen this area as one of extreme natural beauty.  The devastation continues today, although there is some containment, but there is no predictable end in sight.
Linking up with Patti's Visible Monday HERE.