The-Bias-Cut.com – Where Ageism Is Never In Style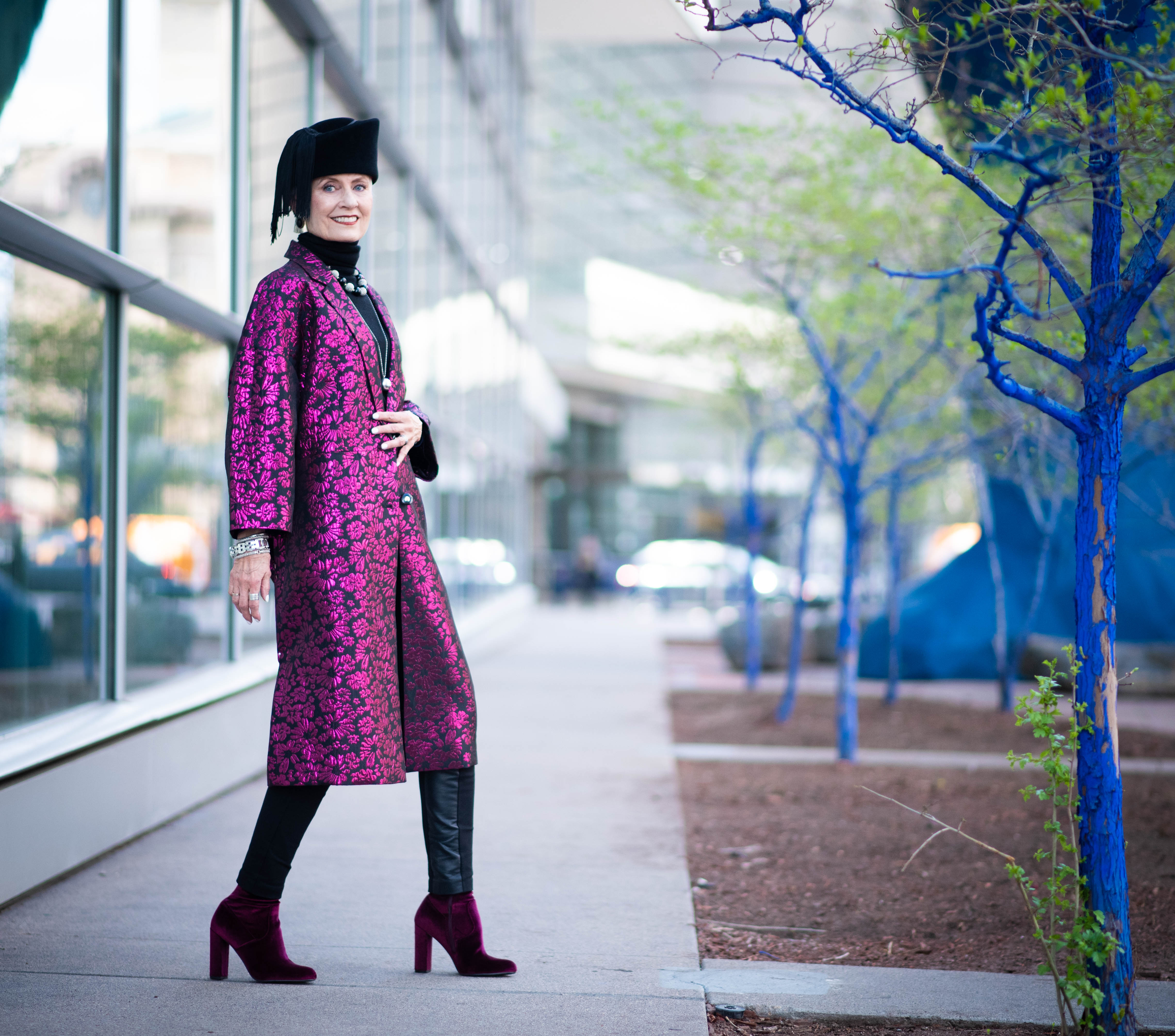 Do you ever come across a brand that perfectly aligns with and celebrates your values? Do you ever discover an individual who inspires you to do more in an area that you feel passionate about? Do you ever find a movement that resonates thoroughly with your beliefs and aesthetics simultaneously?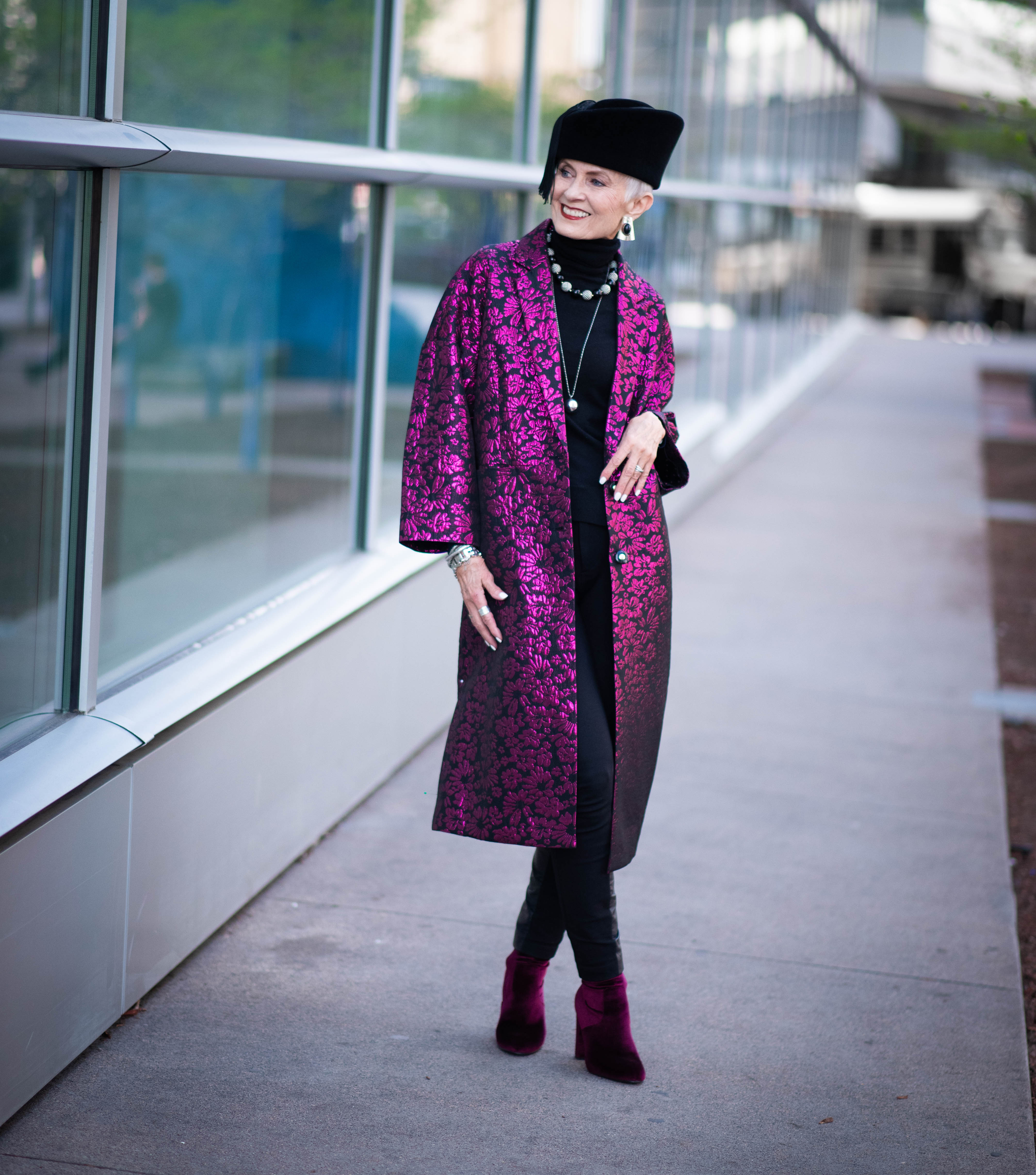 All of this happened recently when I discovered the-Bias-Cut.com, "Where Ageism is Never in Style." Welcome to shopping with attitude, the first online boutique that truly celebrates style at every age. Featuring pieces by some of the best contemporary labels today, their eclectic collections reflect founder Jacynth Bassett's thorough and in-depth understanding of different women's bodies and shapes, as well as cut and fabrics. Throw into the mix her stylist, contemporary eye, and Jacynth is swiftly becoming recognized as one of the UK's leading experts and pioneers of style at every age.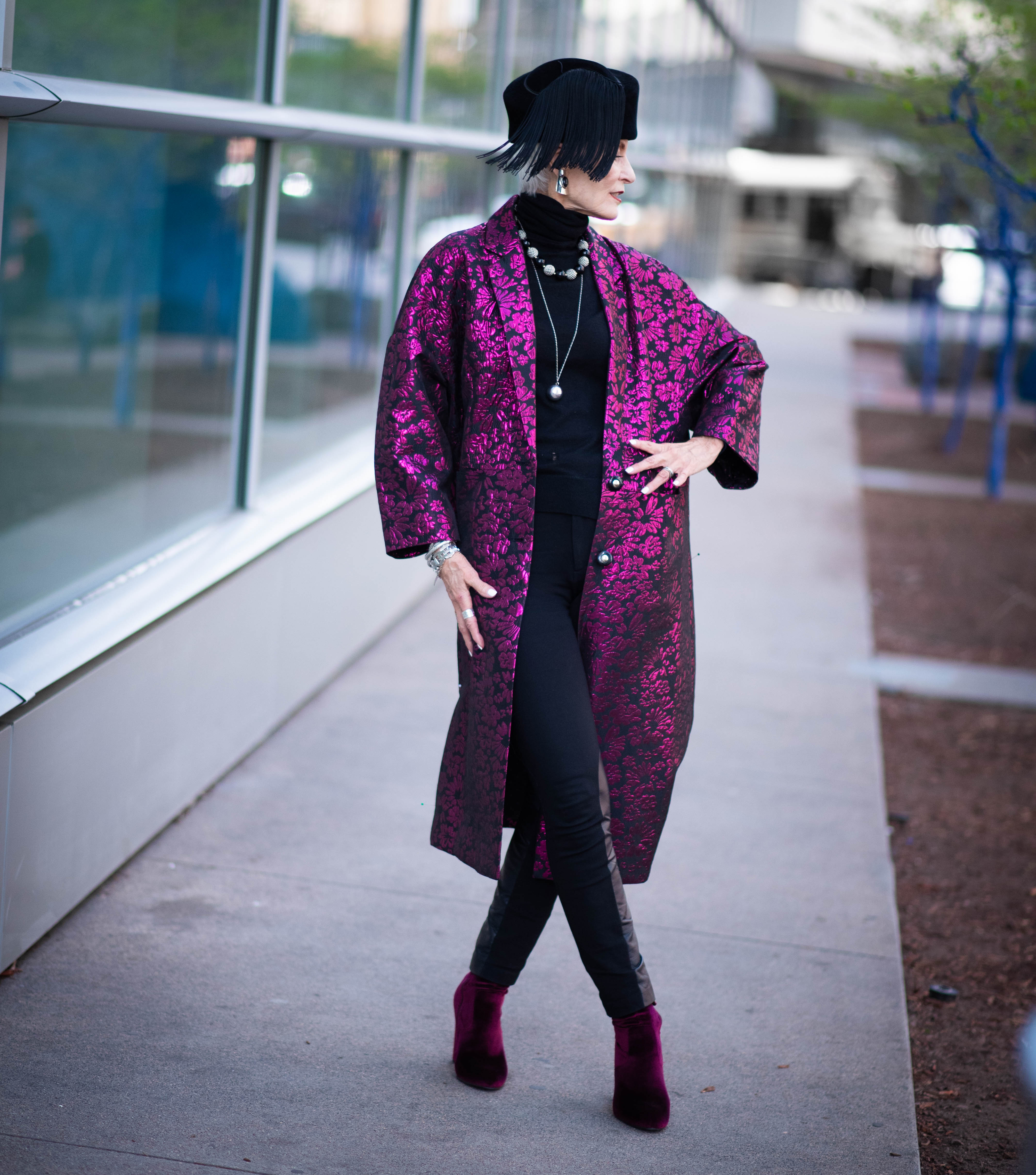 In the above photos I'm wearing the Dara coat, which is featured on the-Bias-Cut.com's website. This luxurious, opulent coat is a real star piece from Baum Und Pferdgarten's Resort collection. The gorgeous Pink Lurex Fabric has a beautiful metallic finish, and is loose fitting with drop shoulders. With details such as a lapel collar, side pockets, a button closure at front and a high slit at back, this coat is finished with a gorgeous contrast lining with dots.
This is a statement piece that pairs beautifully with my vintage hat trimmed with fringe and my heeled booties which magically coordinate with the coat's vibrant color!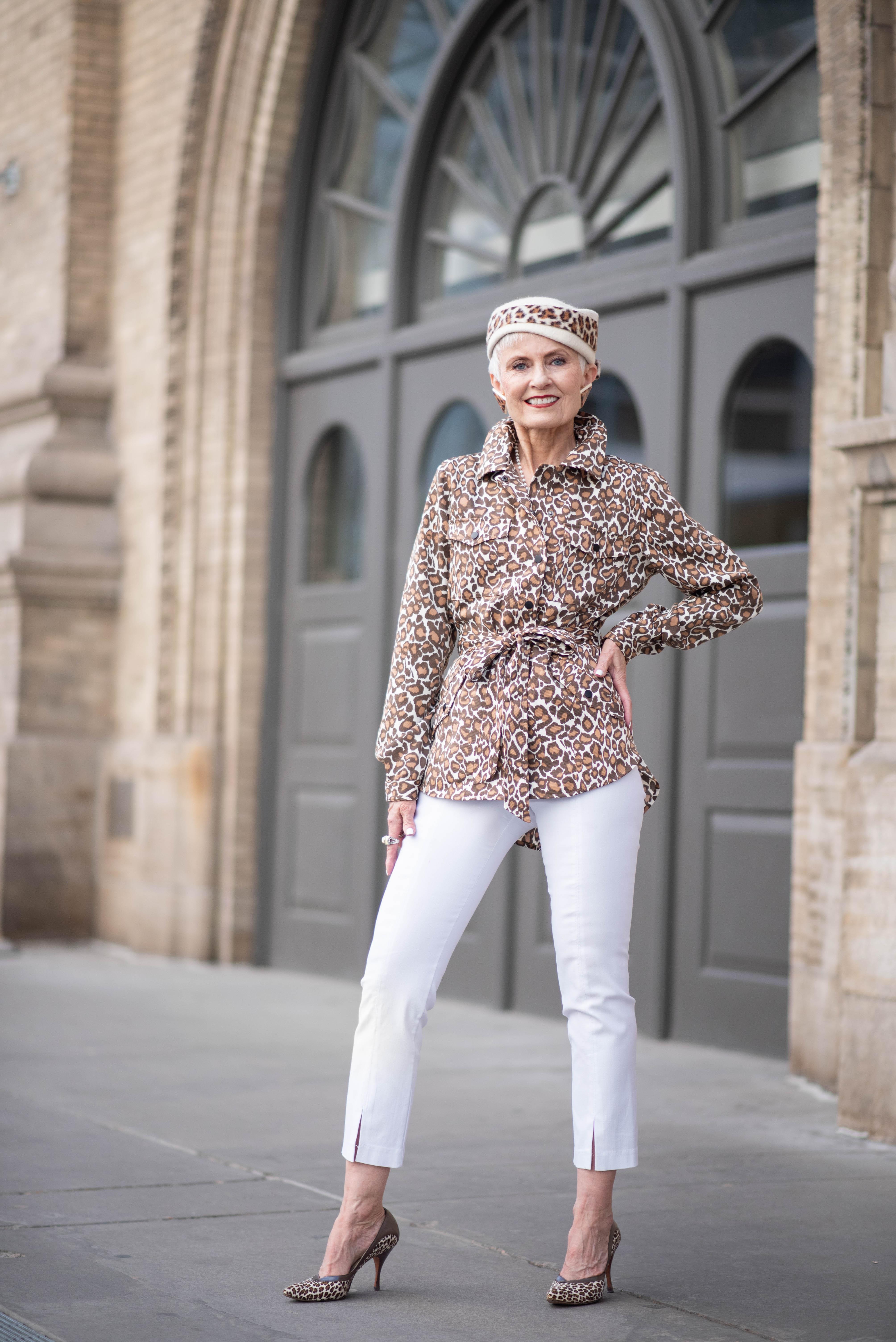 It all began when Jacynth grew saddened by her mum's frustration at her ever-lasting love for style being squashed by the Fashion Industry – largely because of her age. She found everything typically targeting her demographic to be dowdy, frumpy, boring or unflattering. It was a constant struggle to find beautiful quality garments she would really love to wear. The pieces were out there, but with the use of younger models, rude shopping assistants, and a lack of time, shopping was now a demoralizing experience. This had to stop! It became Jacynth's mission to cut though this ageism by creating a destination that truly celebrates women of all ages, shapes and sizes.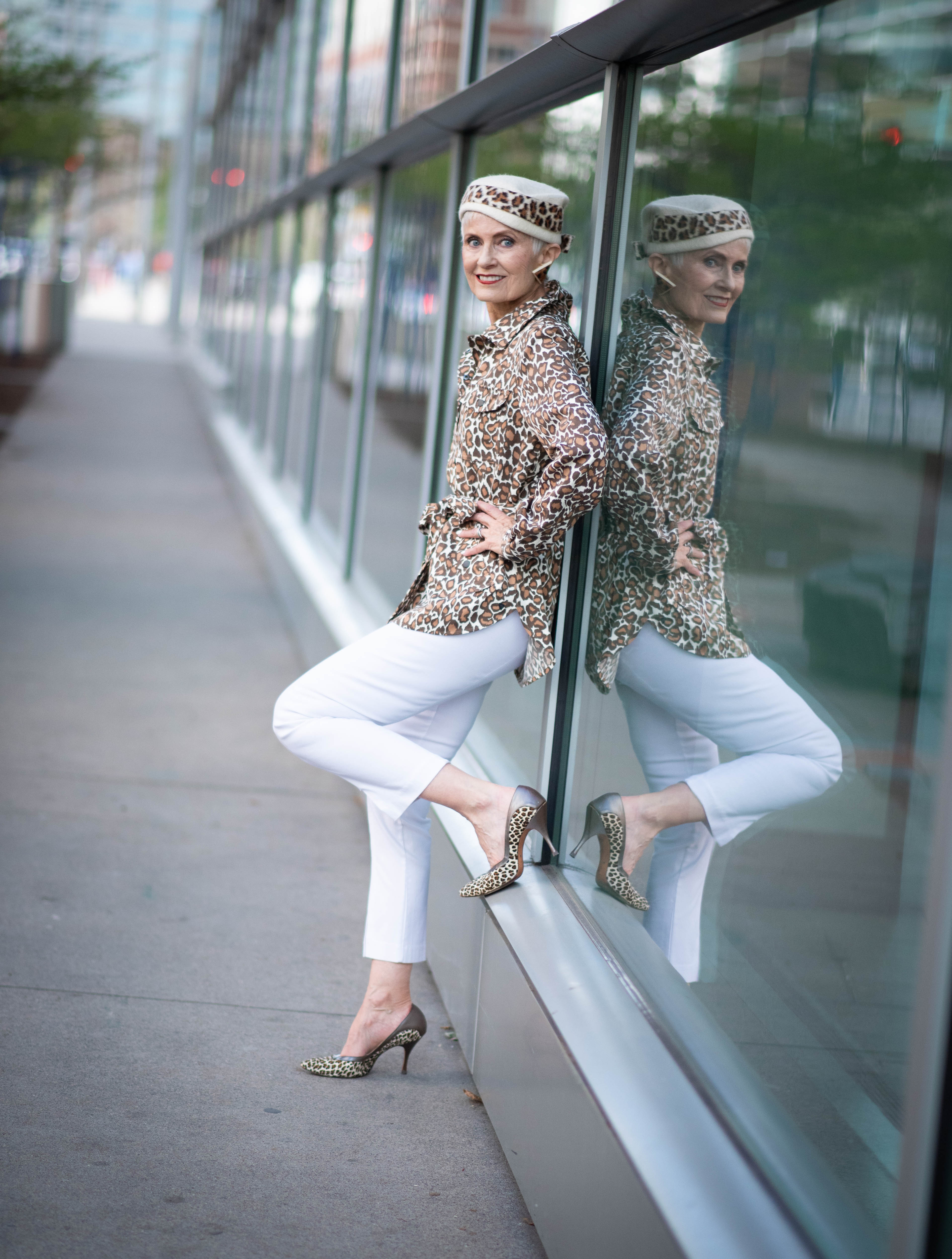 Each collection at the-Bias-Cut.com is curated by Jacynth to deliver stylish, flattering and quality pieces which last. Her collections focus on being accessible to everyone, no matter size or age because she truly believes every woman should be able to experience the joy and pleasure style can bring.
Photos by Jenna Westbrook
In the above photos I'm wearing the Printed Safari Shirt with Tie from Scotch & Soda, which is featured on the the-Bias-Cut.com, You can never feature too much animal print, especially when my accessory collections have so many choices available to enhance this look!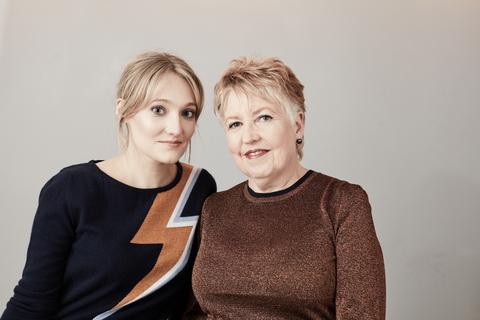 Photo above of Jacynth and her Mother
To do this, the-Bias-Cut.com is committed to the following principles:
Curating the Best Collections for You – No Matter Your Age.
Celebrating Women Of Different Ages, Shapes, Sizes & Ethnicities With

Non-Professional Models
Pioneering Change And Leading The Conversation In The Fashion Industry To End Ageism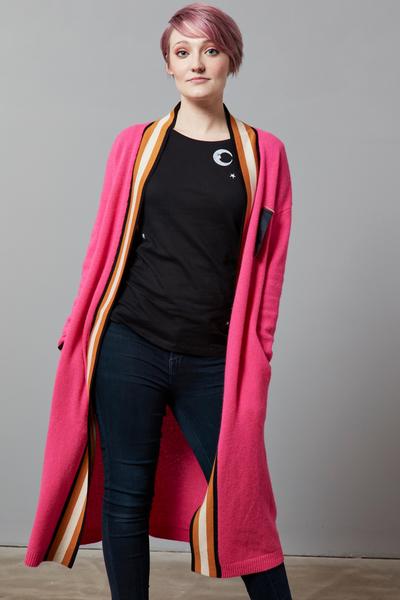 Photo above of Jacynth Bassett
Not content with the pace of change, in 2016 Jacynth launched the #AgeismIsNeverInStyle campaign to end ageism in the fashion industry, along with a free 'Ageism Is Never In Style' badge which has gained attention from supporters around the world.
Named by Global Health Ageing as an "Ageism-Fighting Trailblazer" and one of "Tomorrow's Leaders" by Viking, Jacynth is committed to spreading the message that style never fades and that ageism in Fashion should not be tolerated.
As such, she is regularly interviewed, invited to speak on panels, radio and podcasts, and asked to guest write for publications, sharing her insight and expertise on this highly topical issue.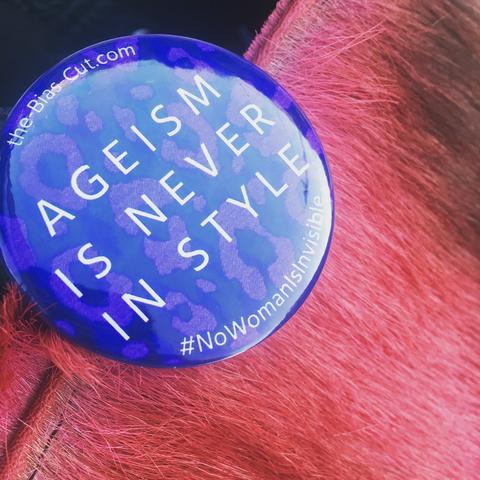 Over the past few years, ageism has become a topical issue, and the Fashion Industry has finally engaged. We've seen older women on the catwalks and in campaigns, as well as influential individuals speak out about their struggles and views on ageing.
However, these improvements have been incremental; we are still a long way from a Fashion Industry that is completely devoid of ageism. Tokenism and stereotyping is becoming the norm. And patronizing or offensive language such as 'anti-ageing' continues. This has to end.
"Ageism Is Never In Style" is committed to bringing the Fashion Industry into 21st Century, and that age is irrelevant to style. This movement aims to empower all ages to embrace style and fashion, while breaking down walls of bias and prejudice that still remain.
Join the movement at their Facebook Page and Group, follow the latest from Jacynth at her Blog and read more About The Movement. As a 76 year old woman who loves style and has a desire to be part of the movement to conquer ageism, I am all in.
This is a sponsored post and I am honored to spread the word about a brand that mirrors my beliefs and values. I can guarantee you that I will be wearing my "Ageism Is Never In Style" badge frequently around Denver and beyond. It is the perfect accessory for any ensemble!