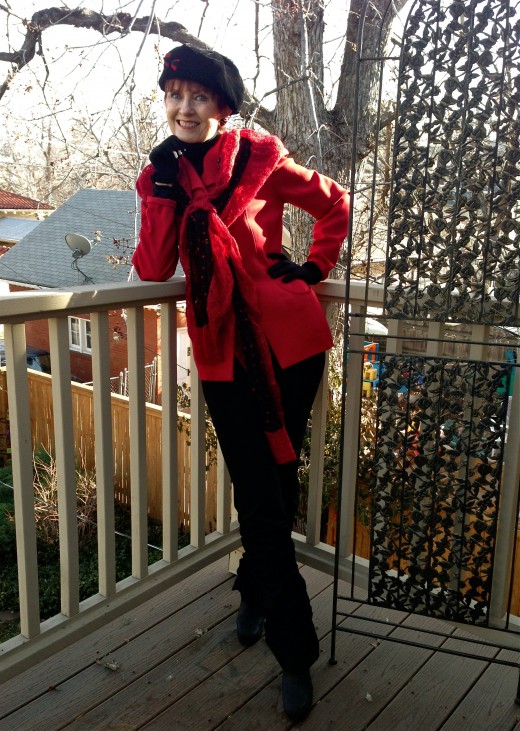 The SC enjoys wearing as much 'resplendent red' as is humanly possible during the holidays. Instead of decorating my home this season, except for a bright fuchsia bow (from the scarf installation) on the front door and a poinsettia in the living room sitting on the round deco blue glass covered table, I've been decorating myself.  In the spirit of experimentation, I wanted to focus on spending time with friends and family, so that's where I directed my energy this year.  However, I have been admiring the glorious decorations and environments created by the beautiful Tameras of Tamera Beardsley HERE and The Menopausal Supermodel HERE.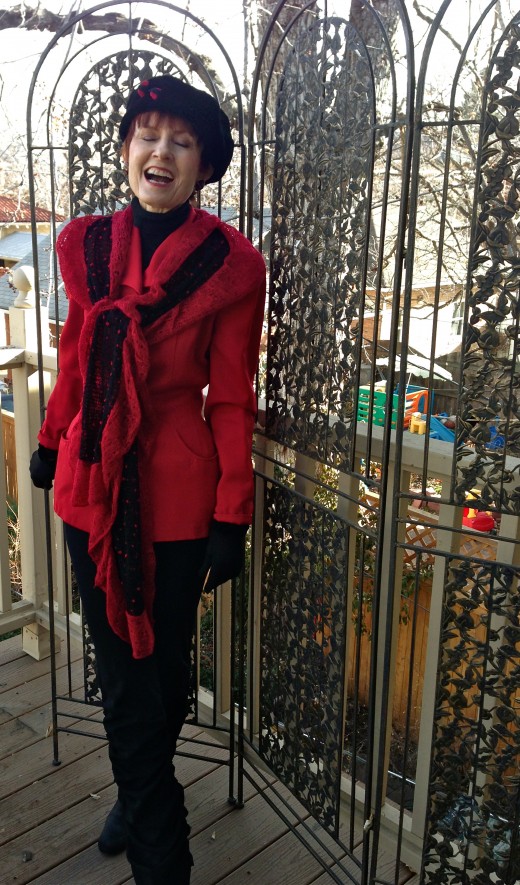 My weekly visits with Diana, who photographs Style Crone, continue to be a high point of my week.  This is how Diana makes me feel!  We talk and shoot, talk and shoot. Tell stories, laugh and sometimes cry.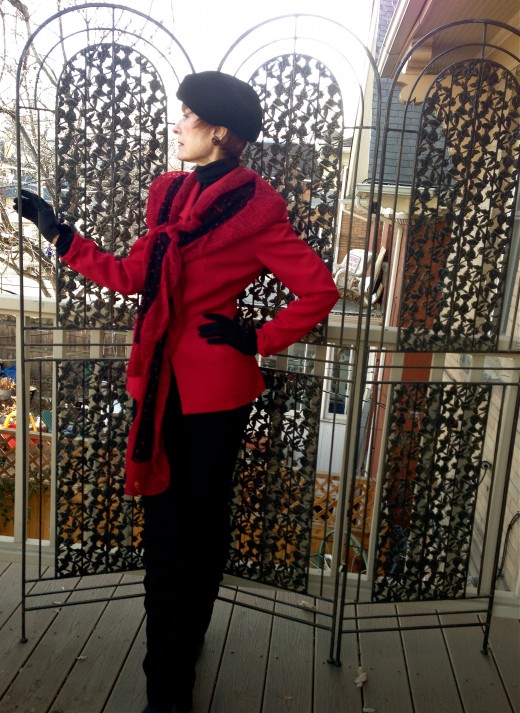 Or we have serious discussions that cover life's continuum.  The twists.  The turns. The sideways curves.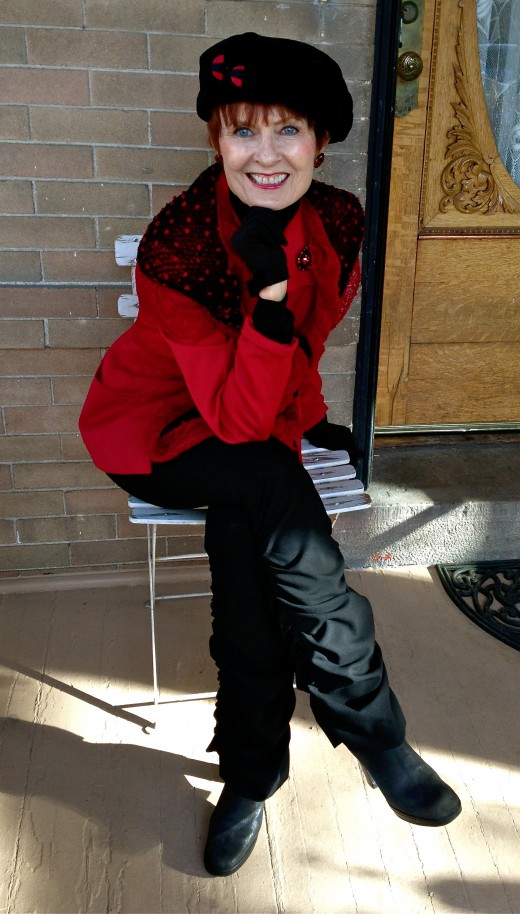 It's been almost two years since our collaboration began and I am very grateful for Diana's vibrant visits, like an angel of wise and bountiful energy who enters my space. Not only is she a photographer, but a true and valued friend who was excited about the black ruched pants that I recently pulled out of my closet, where they had been hidden for several years after having been  purchased at Buffalo Exchange.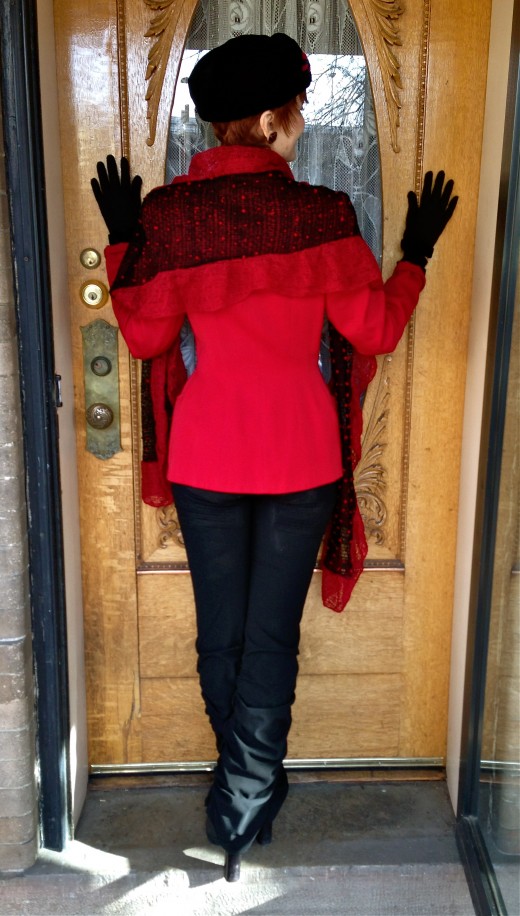 The verging on transparent black and red polka dot scarf was discovered at a street market in NYC; I don't remember the year.
Also making a holiday visit are: vintage red jacket, vintage red/black earrings, vintage black gloves, red/black vintage brooch and vintage black velvet beret with red/black hat pins – estate sales, black heeled boots and black turtleneck – retail sales from years ago.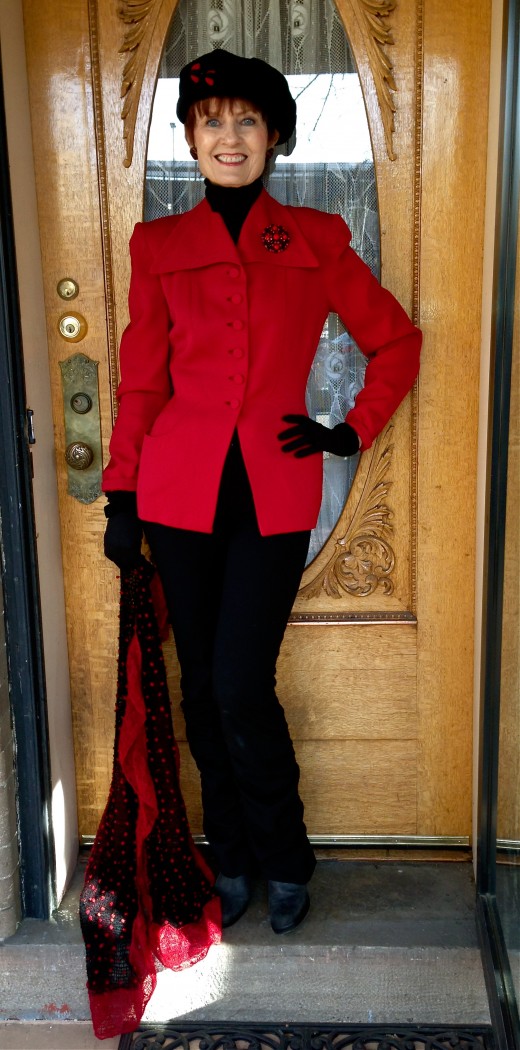 Photos by the lovely Diana
From my front porch, The SC wishes a happy holiday season to all who read and comment on Style Crone.  I am grateful for your kindness, your generosity and for all that I have learned from each and every one of you over the three and one half years that I have been part of this vibrant blogging community.  Thank you from the bottom of my Style Crone heart.
I feel honored, Sylvia, for the feature on 40+Style HERE.  I am a long-term and ardent fan of you and your beautiful blog.
HAT ATTACK #6 will be featured on Wednesday, January 1st!  That's New Year's Day!

Whoever wants to can join in!  Just compose a post that includes any hat, headwrap, headpiece, fascinator, hair flower, headband or other adornment for your head that you love on Wednesday, January 1st.  Participation will be open for one week, or until Tuesday, January 7th.  Follow the directions HERE provided on Style Crone to post your photo and hope to see you there in 2014!