Hat Attack #79 – The Hat Room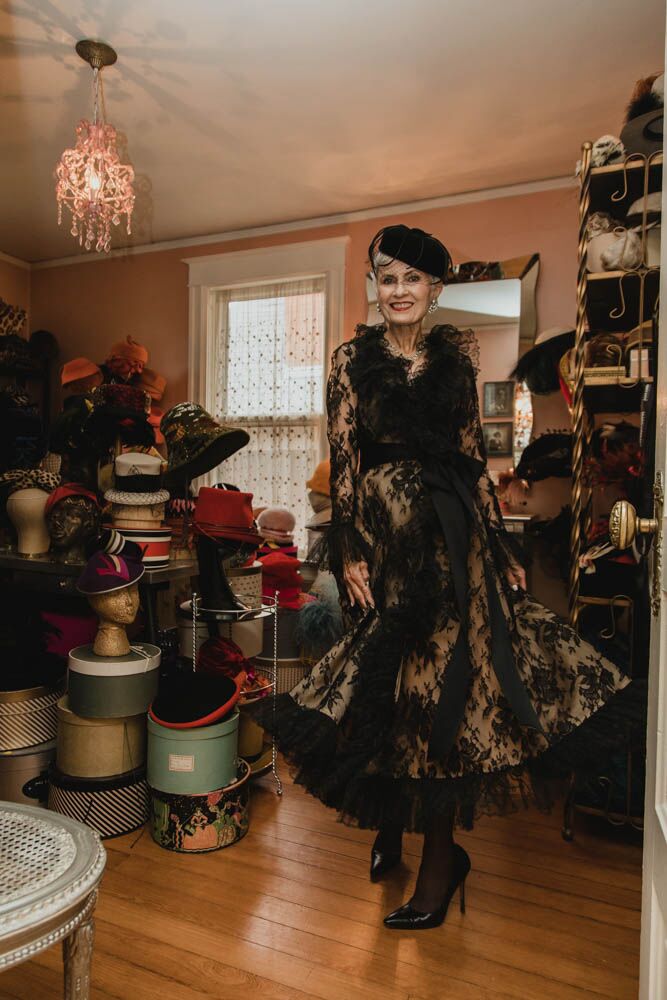 Continuing with the tour of my home and in honor of March Hat Attack, I'm featuring the Hat Room. This beloved room has been around since the late eighties, when we moved into our house. Sometimes it feels like the continuation of my hat shop, which I owned in the early 1980s. However, my hat collection is not for sale. It exists for its beauty and art, my pleasure and self-entertainment, and it's constantly changing.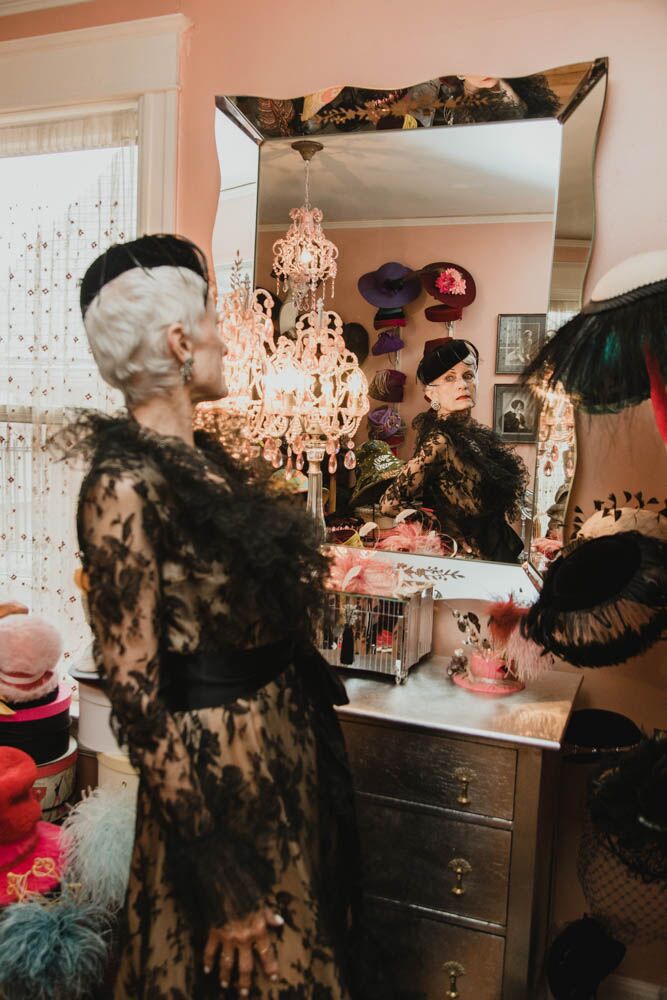 For the most part, I display my headwear by color, which makes it easier to find the perfect piece for an ensemble that I'm composing. As you can see, I carefully layer and stack my hats with the utmost of care, so as to maintain the shape of each beauty.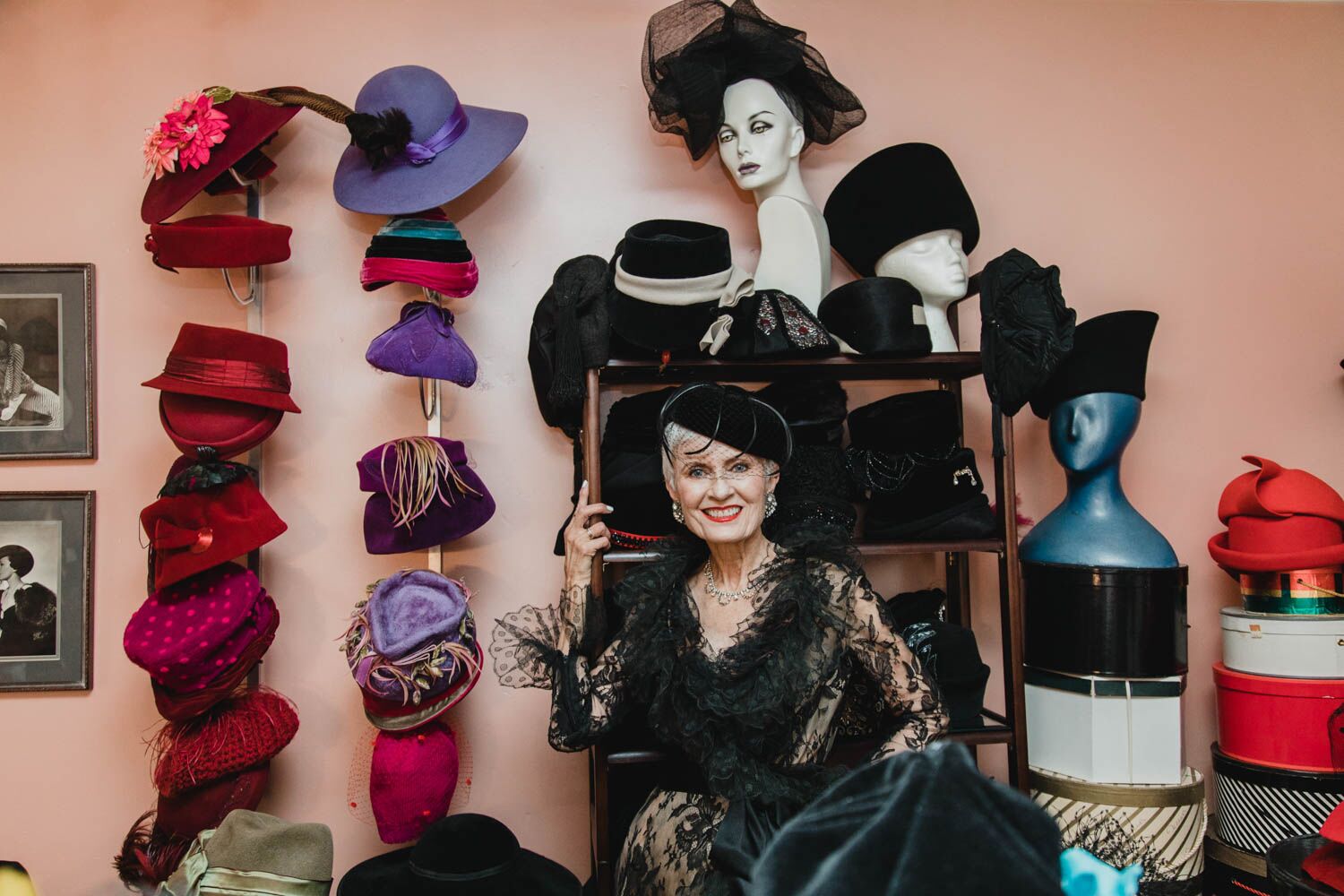 The hats currently on display are my fall/winter collection. Twice yearly (spring and fall) I change out the hat room. The hat boxes in the room contain the spring/summer collection, which will be arranged on the racks and surfaces soon.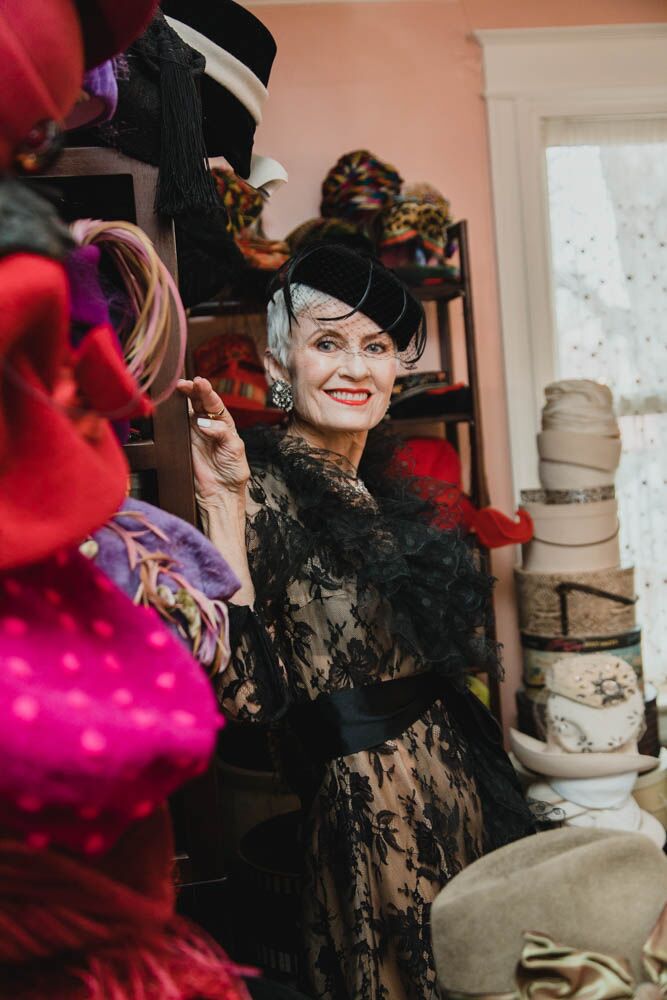 Having a hat collection makes having a hat box collection mandatory. All of the hat boxes in the hat room are vintage, which is by design. I have other hat boxes that store many a chapeau, but they reside in shelves in closets and other spaces in my home. I am always on the look-out for vintage hat boxes, wherever I travel. Estate sales have been my most fruitful source of discovery.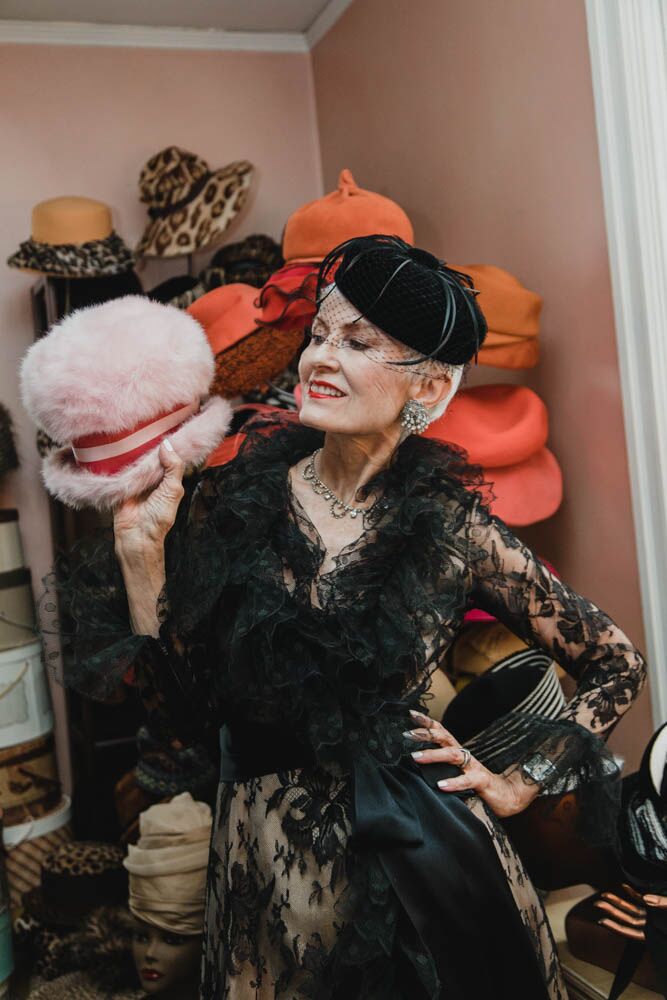 In the above photo I'm holding a vintage pink Schiaparelli. I have a number of designer hats, but that isn't the reason that I fall in love with a chapeau. If I adore it and if it's affordable, it has a perch in the hat room. At this point I have to really love it and it has to speak to me loudly for that perch. As you can see, space is limited.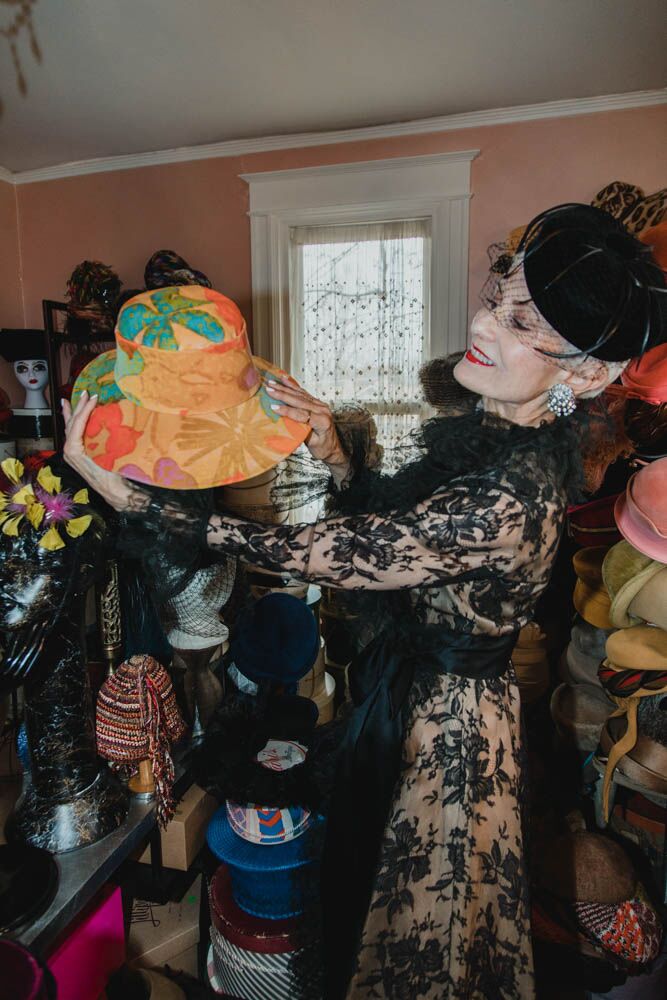 The hat in the photo above was discovered in a vintage shop in Miami. It's felt, but it looks like spring. I'm planning my  seasonal transition ensemble as we speak. Watch this space!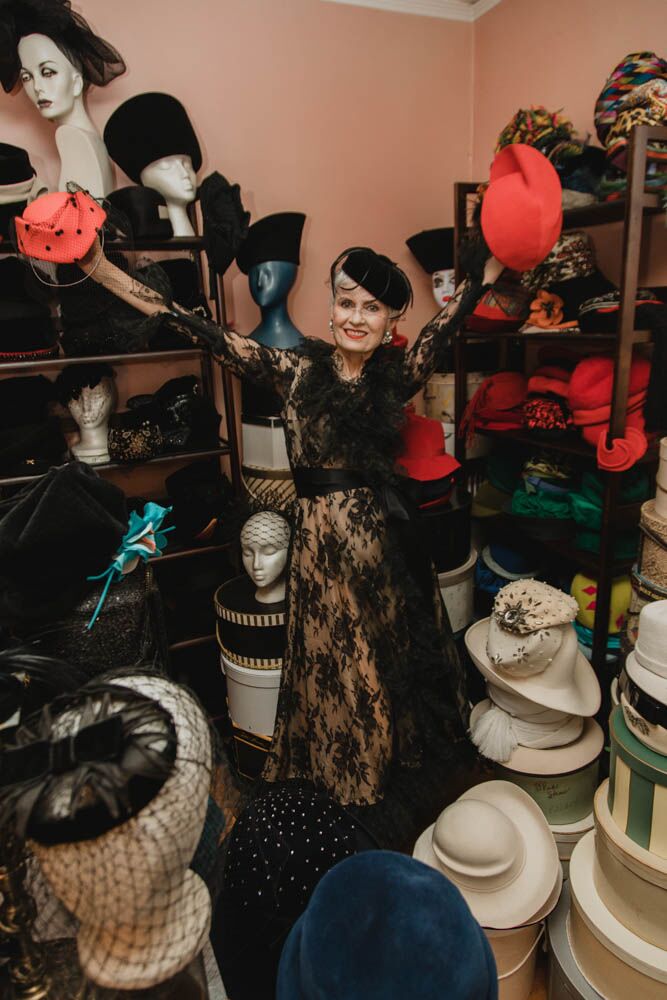 Fedora. Beret. Boater. Derby. Fascinator. Cocktail. Bowler. Bucket. Cloche. Fez. Homberg. Porkpie. Top Hat. Pillbox. Breton. Turban. Panama. Picture Hat. Toque. Tricorne. And more.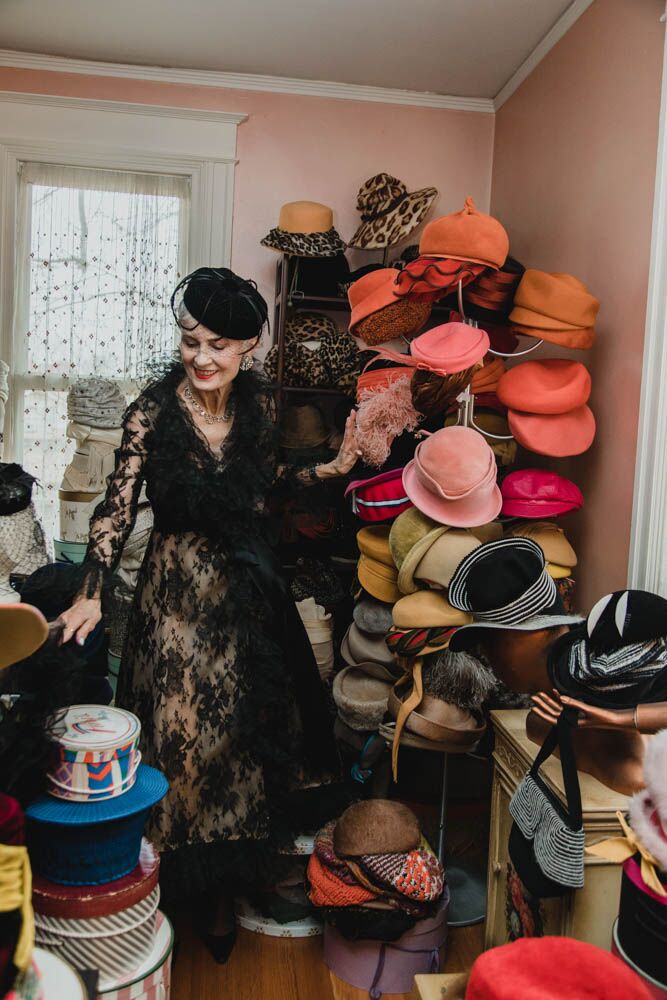 Sometimes I feel like I'm tending a hat garden! Today my gardening outfit is a vintage Bill Blass black lace over nude cocktail dress. My hat is estate sale vintage. And my pointy toe heels are consignment shop.  Scintillating sustainability is my daily mantra. What's yours?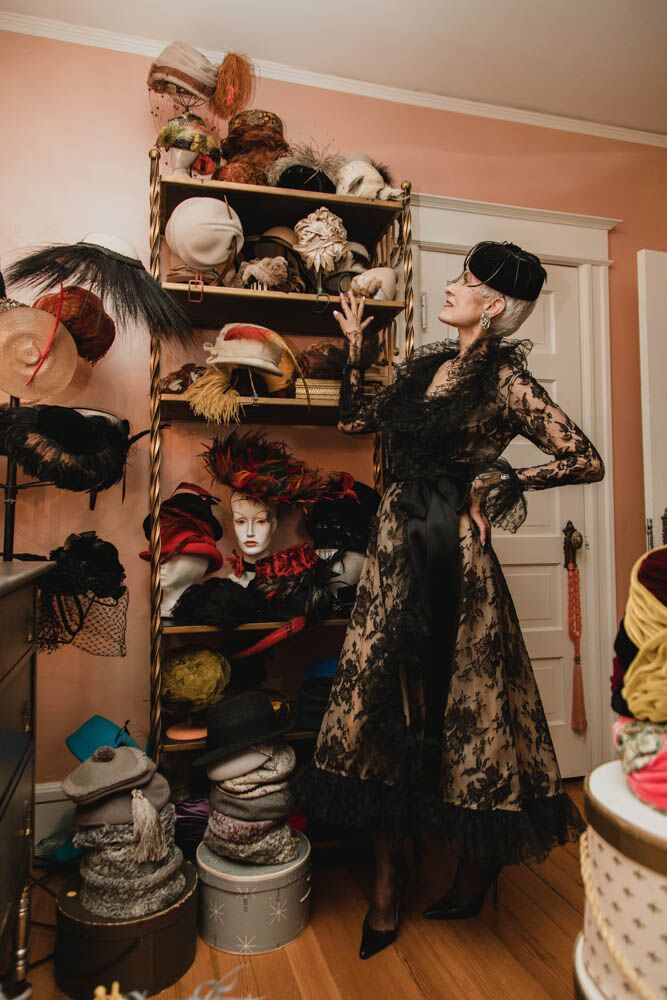 Photos by Nicole Perez