Saturday In The Mountains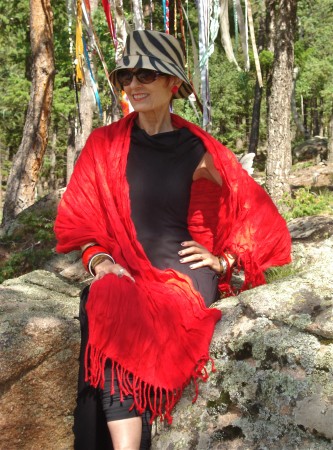 Sun spots collecting on red scarf with tiger print straw hat.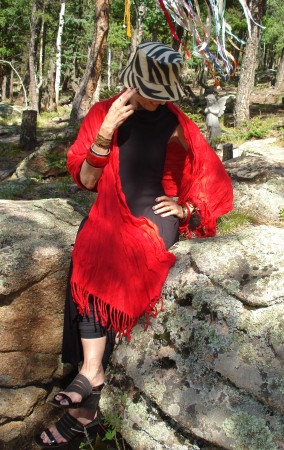 Photos by Diana in the midst of the party.
This past weekend The SC attended a retirement party for a dear friend who owns a home with her partner in the  mountains.  Susan was a professor in the School of Social Work at the University of Denver, and the gathering included many of us who had worked as therapists in the 70's at mental health centers in Denver and the surrounding areas.  The 'mental health sense of humor' that I have missed with all my heart was abundant and laughter filled the air in this beautiful setting with its rugged terrain.
As I looked around at the many faces that I hold dear, I became aware of the people who were part of this grouping but are no longer physically present.  The number was significant. I felt a deep sadness at the realization that comes with loss and the awareness that comes with aging, that those of us who have survived/thrived have a relatively limited and unknown amount of time to inhabit our remaining adventures. This has always been true, but now it feels more real. But then I took a second look at the group of people surrounding me, and saw a radiant crowd having fun, telling stories, sharing memories, audacious and alive, reconnecting in the cool mountain air.  Why be maudlin when playful was the motif?
But what will bring me joy as I approach the age of 70?
I have pondered that thought this week, and feel that I need to spend more time outside of myself. Organizing my home is at times an isolated activity.  I have, tucked away in my studio, a line of headwear for women who have hair loss due to medical issues which was designed during my hat shop days in the 80's. My former business partner was one of the faces missing in the crowd on Saturday. She passed away less than two years before Nelson.  I began to work on this project again several years ago, but as Nelson became more compromised, I launched Style Crone and the headwear project dropped off the agenda.  Now that time has elapsed since cancer was a part of my daily life, I feel ready to once again connect with the health care world, but with healing headwear in hand.  Does this mean that I miss parts of that world? I'm finding that I want to explore the answer to that question and consider incorporating a part of myself that had considerable meaning and was prominent throughout my life span.