The Vintage Maxi Coat In Snow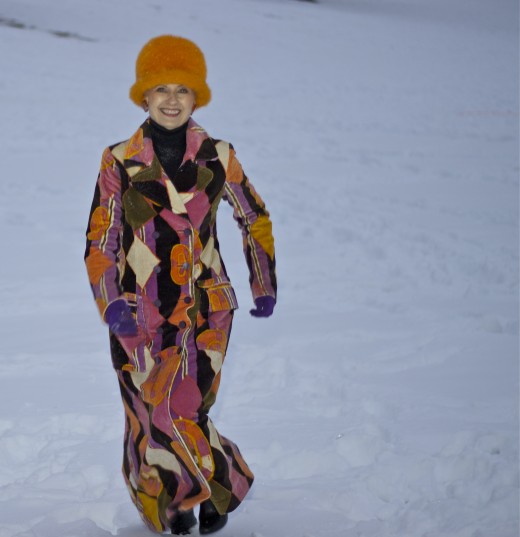 On what felt like the coldest day of the year, Daniel and I traveled to Congress Park HERE, an area of Denver not far from my home.  The day was overcast and gray and the newly fallen snow covered the ground as far as the eye could see.
In an effort to stay warm, I ran through the snow in my boots, enveloped in layers covered by the colorful vintage maxi coat gifted by a friend many years ago.  She found this vintage beauty hanging on her dumpster, and generously offered it to me, knowing that I would give it new life.  It's been in my closet ever since.  Made in Italy, the fully lined linen fabric is surprisingly warm and has the ability to brighten the most dreary of days.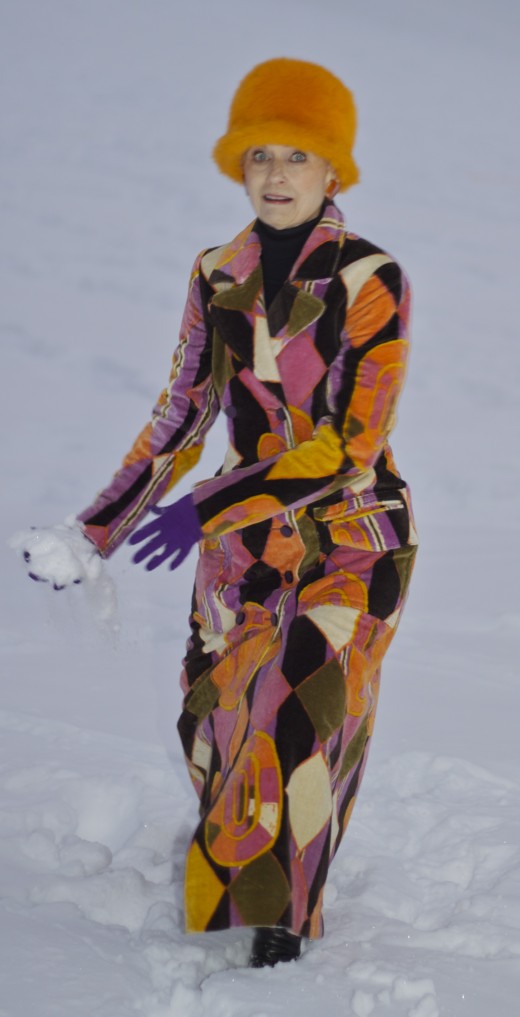 As if on cue, I impulsively scooped up a handful of snow and prepared to throw it high into the space above me.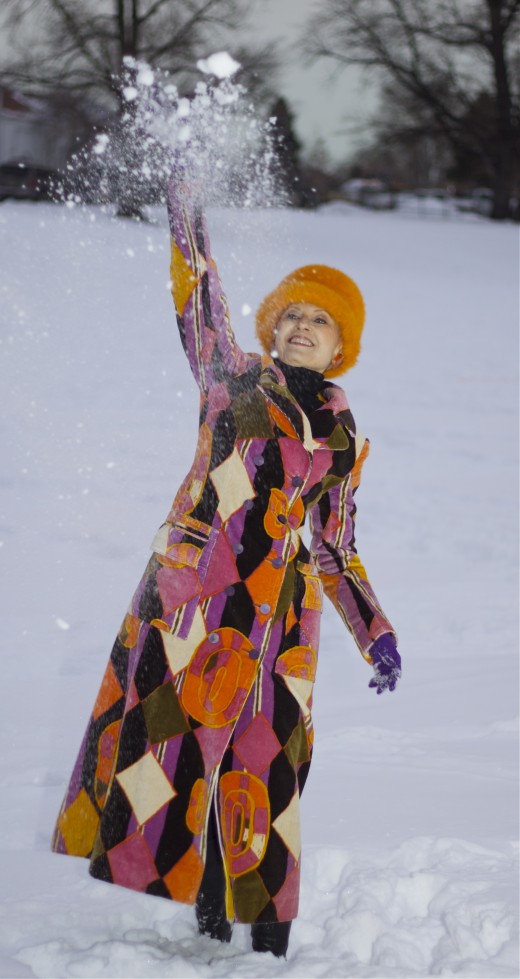 In lieu of video, a series of photos were captured by Daniel, and we ended up laughing hysterically at the absurdity of attempting to shoot photos in the bitter cold with insufficient light, without a plan or a pose.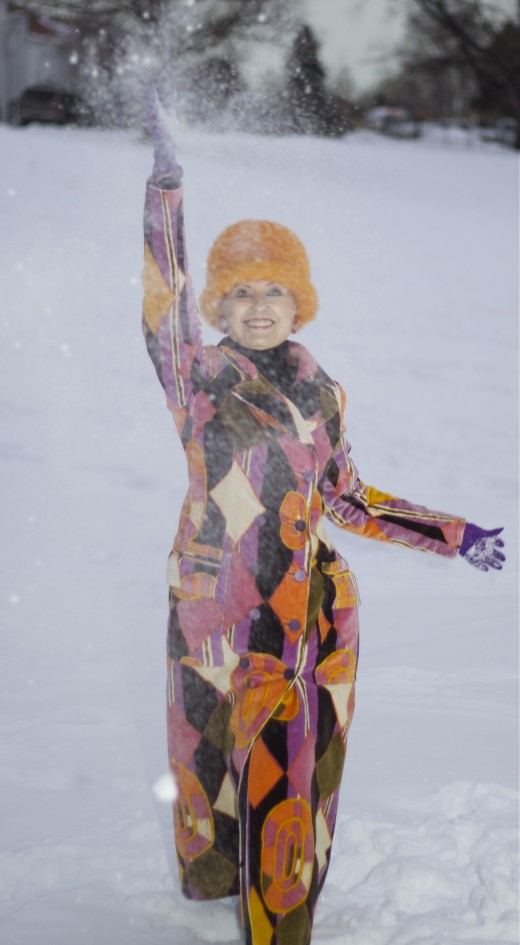 A veil of snow fell on and around me and my coat of many colors.  I can't remember the last time I engaged in an activity so frivolous and carefree.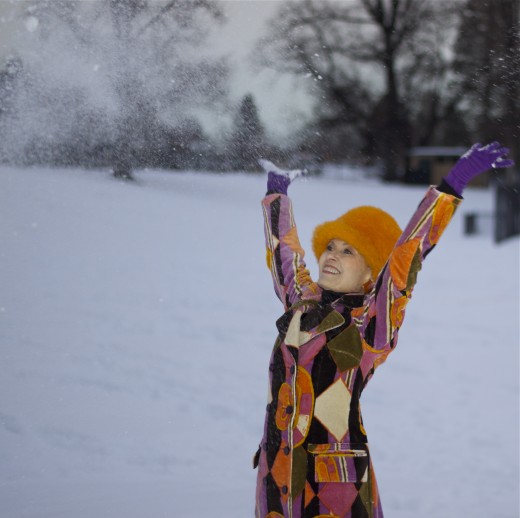 There was something exhilarating about the snow and the starkly frigid surroundings that inspired movement and spontaneity.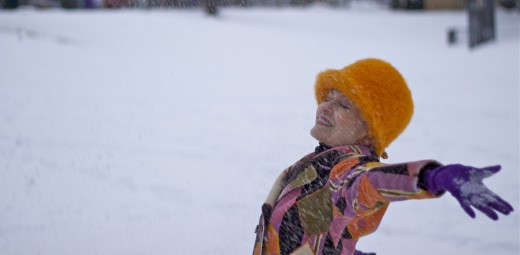 There are no age limits on the ability to dwell in the playful space of unanticipated joy.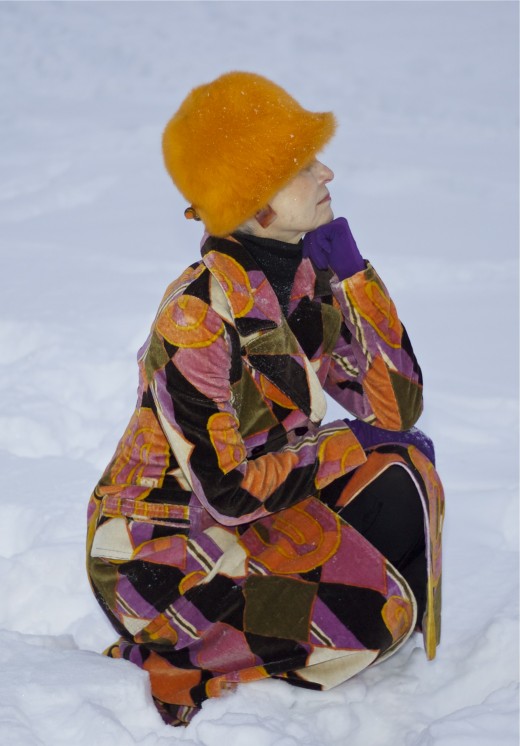 It was one of the most memorable and uninhibited afternoons of our collaboration. The priceless sensation of impromptu abandon colored my vision for days.  Another example of the many gifts of blogging!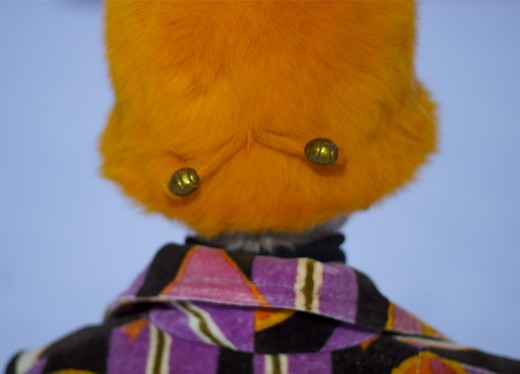 Photos By Daniel
Vintage multicolored maxi coat and 60's hat covered with marabou feathers and trimmed with gold beads – gifted, vintage orange earrings and vintage purple gloves – estate sales, black turtleneck – consignment shop, Fluevog boots – retail sale.
 Sylvia of 40+Style has a new style course on accessories, which was launched on February 15th HERE. I believe that accessories are everything, and her expertise in this area is beautifully demonstrated in her course.  Check it out!
Linking up with Patti's Visible Monday HERE, Catherine's #iwillwearwhatilike HERE, and Cherie's Shoe and Tell HERE.