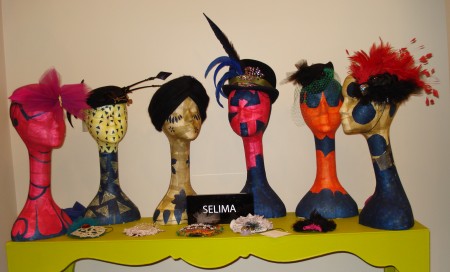 Photo by The Style Crone
Henri Bendel's Holiday 2009 display of Selima hats.
The Style Crone is preparing for a short weekend visit to NYC.  I fell in love with New York City during my first visit in 1977, and every experience since that time has only added to my deep affection for this intense and glorious metropolis. Our daughter Camille is moving back to Denver in December after living in New York for 12 years.  We are very grateful at the thought of having her near, with her kind and generous approach to life.  I will surely visit the city again, but it will be different when she is no longer a resident of my favorite place on the planet.
However, my ambivalence about leaving Nelson clouds this visit.  He wants me to go and Camille wants me to visit.  But my heart is heavy as I pack the perfect hats and accessories with hesitation.  Joyous anticipation mingles with sadness and ambivalence. It's different this time and I am flooded with memories of our many visits to NYC together.  We love the city's diversity and creative energy, the subway and the many languages spoken, and how exploring a small area could take days and even then it's not complete.  And then there's the hat shops extraordinaire!  And the gigantic selection of spectacular and visionary vegetarian restaurants.  Theatre, museums, dance.  I could go on for hours. I have traveled to NYC by myself before, but this time the loss of Nelson's presence by my side weighs heavy on my heart.  Surely my stories of adventure upon my return will make him smile, as they have in the past without fail.