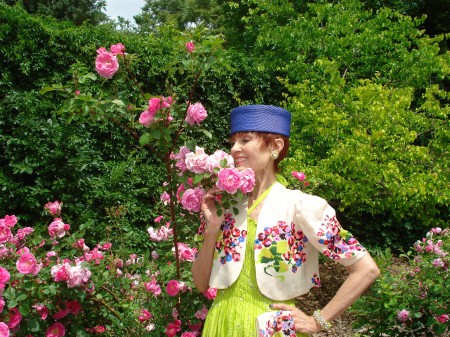 The SC sends virtual rose deliveries to the fabulous bloggers Shelley of Forest City Fashionista HERE and Rosemary of Forever on the Catwalk of Life HERE for honoring myself and others with the Blogger Appreciation Award.  Thank you from the bottom of my SC heart.
The responsibilities of the recipient of this award are:
     1)  Thank the person who nominated you by linking to her/his blog.
     2)  Answer the four questions below.
     3)  Award the Blogger Appreciation Award to fellow bloggers.
     4)  Let the blogger know that you have nominated them.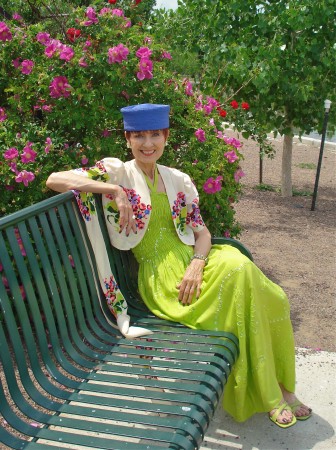 THE FOUR QUESTIONS:
1)  How long have you been blogging?  Since July 13, 2010.
2)  Why did you start blogging? I started blogging as a way to cope with my husband's diagnosis of a rare and deadly cancer and to creatively express myself.  Nelson was very involved in Style Crone and encouraged me to begin and continue.  He was my photographer and my most enthusiastic advocate. Following his death in April of 2011, I continued to blog as a way to deal with loss and grief, and to provide a positive focus and structure to my life.
3)  What type of blogs do you like to follow/read?  I was initially inspired by Advanced Style HERE  and I now follow an ever increasing number of blogs which are written by interesting, clever, creative, compassionate, passionate people of any age who are in love with life and style, and are many times over 40. Bella of The Citizen Rosebud HERE has created a great list of over 40 bloggers HERE.    I have been influenced in some way by every blogger on this list!  I have also felt supported, enriched and encouraged by this talented community.
4)  What is the one thing you'd like to improve on as a blogger?  I would like to improve in the areas of photography and technology.  Many times they seem related and The SC believes this to be a dementia prevention strategy.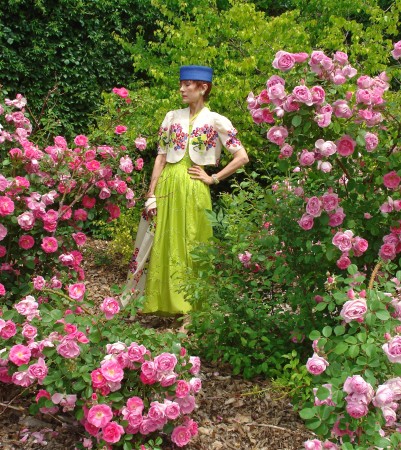 Blue straw hat – Patricia Underwood from my hat shop in the 80's, vintage multicolored bolero jacket with scarf and vintage  earrings/bracelet – estate sales, lime green maxi dress – street market in Mexico, lime green sandals – summer retail sale a decade ago.
Photos by Diana in City Park
The SC dances daily with the remarkable bloggers on my Blogs We Love Page HERE; I appreciate each and every one, and it seems as if I discover a new and wonderful blog every day, so additions are frequent. Recently I have been on a quest to find bloggers over 60, which doesn't mean that age has anything to do with fabulosity, as evidenced by Kathleen Lisson of That's a Pretty Hat HERE and Marian Kihogo HERE who wears brilliant head wraps along with her creative ensembles.  However, it's fun to give my sisters in age a voice, so on that note, I'm giving a shout out of appreciation to: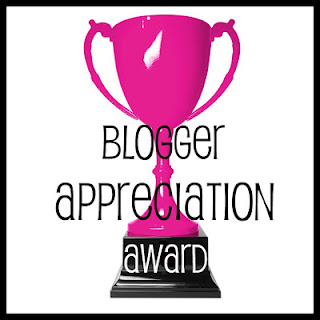 1)  Anne-Marie Bruun of Stil med fru Bruun HERE who is styling from Denmark.
     2)  Anita of Embracing Frivolity HERE who is now celebrating her 70th birthday, so is on hiatus.
AND FROM THE YOUNGER SET:
     3)  Mimi Thi Nguyen and Minh-Ha T. Pham of Threadbared HERE who never fail to make me think and raise my awareness with each and every post.
     4)  Louise Cady-Fernandes of Lines of Beauty HERE who blogs about aging gracefully one beautiful wrinkle at a time.
Blogs are like roses, to be enjoyed and appreciated as a gift every day!
Speaking of blogs and roses, I'm off to join Patti for Visible Monday HERE and Monday Mingle HERE.