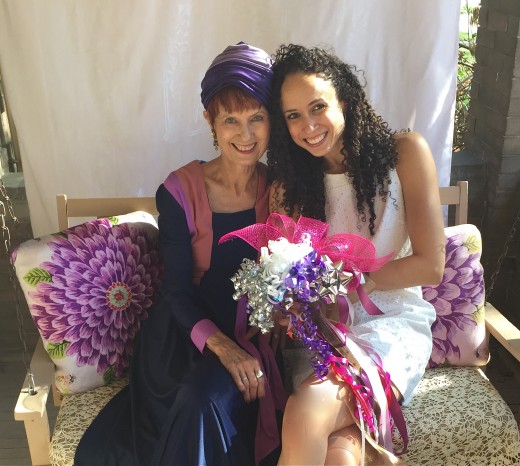 Camille's bridal shower was held recently at my home.  Her friends and I collaborated on the event, and a fabulous time was had by all.  I am thrilled to see my daughter radiant, happy, excited and in love with a man who supports and adores her.  Her dazzling smile and deeply expressive brown eyes display her inner glow!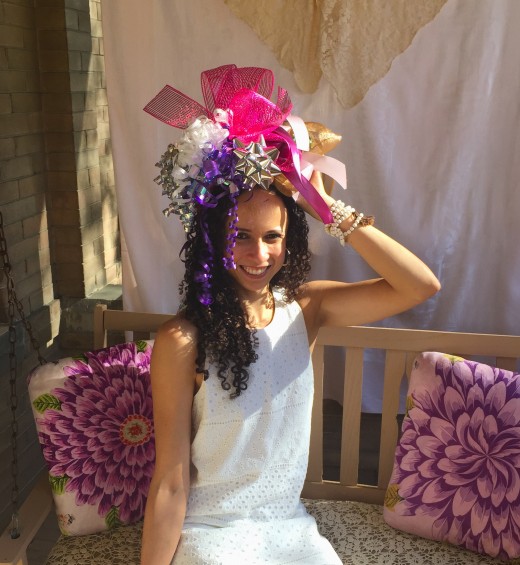 My beloved daughter adorned her curls with her shower gift ribbons and bows as headwear in this photo.  She can make any outfit shine!  Camille loves the scent, color and appearance of the lavender plant, and in her honor I decorated the front porch to reflect her sensibilities.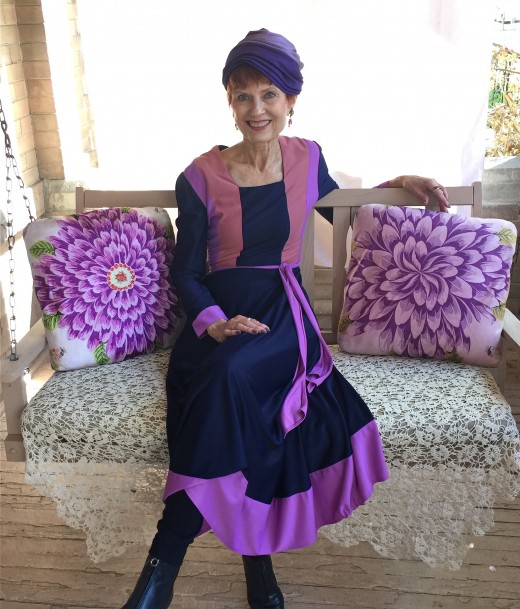 I tied vintage silk scarves on existing pillows and used vintage lace and linen tablecloths to cover the porch swing cushion and establish a private area. Why leave these beauties in the cedar chest hidden from view?  Creating living spaces on the porch and in my garden with estate sale finds is as much fun as composing outfits.
My ensemble was chosen to include shades of purple and lavender, with an estate sale vintage turban and vintage maxi dress with navy background and navy booties.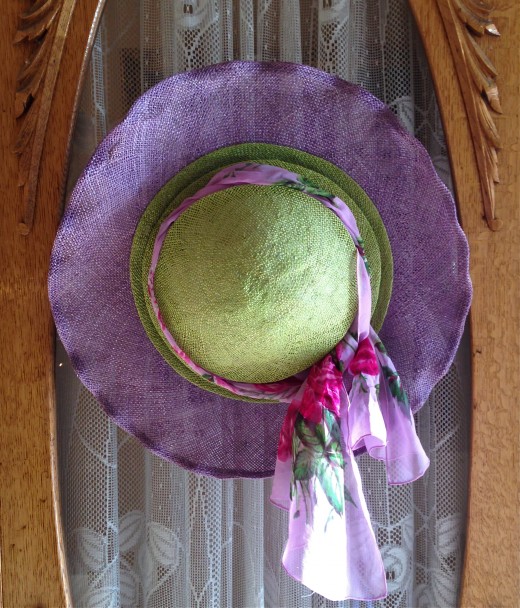 The hat as wreath was accessorized by a vintage floral silk chiffon scarf, greeting guests as they arrived.  Today it continues to give me pleasure every time that I leave home and return from an outing.  It remains in place for the season, until my collections provide another adornment for my front door.
With the wedding only a week away, I find that I'm not able to comment regularly on the blogs that I love.  I will return to full blog mode after the festivities.  I don't want to miss a moment of this significant time in my daughter's life.  Sending love to all!
Hat Attack will be up on Friday, May 1st!