The Hat Exhibit At The Bard And A Single Photo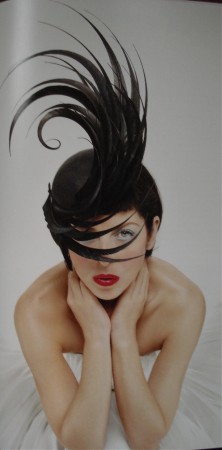 Cover of the book purchased at the Bard Exhibit with a photo of Isabella Blow in a hat by Philip Tracey, 1996.
This journey to NY was different from any other in my past.  I brought my camera, but didn't use it until the final hours of the day before we returned home.  What  blogger walks the vibrant streets of NY without her camera?  The movements required for photography felt unavailable and leaden, as my lens was internal. Reminding myself that the focus of this trip was a memorial tribute, I accepted that my memories would be accessible in a different form.  It was a time to be spent with people, with friends old and new.  No visits to my favorite haunts.  No explorations of hat shops or flea markets. No attempts to discover new milliners or vintage venues.
However, to fulfill a promise made to myself last fall, I visited the exhibit at the Bard Graduate Center HERE, 'Hats: An Anthology by Stephen Jones.'   Needless to say, I was in awe of the beauty and creativity displayed before my eyes.  As stated on the Bard site, 'The exhibition is divided into several sections that reveal the practice of creating hats, how they are worn, by whom, and how they are presented to the client.'  In a spellbound state, I viewed a celebration of the accessory that brings art to my daily life.
Hat quotes from the exhibit:
'I simply live my life and put it into a hat.'  Stephen Jones
'Take the one you fall in love with.  Which mysteriously does something for you, which magically makes you feel more  beautiful.'  Genevieve Dariaux  (This quote could also refer to a beloved life partner).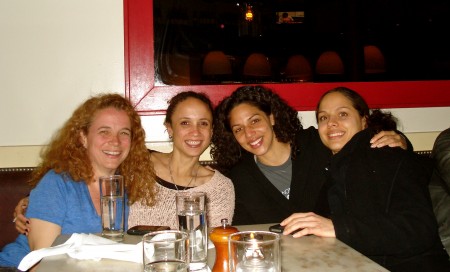 Camille (second from left) was laughing with friends Cynthia, Christianna and Shomeiko; something about this moment brought my lens to the exterior. Perhaps it was the animated light in my daughter's eyes or her dazzling smile that reminded me of her father.  The SC picked up her camera!  This is the photo I took on our final night in New York.