The Collaboration With Barbara And Company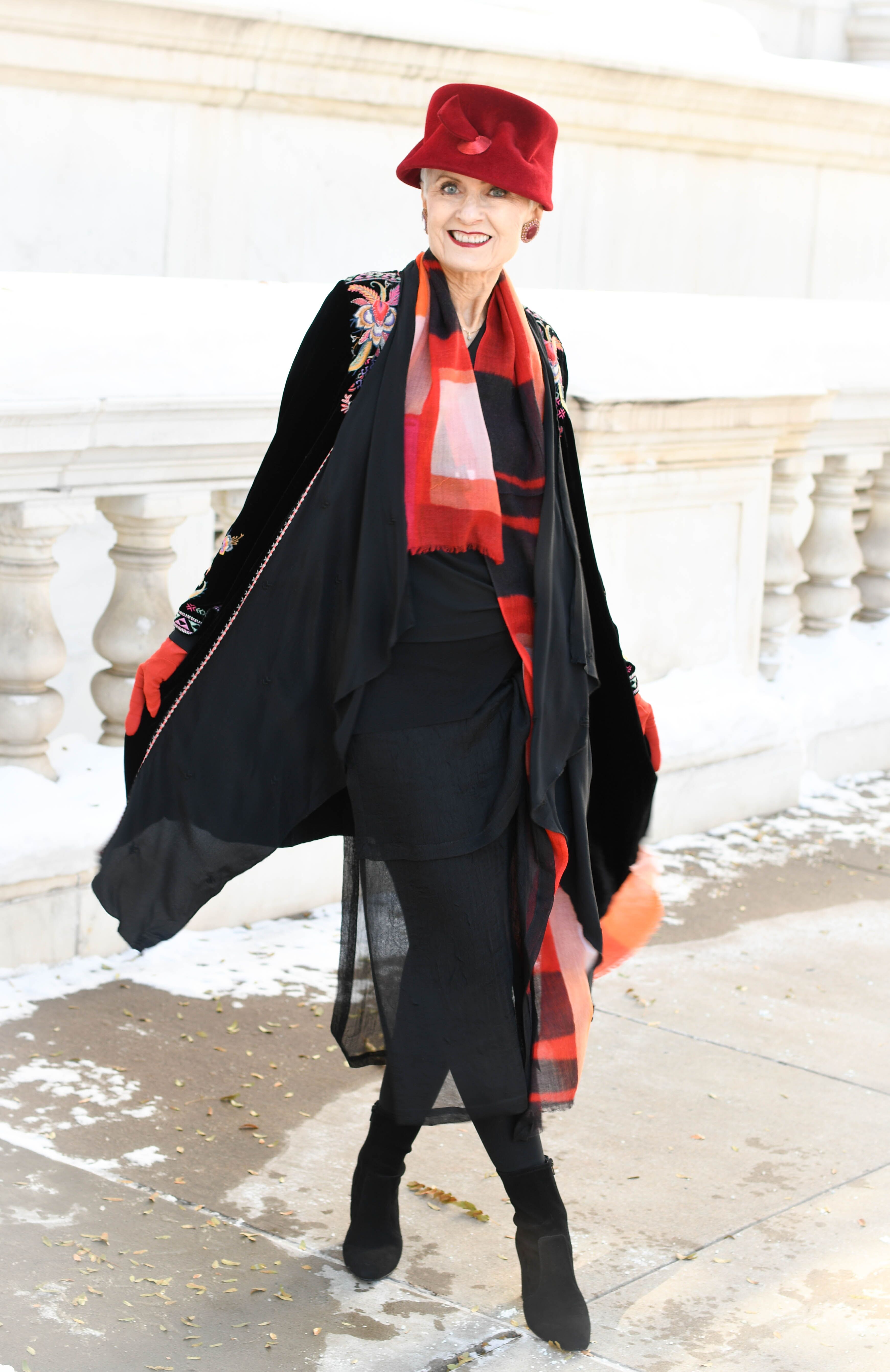 The morning after a sudden Colorado snowstorm created the perfect backdrop for this gorgeous ensemble from Barbara and Company, a local clothing boutique with locations in Denver's Washington Park area and in Boulder. This local business is a  store that feels like an exquisite gallery to me, yet warm, welcoming, and inviting.
Owned by Kathy King, the store is a reflection of her creativity and dedication. She is a woman who is as passionate about beautiful and unique clothing as I am about hats! With this post I am honored to be sharing Kathy's love and enthusiasm for fashion and style with you, my wonderful followers.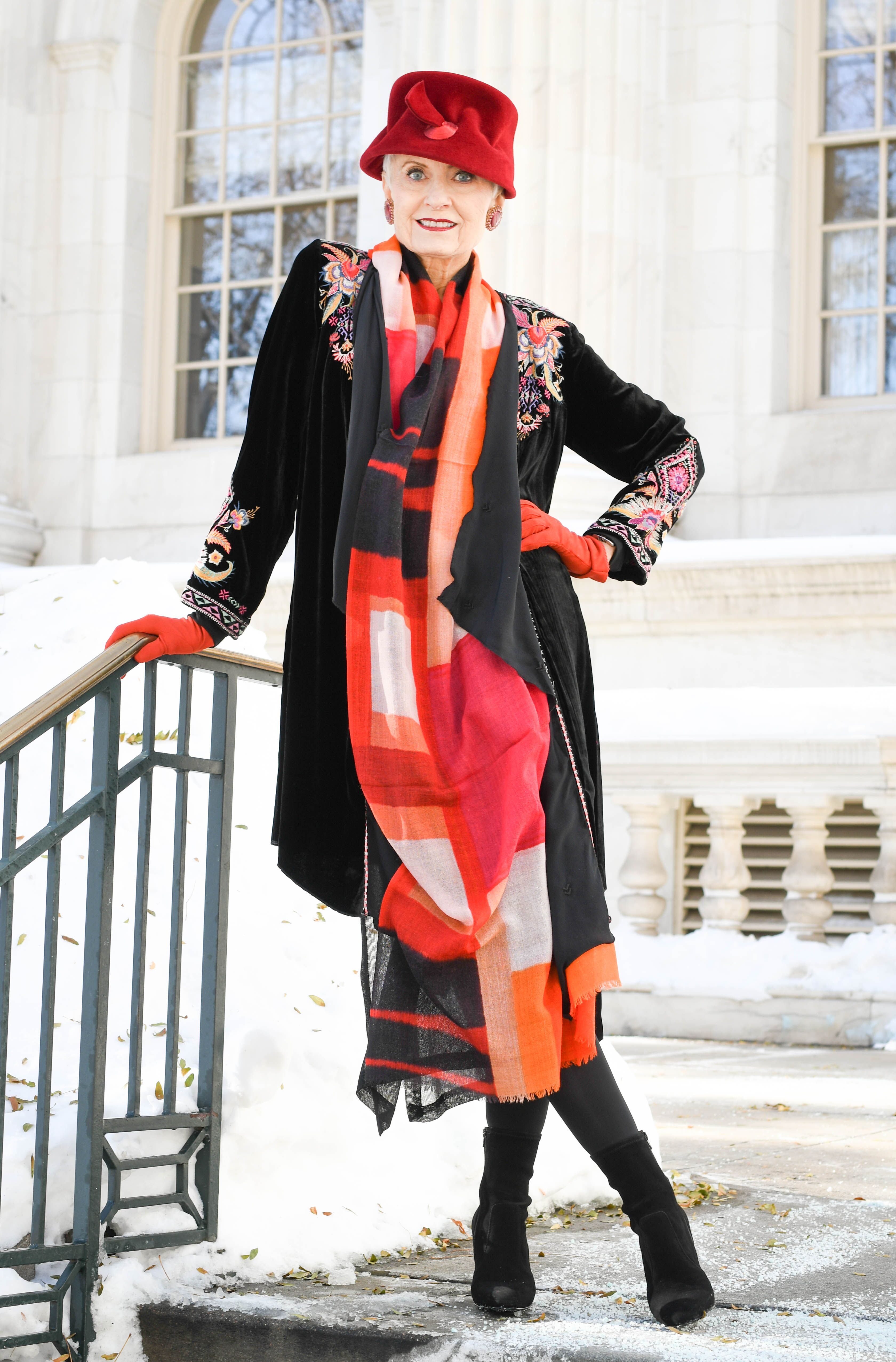 Kathy personally reviews and orders each designer's line. She travels frequently in order to create the highest quality collections for both the Denver and Boulder locations. The featured designers are from Europe, New York, Los Angeles, and Israel. She also loves to carry stellar local designers, so that you get the best from home and abroad.
Barbara and Company has been bringing great fashion to Denver for more than 30 years. Kathy has a large and loyal customer base that depends upon her experienced eye and her staff of savvy sales associates and personal stylists with proven expertise to help them make flattering decisions while building a beautifully coordinated and timeless wardrobe. These are pieces that are meant to last a lifetime, thus contributing to the ethos of sustainability.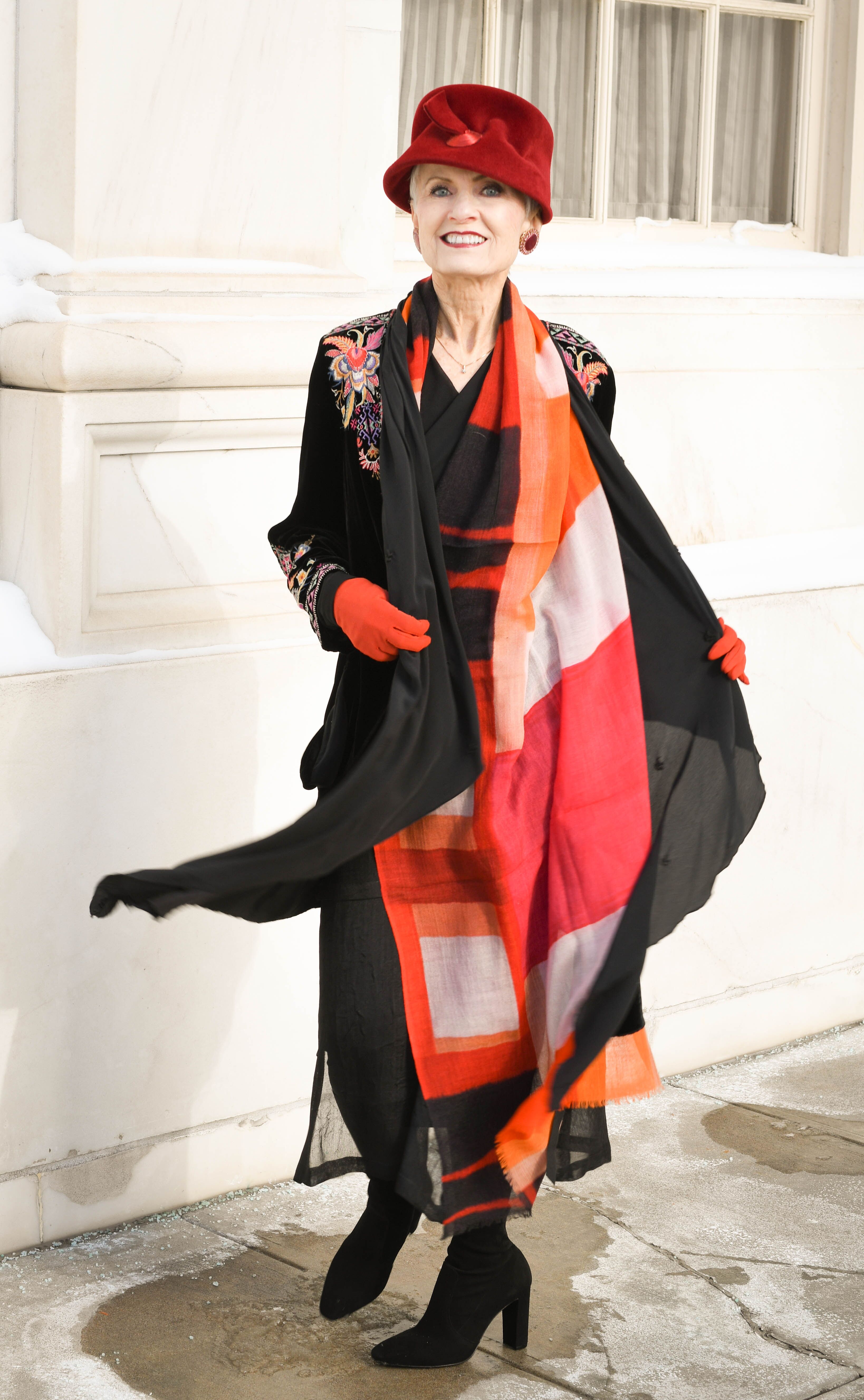 Based on my experience with Barbara and Company, I can understand why they have been a Denver favorite for women's high fashion for so long.  Kathy and her staff were fun, attentive, and obviously knowledgeable and there are numerous choices available for women of any age.
In the photo above I'm wearing their top and skirt with sheer panels by the Croatian designer Xenia Design.The colorfully embroidered black velvet jacket by Johnny Was mirrors a vintage vibe that appeals to my aesthetic and is the perfect piece for the upcoming holiday season. The scarf that I chose from their abundant inventory of accessories plays with the colors of the jacket's embroidery and flows with the movement of its filmy silk trim.
This luxurious look provides the ideal background for me to personalize with a vintage hat, vintage earrings, suede heeled boots, and of course a pair of vintage gloves that add yet another pop of color drawn from the intricate embroidery of the jacket.  I can think of so many ways to take these enduring pieces into day or evening!
Barbara and Company also carries an incredibly stylish selection of jewelry—earrings, cuffs, bracelets, bangles, and necklaces—for any occasion, casual or formal. Many items are made by local artists with semi-precious stones, pearls, silver, and gold. Individuality, quality and style can also be found in their collection of handbags, clutches and totes.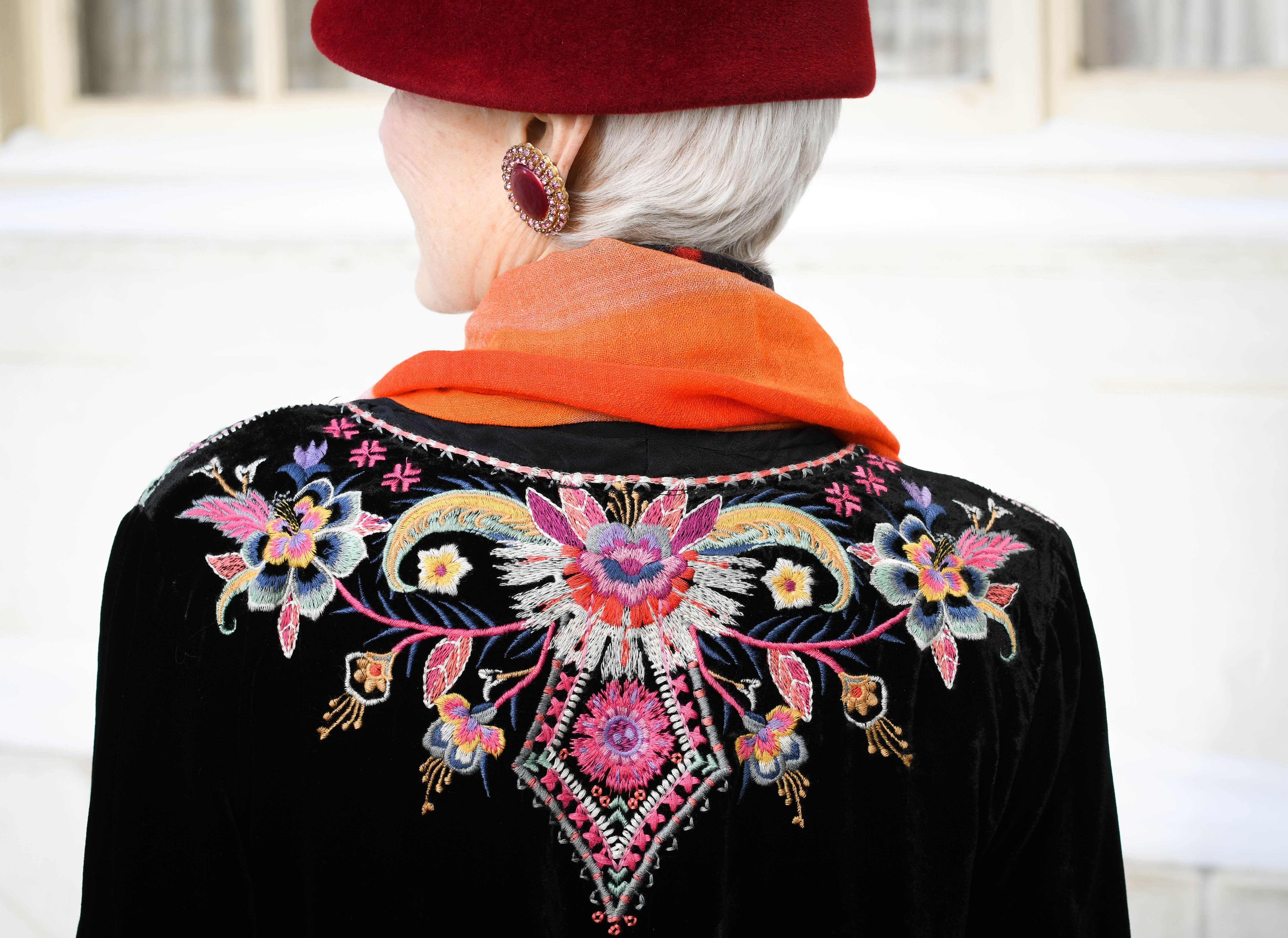 Photos by Daniel
I was also impressed with Kathy's social conscience (a sense of responsibility or concern for the problems and injustices of society) and giving back to her community, as evidenced by this statement on the Barbara and Company website:
"Every year, we support the people and community who helped us build our boutiques. We encourage our customers to get in on the act as well with food drives, special sales benefiting local relief funds, and sponsoring fundraising community events throughout the year. After all, giving back never goes out of style."
This is a sponsored post. My heartfelt opinions and enthusiastic response to this highly respected and beloved Denver business are my own. I respect and admire their attention to style and their devotion to customer service. My collaborative experience with Kathy and her staff was uplifting and inspirational.  I love supporting local businesses that speak to me and embrace values that elevate and bring out the best in the customers that they serve.