Balancing With Polka Dots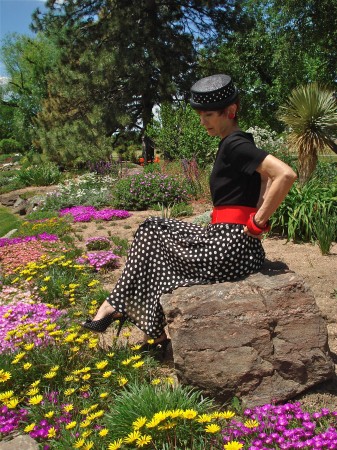 The SC began her day with meditation and yoga, preparing for anything that what might come her way.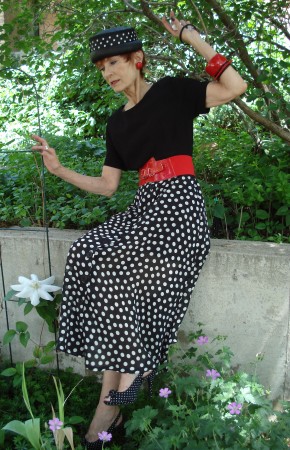 This was the day that N's office was painted, after years of attempting to avoid the use of any form of what could be perceived as a noxious substance in the house during the time of his illness.  The colors had been carefully chosen with the help of a dear friend, and the prep work was complete.  Time to walk up the stairs, turn to the left and gaze into a different reality.  I wasn't  prepared for my internal lack of balance and the feelings of disorientation.  Had I erased memories with the swipe of a brush and a roller?  Does this mean that I have created more distance from the life that I knew?  From the man that I loved?  It's tricky to live the fine line of maintaining my memories and moving forward.
Didn't I choose this transformation?  Was it not my intention to focus my energy on my home and garden with as much spirit as I focused on caregiving?  One of my yoga teachers expressed that turning yourself upside down on purpose in the morning can help adjust to anything that happens during the day. Electing to playfully swing off the branch of a tree is a conscious choice, as was the decision to paint this sacred room, which is now light and bright and beautiful.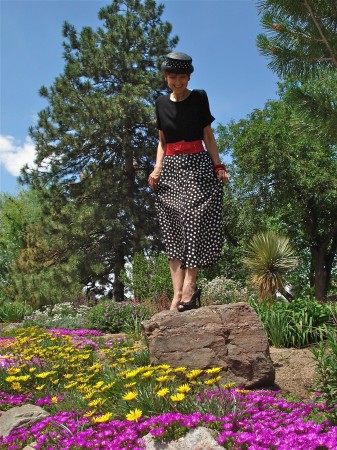 Why not balance on a rock in City Park in polka dots from head to toe and admire the vibrant colors below?  Nothing about this transition is life or death. Why not be grateful for the ability to change and accept 'what is' no matter how long it takes to gain my footing.
Photos by Diana
Vintage black/white polka dot dress, vintage red patent leather belt, vintage straw hat with polka dot ribbon, vintage red and black bangles and red earrings – estate sales, polka dot peep toe heels – boutique on South Broadway.