In celebration of her 60th birthday, my dear friend Kelly held a croning ceremony and invited friends to her home in the mountains outside of Connifer, Colorado, which she shares with Susan, her partner of over 30 years.
For this event, The SC wore a vintage teal feather Eurona hat from Fabulous Fanny's NYC, a large reversible shawl with floral embroidery and skirt with drape, both sale items from Mieko Mintz, and estate sale vintage green gloves, all on black background.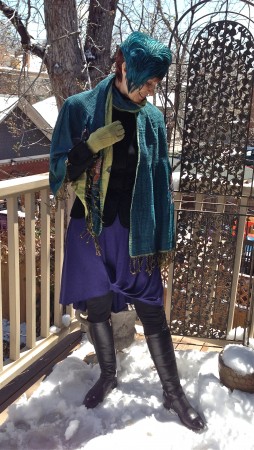 The ceremony was held on the anniversary of Nelson's death, which allowed The SC to focus on the continuation of life on a day that held memories of loss. However, I was delinquent with my camera, and will tell the story without photos of the event.  Sometimes it's important to accept that 'what is' is good enough and that total engagement in an experience doesn't always include photography.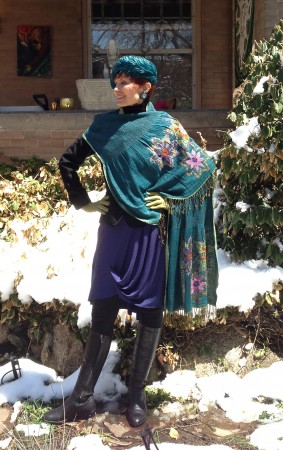 This was my first croning ceremony, but according to Barbara Hannah Grufferman HERE, who writes about The The Croning of America on the Huffington Post, there is a growing number of women, mostly over 50, who are participating in similar celebrations of aging and empowerment.
Kelly's ceremony, creatively prepared by Susan, was a beautiful recognition of a milestone and a celebration of wisdom and personal power. We were each asked to bring a token to attach to Kelly's walking stick, which she brought back from a trip to Australia this past year.  I gathered a collection of trinkets and pieces from my jewelry collection and hung each meaningful symbol from a leather cord. One by one, we presented our gifts to Kelly, expressing what it meant to us, and how it honored her.
The group consisted of women from diverse backgrounds, life experiences and belief systems.  What we shared was a respect for the aging process and the intention to engage and support one another in viewing the crone as a woman of dignity, worth and compassion for herself and others.
Following the ceremony, we gathered for dinner and wine, laughing, telling stories and enjoying relationships that had developed over numerous years.  Many of us had worked in mental health, and had been caregivers across the decades.  We talked about plans for the future, how we wanted to spend our time going forward, and spoke of women who surely would have been at the gathering but were no longer physically present.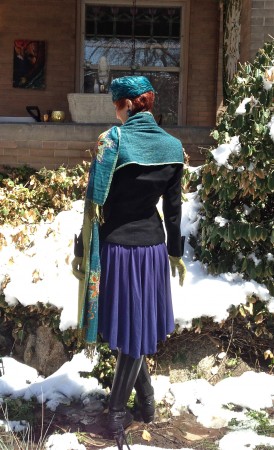 Photos by Diana
Instead of turning our backs on our inner crone and denying that this time can be filled with life enhancing experiences to be faced fearlessly with enthusiasm, we were marking and embracing the transition.  With support and community, this phase of life can be enjoyed as thoroughly and joyfully as any other.  We have wisdom and experience to share with a world in need of healing, and hopefully this concept will encourage a more accepting cultural norm for aging for generations to come.  Everybody gets old.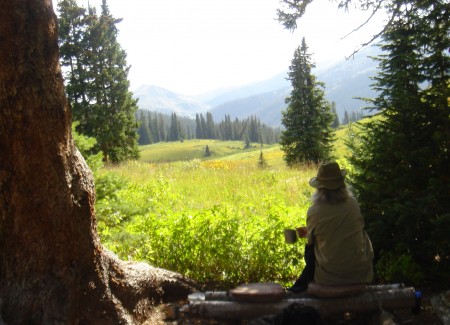 The croning ceremony invitation, with Kelly where she loves to be, in the midst of nature.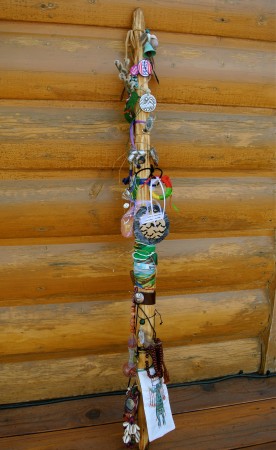 The walking stick adorned with momentos from friends.
It's the beginning of the week, which means that it's time for Patti's festive and supportive gathering at Visible Monday HERE at Not Dead Yet Style.