Healing With Art And Style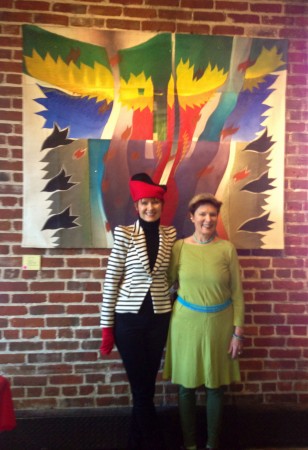 A week ago Sunday took me to the Wynkoop Brewing Company to an art exhibit by Lindy Lyman HERE.  Flourishing Forth, The Colorado Years 1974-2013 is a retrospective of her work in painting, mixed media and sculputre. I was informed of this colorful and uplifting exhibition by Carol Markel, the remarkable blogger, milliner and artist of Femme et Fleur HERE.  Lindy was a student of Carol's husband Richard Cramer at Elmira College, graduating in the class of 1967.
However, as the week unfolded, I was overcome by an unexpected force that grabbed me with a now unfamiliar strength that was surprising and powerful.  Anniversary dates are known to be difficult, but somehow I felt that I had everything under control and that by keeping busy, I would avoid the painful memories of Aprils past.  After all, it's been two years since Nelson's death, and shouldn't I be immune from intensity by now?  Immobilization is not my favorite place to be, but that's where I found myself intermittently over the past week leading up to April 20th.  I felt as though I was sinking in quicksand and the only part of myself above the ground were my hands grasping to find something to hang unto. But really, what I needed to find was something internal to pull me up and out.  So I sat with the stillness, leaden.
A quiet desperation took over my days, which frightened me with its relentless weight.  So off to yoga I went, hoping to soothe myself or at least find reprieve from the grasp of unwanted emptiness and the feeling of being lost.  Lost without a path ahead.  Was this a fork in the road or was I taking a step back into the depths of the abyss?  Loss can only be digested in small servings.  Otherwise we would die from the shock of it.  I think about those in Boston, and other parts of the world, who are devastated and beginning their journey through the wilderness of grief, and I mourn for them.  I weep for them.
I felt wooden and unprotected.  A tree with no bark, exposed to the elements, the cold wind blowing in from the north that assaulted the fresh and newly formed blossoms ready to open to the world.  Were my roots deep enough to hold me in place during the storm that was not predicted; the weatherwoman within had been caught off guard.  Something more to let go of.
As often happens when I'm looking for an answer, through the miracle of google, I found Pat Betram's blog HERE, and a blanket of comforting relief changed the tone of the week and offered me self acceptance.  Her words resonated with the confusion that I was attempting to deny, but I now knew would be more helpful to radically embrace.  The other amazing fact is that Pat is from Colorado, she is an excellent writer, and I have found a new blog to follow.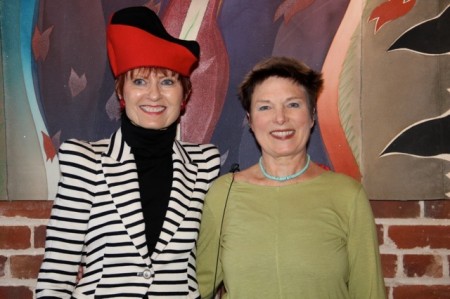 Now that the anniversary has passed, I reflect back on how my week began with art, meeting new and interesting people, and the rich beauty that entered my life on a Sunday afternoon.  I can go back to that place in my thoughts, after another passage through darkness. I can feel that those blossoms opening up to the world have not frozen.  I have been changed from loving and having been loved deeply, and that is what brings me back every time I descend into feelings of hopelessness and longing.
I often think about how I launched my blog under the umbrella of style and and the composition of outfits, and how this has helped me live out loud with caregiving, death, grieving and transformation.  I am so grateful that have I found all of you, because I have felt so much support and caring from all who read and comment on SC.  Perhaps those who blog about style and aging, or are interested in this topic no matter their age or gender, embody the characteristics of compassion and empathy.  Style truly does heal, and I couldn't have found a more perfect crowd to hang out with, no matter the circumstances of my life. You continue to be a lifeline and I thank you from the bottom of my Style Crone heart.
Black/red fabric hat – Britgitte NYC, black/white striped jacket – consignment store in Florida, vintage red fabric gloves- estate sale, all on black background.
I'm linking up late to the party at Patti's Visible Monday HERE at Not Dead Yet Style, which has become a meeting place for all who want to proclaim visibility.