The City Of Toronto And A Blogger Meetup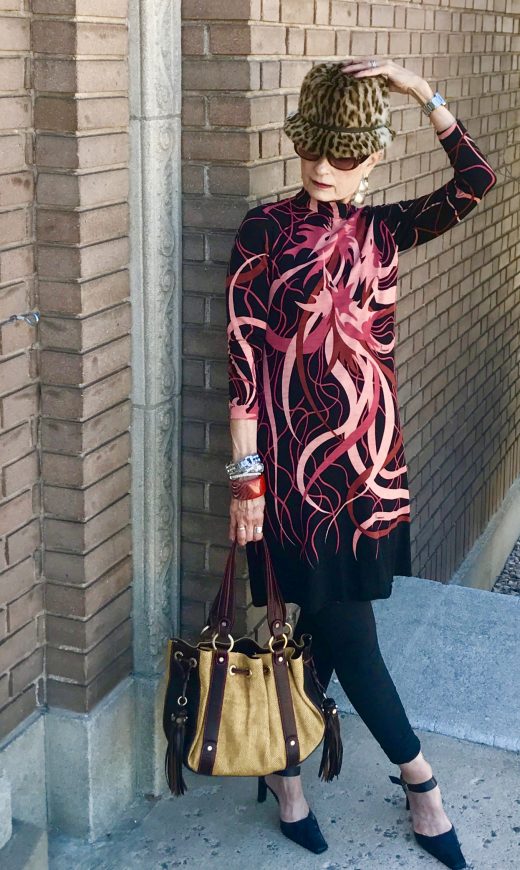 Two weeks ago I accompanied Mr. J to Toronto.  He was presenting at a conference on aging, and I went along to enjoy his keynote address and to visit a city that I hadn't experienced before. I also had the pleasure of meeting up with two incredible bloggers that are not only gorgeous and stylish, but fun, creative, bright, witty, warm and interesting.  I had met Shelley of Forest City Fashionista HERE several times in the past, but it was my first time meeting the stunning Suzanne of Suzanne Carillo HERE. Gathering with like-minded people is the best part of blogging, and the Toronto adventure was no exception. Check out Shelley's beautifully written post about our meetup HERE.
This post will unfold with photos, as the visual speaks a thousand words. However, I also want to tell the story of the ensemble in the photo above. The day after our memorable blogger meet up, a beautifully wrapped gift was waiting for me at our hotel. With great excitement I opened the mysterious package and was greeted with the above multicolored tunic by Italian designer Massimo and a leopard print hat.  It was from Suzanne, and the dress fit me perfectly. The ability to nail someone's size after the first meeting is a special skill and talent.  Thank you so much Suzanne! Rush right over to her vintage site Vintage by Suzanne on Etsy HERE for an incredible collection of delights from eras past.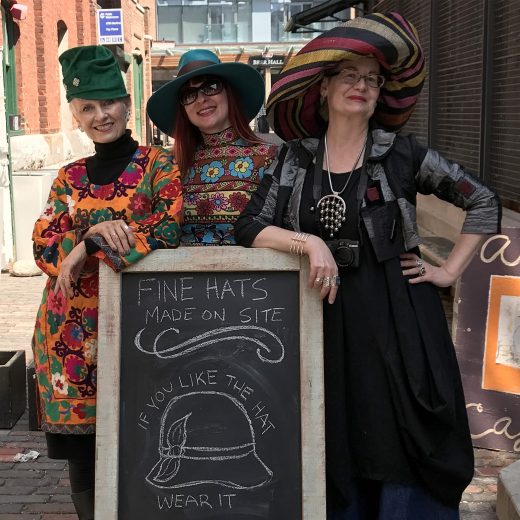 We met at the Distillery Historic District HERE and of course we discovered The Saucy Milliner HERE, a hat shop featured on my post of last week. Shelley chose our site of meeting, but was unaware that a hat shop was included in the wide variety of boutiques within the district. Some things are just meant to be!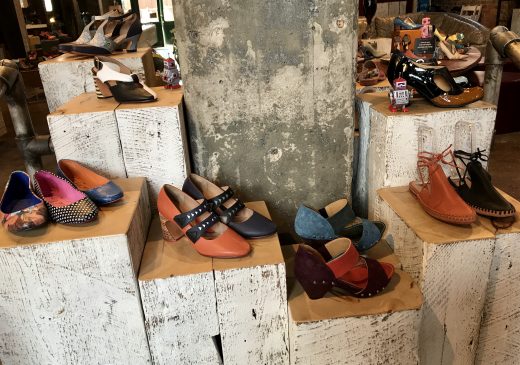 We chose the Fluevog store in the Distillery District as our meeting place. The store is an art gallery for footwear and the displays are always colorful and bold.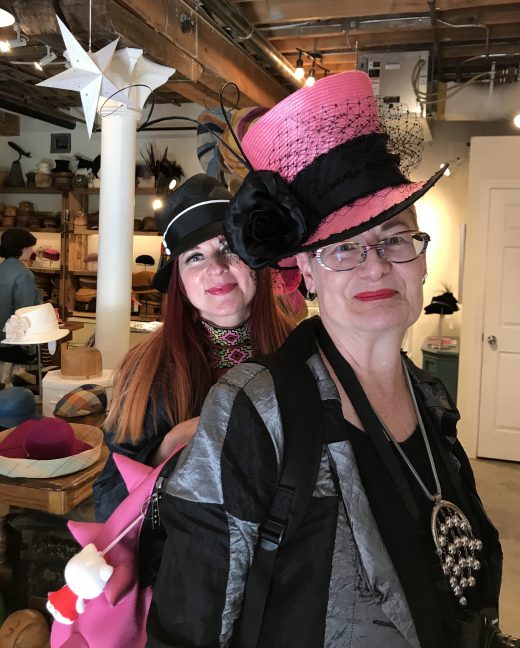 As soon as we walked into the hat shop, Shelley and Suzanne were trying on hats. This pink and black top hat adorned with a black silk flower was an immediate favorite! The staff appreciated our love for millinery and added to the fun.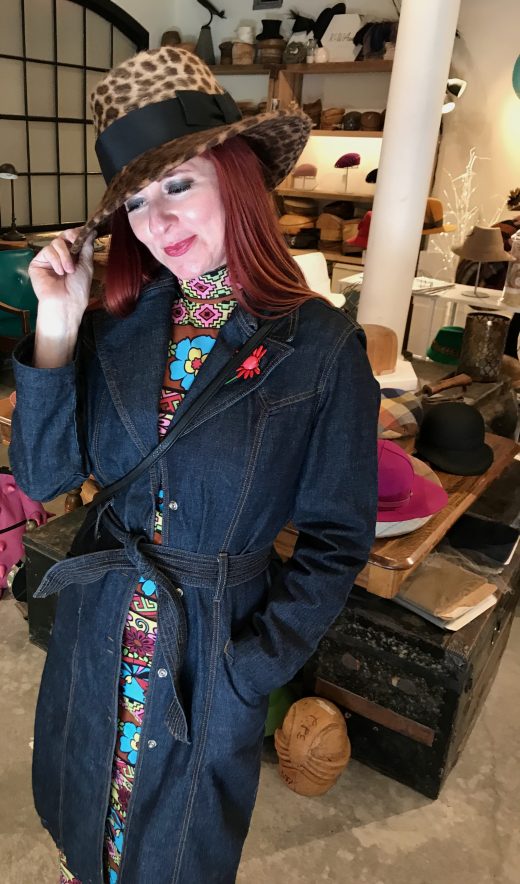 Suzanne in a leopard print chapeau was a sight to behold. It paired perfectly with her vintage maxi dress and long denim jacket.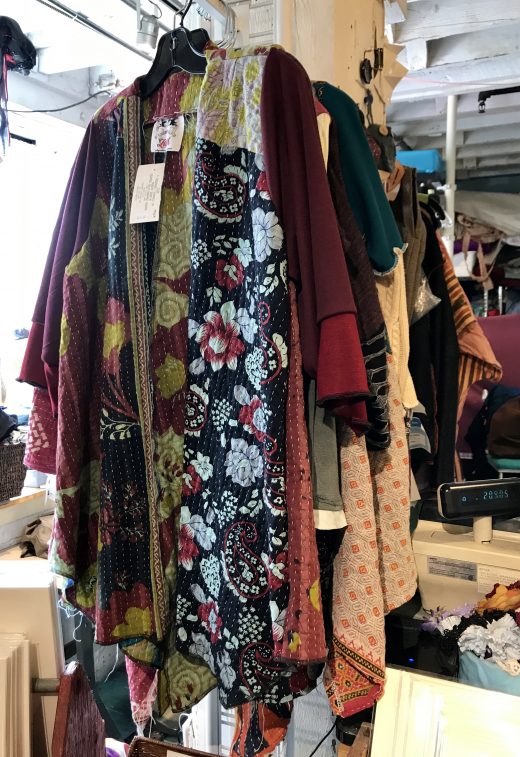 We discovered a collection of artist studios in one of the Distillery buildings. Lilith's Garden HERE easily held our attention, with its large selection of handmade clothing and accessories.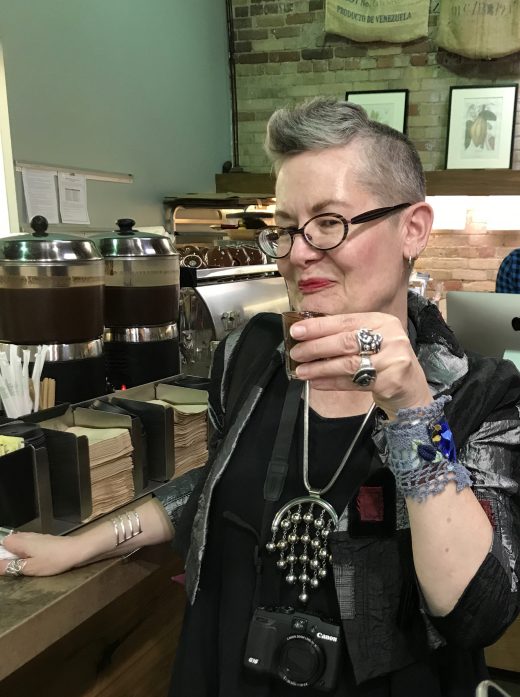 We eagerly walked into the SOMA Chocolate Shop HERE, where Shelley enjoyed a shot of Maya drinking chocolate, which perfectly accessorized her silver neckpiece and the bracelet that she discovered at Lilith's Garden. After visiting a few more boutiques, our glorious day of blogger adventure came to an end.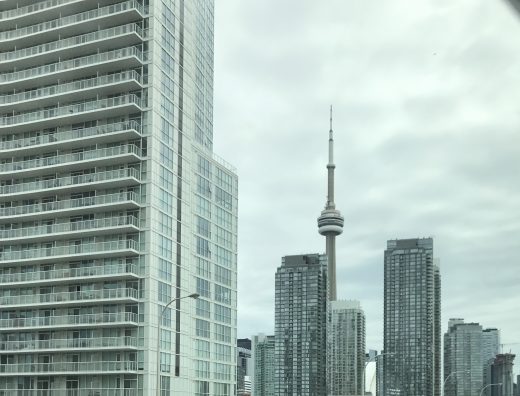 The next day Mr. J and I spent a day in Toronto HERE, walking Queen Street West HERE and taking in the feel of the fourth largest city in North America.  The skyline was breathtaking, the population was vibrantly diverse and we found the people to be warm and friendly.  I would go back in a heartbeat, as there was so much more to do and see. This Canadian city felt like an oasis in the midst of turbulent times.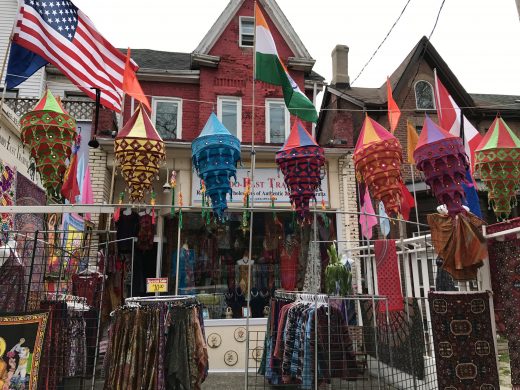 It was recommended that we check out the colorful historic Kensington Market HERE, and we were not disappointed.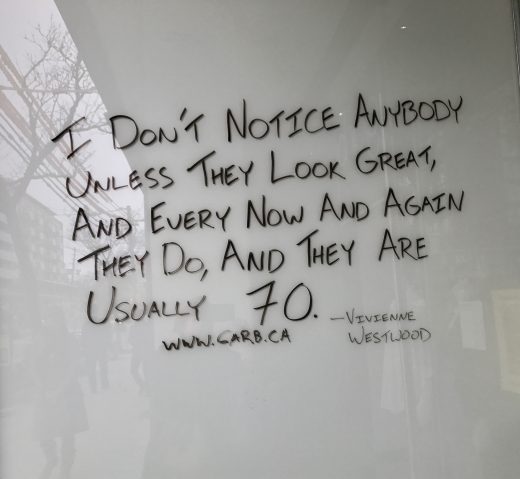 With a message like this in front of a consignment shop, how could I not walk in the door?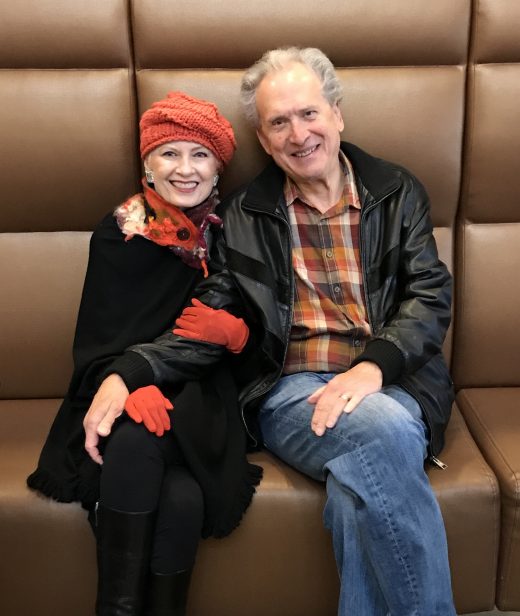 Mr J's conference was a huge success and we both had an extraordinary time. And now until the next time!
Linking up with Catherine's #iwillwearwhatilike HERE at Not Dressed As Lamb and Patti's Visible Monday HERE at Not Dead Yet Style.