Hat Attack #40 – Mademoiselle Slassi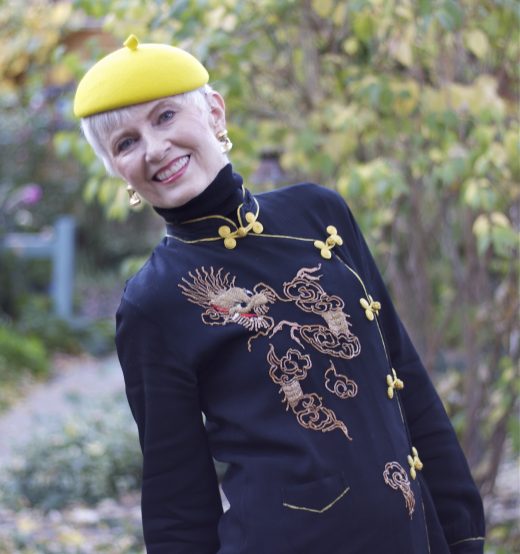 November's Hat Attack features the mini beret Taxi! by Mademoiselle Slassi HERE.  My collaboration with Karima Slassi began this past July when she and her daughter visited Denver.  Karima is from Paris, but had lived in Colorado years ago.  We had been Facebook friends for several years, and I was very excited when she contacted me and we arranged a meetup for dinner.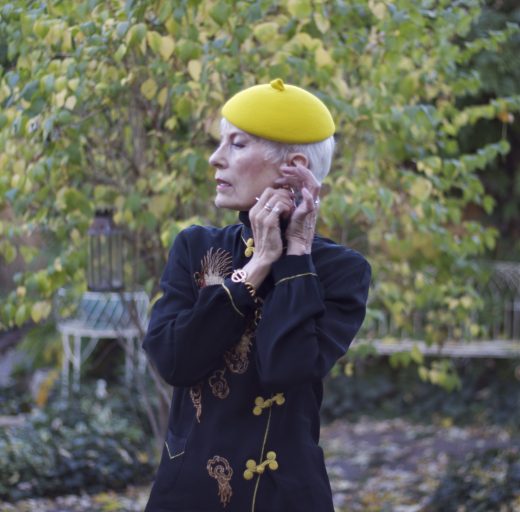 "The Taxi! line of hats is emblematic of Mademoiselle Slassi because the yellow color perfectly expresses the spirit of the brand: an ode to joy, elegance and originality. The mini beret Taxi! plays with the chic and the mischief of Parisian women."…Karima Slassi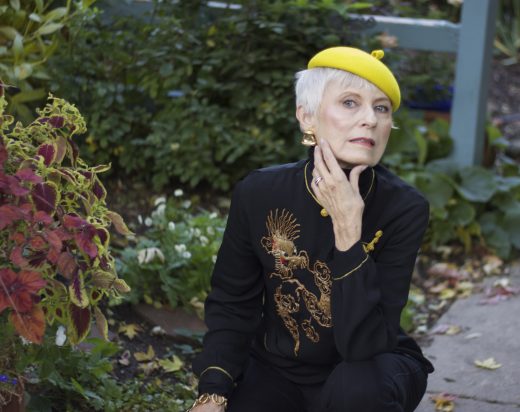 Photos By Daniel
"In 2009, Karima Slassi launched Mademoiselle Slassi : a brand of hats and head accessories, designed and artisanally handcrafted in Paris. Classy and sassy, Mademoiselle Slassi mixes timeless and retro hat shapes with contemporary materials, details and colors, to bring stylish modern headwear that reflect poetic elegance and originality.
To Karima, hats are not just the ultimate touch of elegance of an outfit. It's the perfect accessory to express the multiple sides of a personnality : someone will wear a netting veil to suggest the femme fatale within ; someone else will wear a hat in the style of Indiana Jones to show her adventurer mind. This one will choose a bright color hat to tell his joie de vivre ; while the other will proudly adorn his head with a top hat to become the dandy within.
Someone will wear a large floppy hat to express his artistic side ; the other will put on a delicious retro cloche hat to travel in time. The hat is a symbolic accessory that brings back history, mythes, fantasies ; it's an open door to our imagination and conveys dreams."…Karima Slassi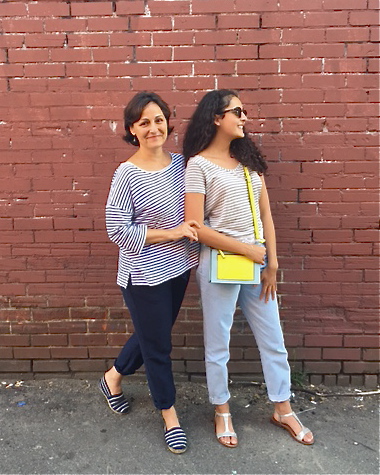 Karima Slassi and her daughter in Denver, July, 2016
Karima describes herself "as « a milliner of the 21st century » but if she likes to hear that her hats have a retro flair, she prefers to hear that they are definitely contemporary hats. Mademoiselle Slassi hats can be plain or extravagant, classy or sassy. Each design fits the beauty and the personality of the wearer, allowing him to tell his own story. Because these hats are here to showcase the wearer and not the reverse.
The rich color palette and the infinity of details in the trimings provide an exquisite « twist » to these elegant hats that can be worn either with a casual outfit or an exceptionnal one. Hence the slogan of the brand :  « Hats to be special every day ; hats for a very special day »"…Karima Slassi
Thank you Karima and your lovely daughter, for a wonderful visit and "hat chat."  I adore the mini beret, with its vibrant color and beautiful shape.  Taxi! will have a new life here in Denver, and accompanied me to dinner this past Friday evening.  This divine yellow chapeau did not go unnoticed!
Linking up with Catherine's #iwillwearwhatilike HERE at Not Dressed As Lamb.
Now it's your turn to throw a little headwear my way. Give The SC a NOVEMBER HAT ATTACK and kindly link to Style Crone somewhere in your post. The link-up will be open through November 31st.
Anyone can participate in the celebration of headwear!  All you need is a URL, which can be acquired from Instagram, Facebook or your website.  All forms of headwear are appreciated:  hat, headwrap, headscarf, headpiece, fascinator, hair flower, headband or other adornment for your head that you enjoy.  Multiple photos are encouraged!
[inlinkz_linkup id=674364 mode=1]