Treasured New York Moments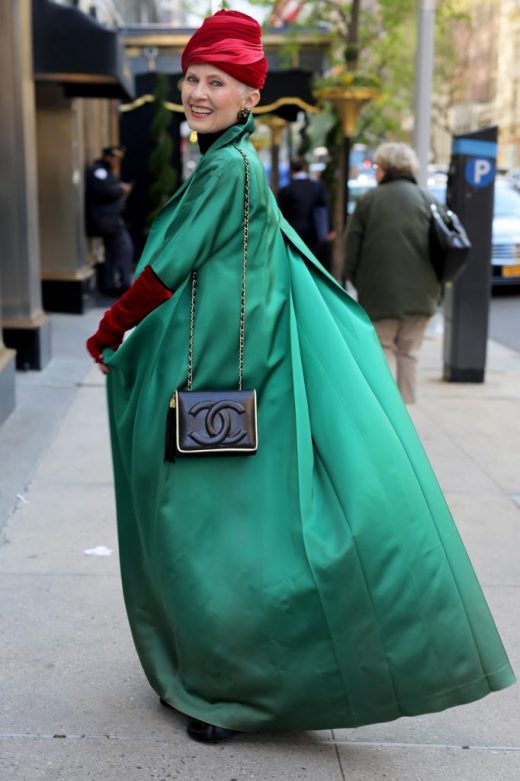 Photo By Ari Seth Cohen
My magical NYC adventure comes to a close in today's post.  Thank you to the brilliant Ari Seth Cohen for the feature on Advanced Style HERE.  I was thrilled for the honor.
My vintage long green satin jacket from Meek Vintage Denver HERE is perfect for twirling, topped off with my gifted  vintage Schiaparelli turban.  The Chanel bag was a recent yard sale find!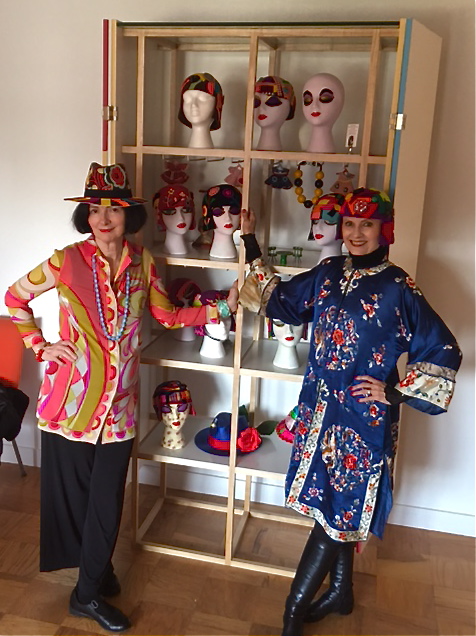 Photo By Mr. J
No trip to NYC is complete without a visit to artist, milliner and blogger Carol Markel's fabulous "Hat Shop In A Box."  Carol and her husband, artist Richard Cramer, always greet us with welcoming warmth.  Visit Carol's colorful blog Femme et Fleur HERE! And if you think I left with a few irresistible  pieces of Carol's art, you would be right. I will share more about that later on Style Crone.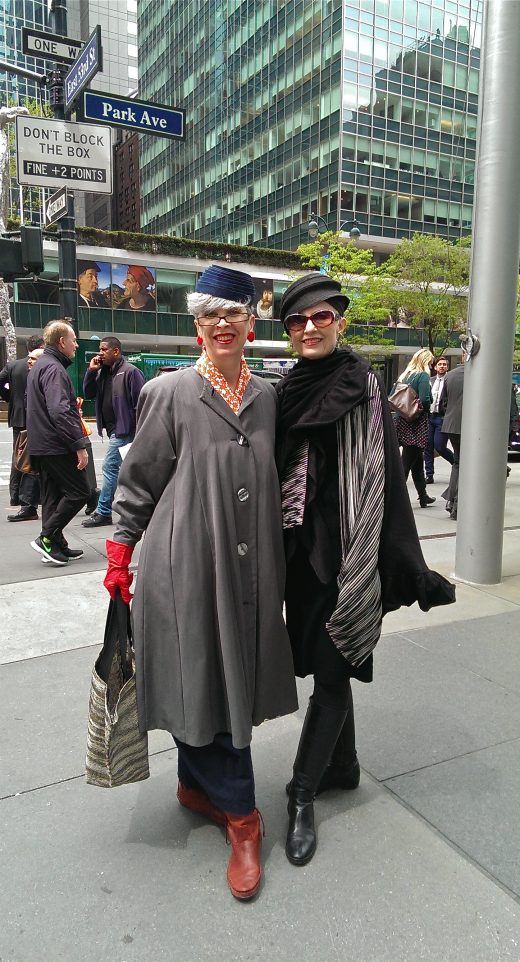 Meeting up hat-to-hat on Park Avenue with the stunning Valerie of the Idiosyncratic Fashionistas HERE and flying off for some consignment store shopping was another highpoint of my trip.  Jean, the other half of this dynamic duo, was unable to join us. Over the years, Jean and Valerie have introduced me to places and experiences that I would never have discovered on my own.  This trip was no exception.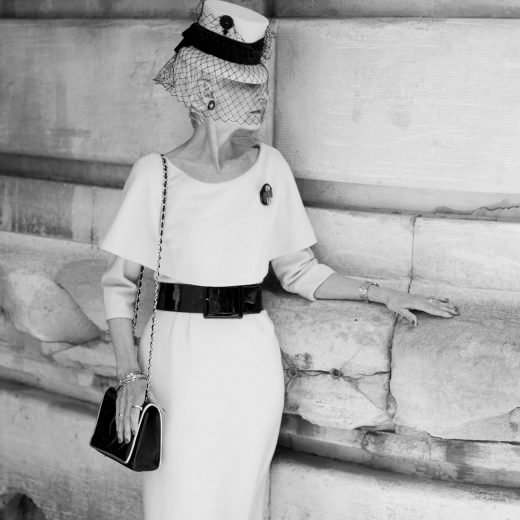 Photo By Denton Taylor
Mr. J and I spent time on the Upper West Side with photographer Denton Taylor HERE and his wife Teresa, looking for photo backgrounds and visiting along the way.  As long time NYC residents, they  enchanted us with their knowledge of the city and their hospitality.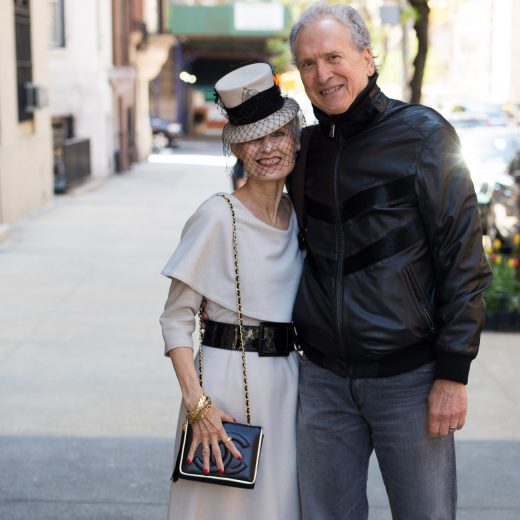 Photo By Denton Taylor
Mr. J and I had so much fun during our stay, and our smiles speak a thousand words! I couldn't have a better traveling partner and I'm grateful for the memories that we are creating and building together in our 70's.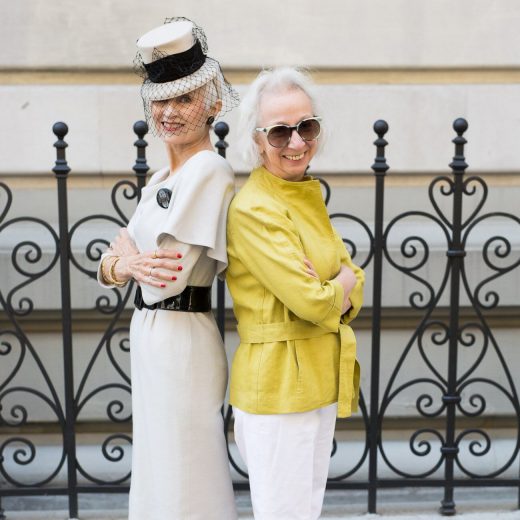 Photo By Denton Taylor
In the above photo, I'm back-to-back with Teresa, in her bright yellow jacket with a warm smile and beautiful silver hair.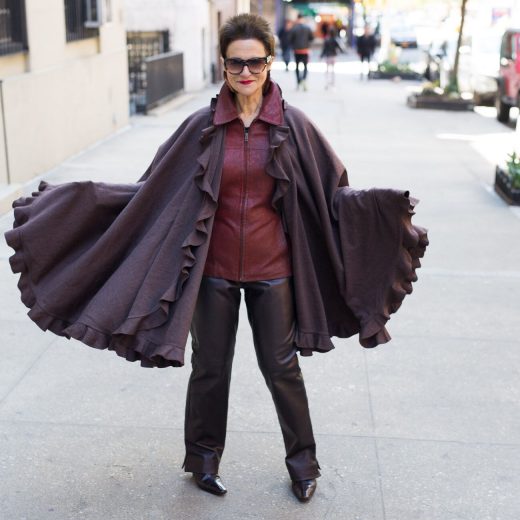 Photo By Denton Taylor
Stylish jewelry designer Diana Gabriel HERE joined us for a twirl in her magnificent cape.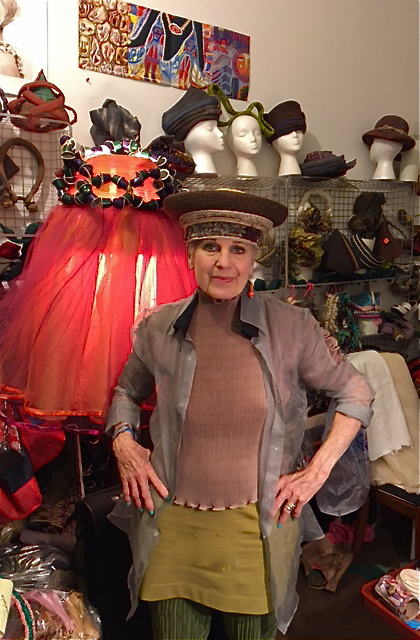 I had the pleasure of visiting Debra Rapoport's studio HERE and enjoying a look at her latest creative projects. In the photo above she wears a hat of her own design.  Her pieces are made from recycled materials and I am in awe of her talent and skill as an artist and as a hat maker.  Debra is the living manifestation of her motto, "better with age, better with style!"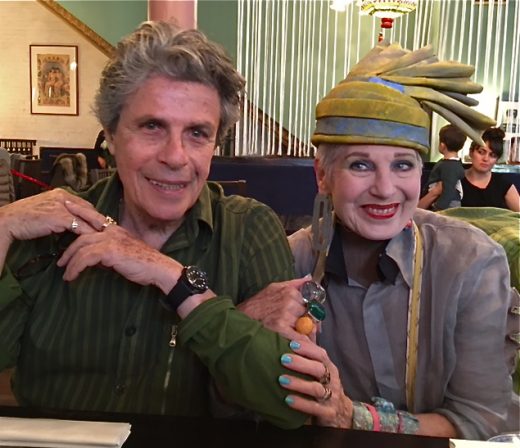 Debra and her partner, singer and songwriter Stan Satlin,  HERE, are always the best time! Debra wears another hat of her own creation, which I admired for its color combination, structure and design.
Thank you to everyone who made our time in New York a fantastic adventure.  Until the next time!
Linking up with Patti's Visible Monday HERE at Not Dead Yet Style.