The Helmet Collage Cloche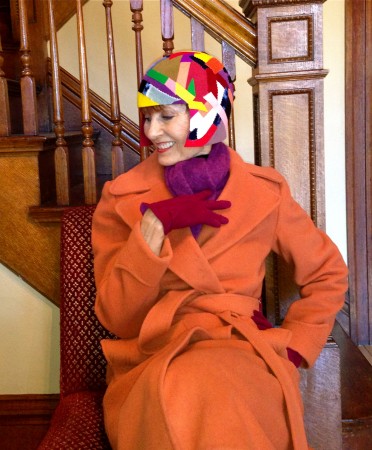 In celebration of Dr. Martin Luther King's Birthday, The SC attended a play with dear friends at the Vintage Theatre.  A remarkable one man show, RFK HERE was directed by Terry Dodd, a friend of many years.  For the occasion, I chose to wear the helmet collage cloche designed and created by the talented and gorgeous artist/milliner/blogger Carol Markel of Femme et Fleur HERE.  I purchased this beauty from Carol during my last trip to NYC and it has been calling to me ever since.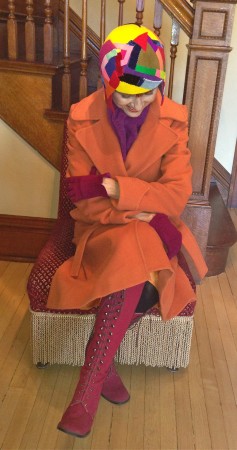 Because of the many vibrant colors in this hat, it was fun to pull just a few of them out and repeat within my ensemble.  I have several combinations in mind to wear in the future with this chapeau, which has been waiting in the hat room for its Denver debut.  This is a hat that needs to be viewed from all directions to appreciate its exquisite design.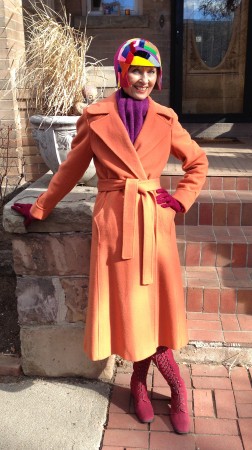 To accompany the collage cloche, The SC wore: vintage orange belted coat – gifted, vintage gloves – estate sale, purple wool scarf – consignment store,  tall canvas laced boots – Sewn HERE.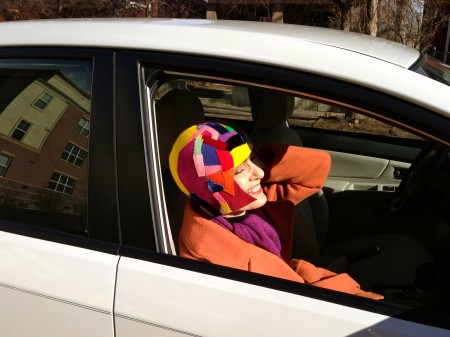 Photos by Diana
On another note, my car died in a cloud of smoke this past week, going the way of  my furnace which gave out a month ago.   Though 14 years old, battered and worn, it had been ever present in my life during good times and bad.  A day of mourning for the loss of a heap of metal and rubber and all that it represented led to a day of rejoicing for the safety and pleasure that a newer model will provide in a city that is not public transportation friendly.
I'm beginning to get the picture!  Resilience, adaptation, humor and outfits are called for in the name of the game called life.   I wonder what's going to happen tomorrow?  The one thing I'm quite sure of is that it will include a hat.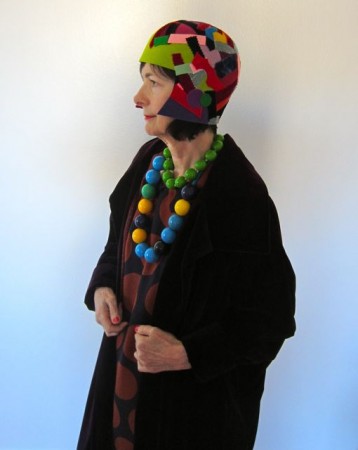 Carol Markel wearing a helmet hat and beads of her own creation, in a photo from her fascinating blog Femme et Fleur HERE.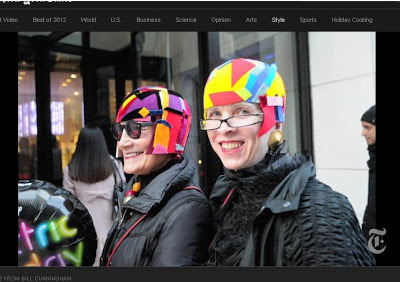 Jean and Valerie of the glorious Idiosyncratic Fashionistas HERE were photographed in their helmet hats by Bill Cunningham of the New York Times and featured in On The Street in the Style section during the holidays.  As you can see, Carol's creations are one of a kind, and all are equally fabulous and colorful.
The SC is taking her helmet collage cloche over to Patti's weekly extravaganza at Visible Monday HERE.