Sweet Surprises And My Inner Ageist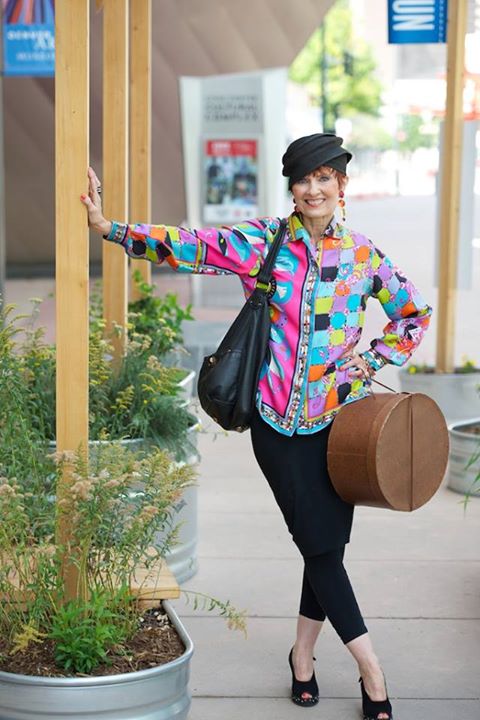 Style Crone has brought many wonderful experiences that will remain with me always. Another surprise dropped out of the sky recently, when I received an email that I had been chosen as one of the five people to participate in a PR campaign for Skyestone Denver HERE built by Taylor Morrison HERE (I was not paid for this post).  A new development for active seniors, this community will be opening soon, north of Denver adjacent to the breathtaking Flatirons HERE.
Since I had forgotten that I had filled out an entry form, this was an unexpected gift and honor.  I then learned that I had won the grand prize, which was again a bolt from the blue, as I hadn't informed myself that this was an element of the contest.
The above photo, taken by Skyestone's photographer during a shoot outside the Denver Art Museum, will be included in the campaign HERE and the press release HERE was revealed several weeks ago.  I met wonderful, generous and interesting people and feel grateful for the opportunity.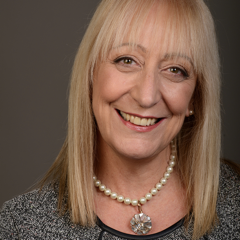 The brilliant, beautiful and dynamic Margaret Manning HERE
Another huge surprise which came my way was an interview by Margaret Manning of Sixty and Me HERE, a fascinating and informative website devoted to women who are 60 and older.  Margaret is warm and engaging, and though I was a bit anxious before the interview, talking with her through Skype soon became an engrossing conversation and within seconds I forgot about the fact that it was soon to be posted on her site HERE.
There are times when I have felt uncomfortable and hesitant about posting photos of myself and writing about my new and exciting experiences, or about the deep mysteries of death, loss and aging.  Though I grew up on the downplay, you may have noticed that it didn't stop me from continuing to do so.
Also, dealing with my inner ageist and her unwelcome visits creates static that I would prefer to ignore, which then only gives her more power. I recognize her when she appears, at the most unusual times.  She seeks to rob me of my full potential, but I'm on to her now.  I believe that as I identify her more effectively, I will be more able to deal with and confront the ageism HERE that appears in my environment.
Like the other 'isms based on fear; lack of empathy, experience and education; systemic structures and many factors too numerous to mention in one post, it's difficult not to internalize that which has been institutionalized.  Do you believe that you have an inner ageist, and if so, when do you spot her rising to the surface? Or lurking below the level of consciousness, affecting your behavior or asking you to fade into the background, away from the fullness of life.
However, after watching the UK documentary "Fabulous Fashionistas" HERE, which many of you have written about with great insight, I found myself deeply affected by the six women featured in the film and how they are embracing their lives with incredible style, noticeable intelligence and radiant energy.  At the average age of 80, they have inspired me and have activated a passion within that was already there, waiting to be more fully exposed and engaged.
I have come to believe that visibility and aging with verve (a term used by The Idiosyncratic Fashionistas HERE) are forms of activism, political acts (see Bridget Sojourner on Advanced Style HERE) and audacious, compelling, and life enhancing opportunities.
As a blogger of a certain age and not identified with grandiosity, I see myself as a very small part of the movement to change the perceptions of older women in our culture. A drop in the ocean of the magic of social change.  A small wave in the sea of transformation, though slow, that's thankfully taking place in areas across the planet. That's something that I'm proud to celebrate, contribute to and be a part of.  However that unfolds on Style Crone and in my life in 3D.
And I'm in such magnificent company!