Exhilaration And Elevation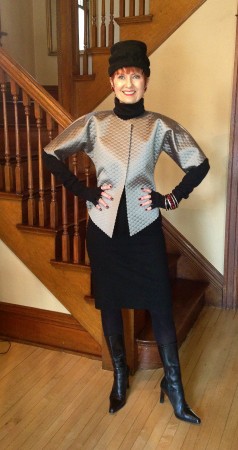 The passing of the holidays appears to have released palpable energy and I find myself motivated to finish organizing my home, which I would do in one day if humanly possible.  I have enlisted the help of two young and vibrant students from the Art Institute of Colorado who have brought new life to my projects. I hear them laughing together in a room close by and it makes me smile as I receive the effects of playful enthusiasm.  After they leave I find little gifts of creative display in the rooms where they worked their magic.  How can I describe the warmth that this brought to my heart?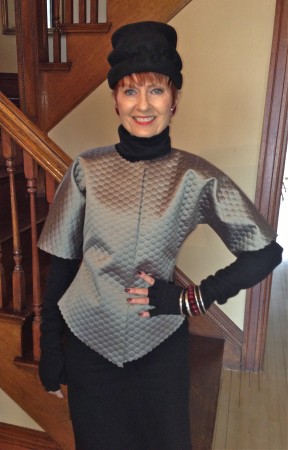 It feels like I have an increased ability to create more structure, similar to the lines of this jacket.  I feel in the flow of my goals, in tune with my sanctuary and hopeful that I can contain my collections.  The burden of overflow is about to be released, and the abundance outside my front door is waiting to rush in, leaving me laughing under a layer of roses and my beloved intentions, replacing that which no longer serves me or the now of my life. My spirits are elevated, like the vertical trajectory of my three storied hat.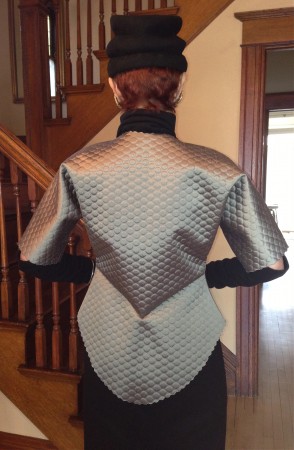 I believe that these two beautiful and talented women in their twenties have my back and my peplum, and that they enjoy the playground of my inventory and the quirky delights of my century old home. And just maybe I have something to teach, about vintage, hats and the twists and turns of life. Intergenerational energy has value and the power to shift, sift and stir.  I'm already planning for the day of their return.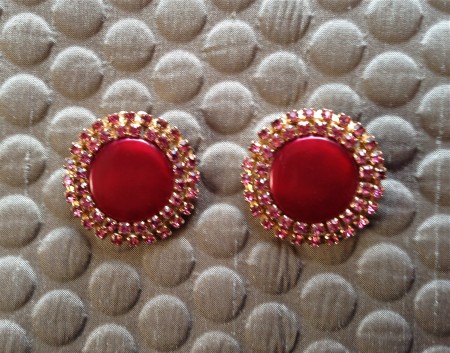 Close-up of jacket and vintage earrings.
Photos by Diana
'Paris jacket pirelli taupe' – Brigitte of NYC going out of business sale, vintage black felt hat – Buffalo Exchange, black turtleneck sweater and long black fingerless gloves – consignment stores, vintage black wool pencil skirt – estate sale, black heeled boots – gifted, jewels – everywhere!
The SC is off to join the crew at Patti's Visible Monday HERE at Not Dead Yet Style.