Hat Attack #62 – Bisou-Bisou by Anya Caliendo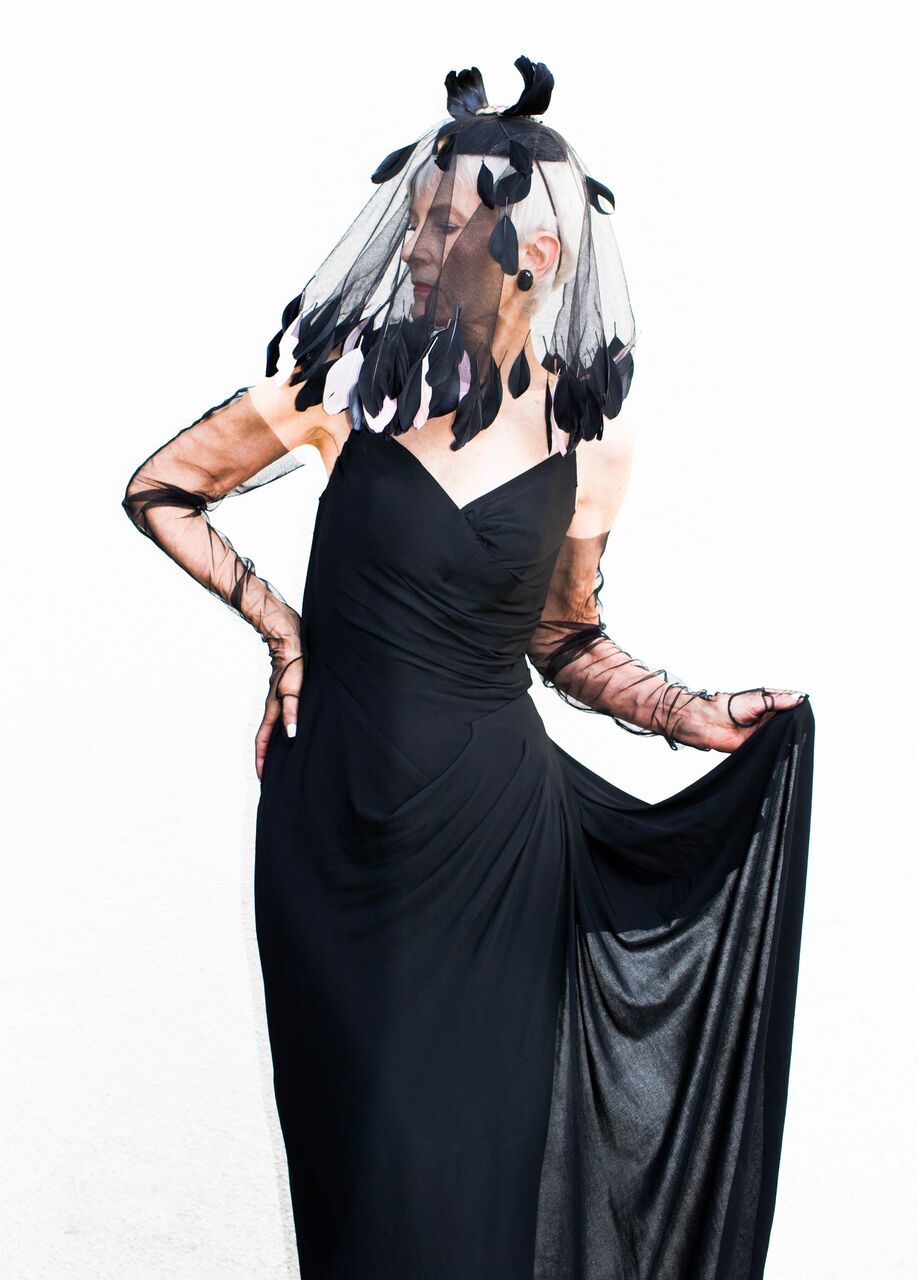 September's Hat Attack features a headpiece by Anya Caliendo HERE, which has a story associated with its place in the hat room.  I follow Anya's breathtaking gallery on Instagram and have been aware of her talent for a long time.  When I first saw a photo of this headpiece on her feed, it caught my gaze immediately.  Her caption, "Some hats are meant for mourning," added to its allure.  There is headwear for any occasion, and since death is a part of life, it's a reality that should not be ignored or considered taboo.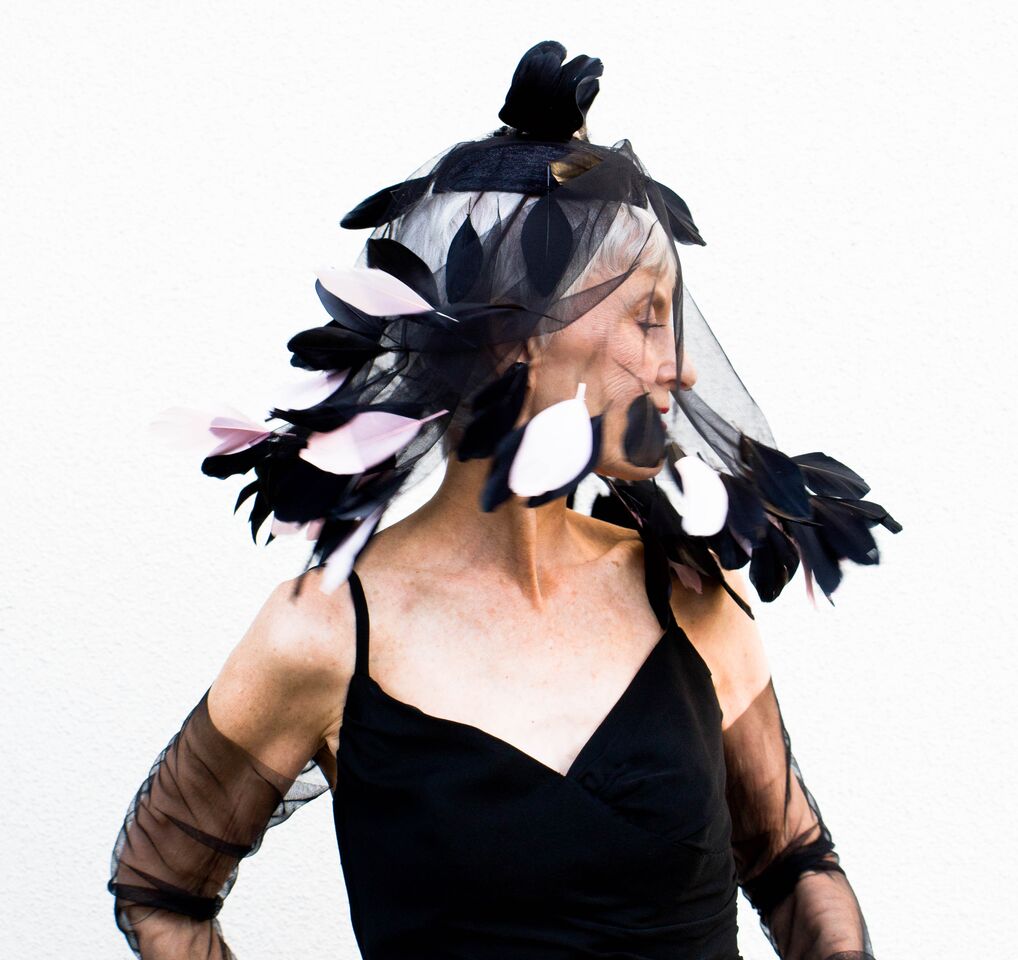 Later on Instagram, Anya posted about a giveaway, and a veiled confection with tiny multicolored pom-poms was the prize. The requirements for the giveaway included commenting on her post in answer to her question, "What would you do with this piece of headwear should you win?"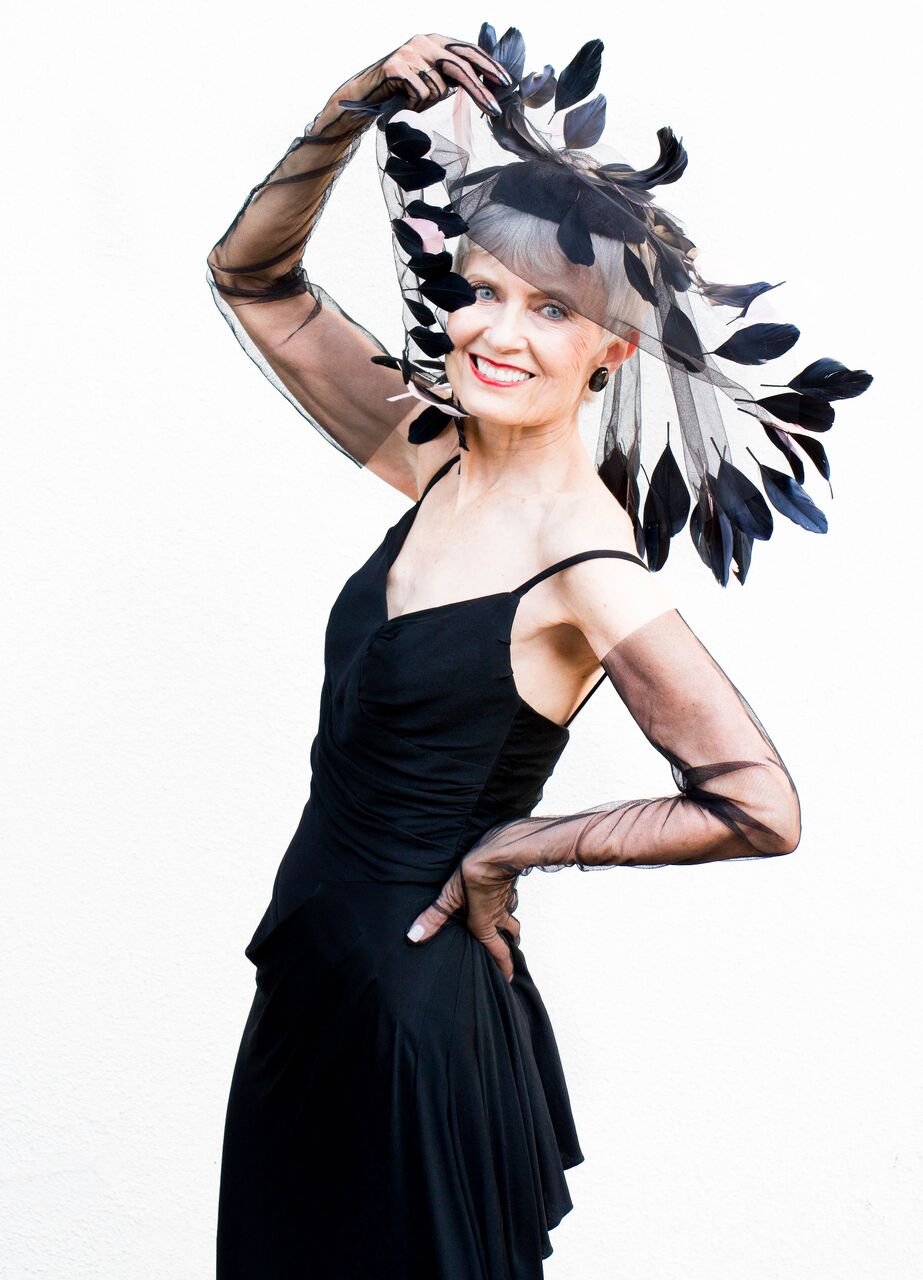 Of course I immediately responded with, "I would put together an ensemble that reflected the colors of the pom-poms and share my vision on one of the monthly Hat Attacks on Style Crone."  I didn't win the giveaway, but Anya was so moved by the comments submitted that she decided to give a headpiece to two more entrants.  I was thrilled to be included in her choice.
I was beyond excited and waited impatiently for the package to arrive from NYC, which is the location of Anya's studio.  When it arrived, I was stunned to find this piece of wearable art tucked inside the brilliant pink box which held its array of veiling and feathers, embellished with just the right amount of jewels on its crown.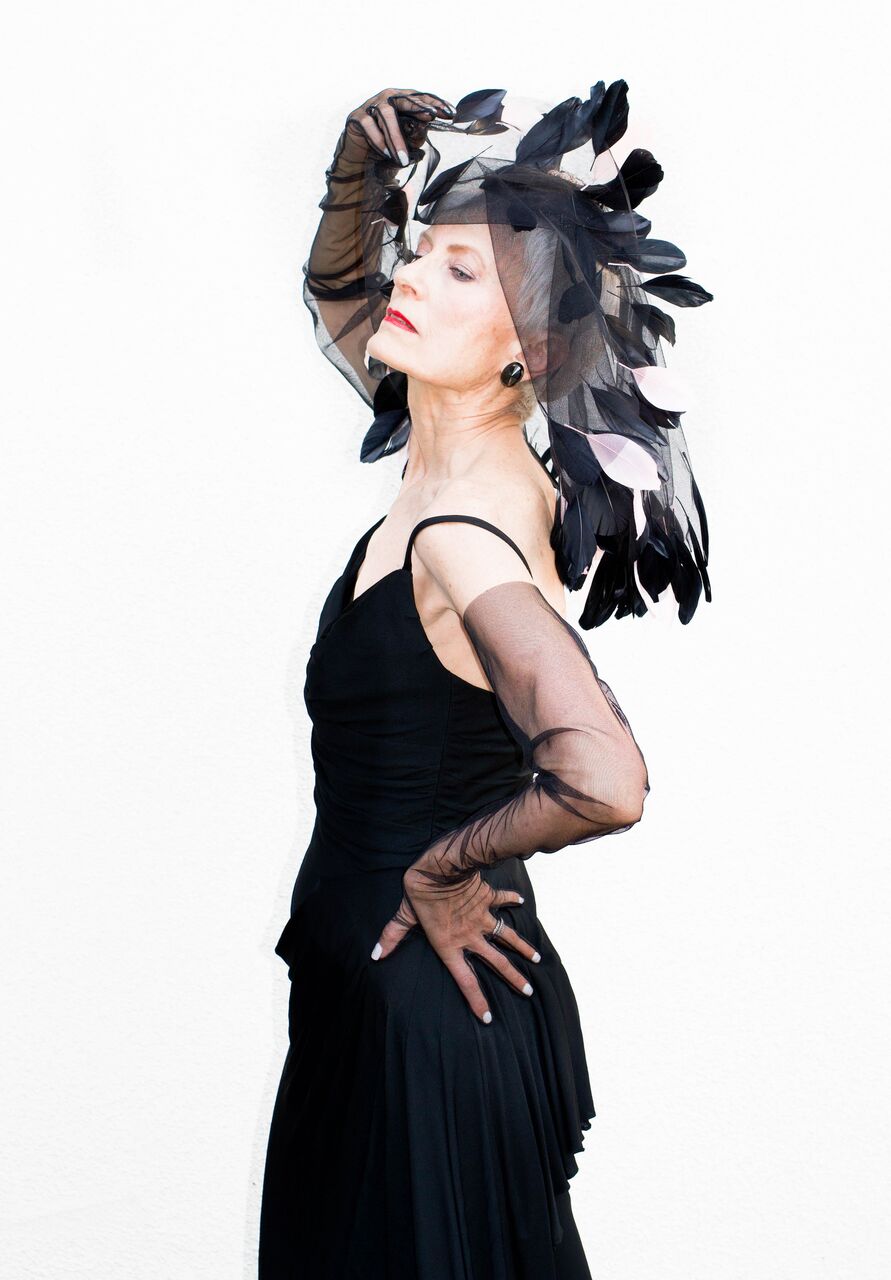 Today's Hat Attack fulfills the promise of my comment on Anya's giveaway post.  This magnificent creation deserves a gown, with open space for its feathers to be sufficiently displayed.  The long mesh gloves reflect the elegance of the veiling.  Thank you Anya!  I am honored and grateful to have your art on display in my hat room.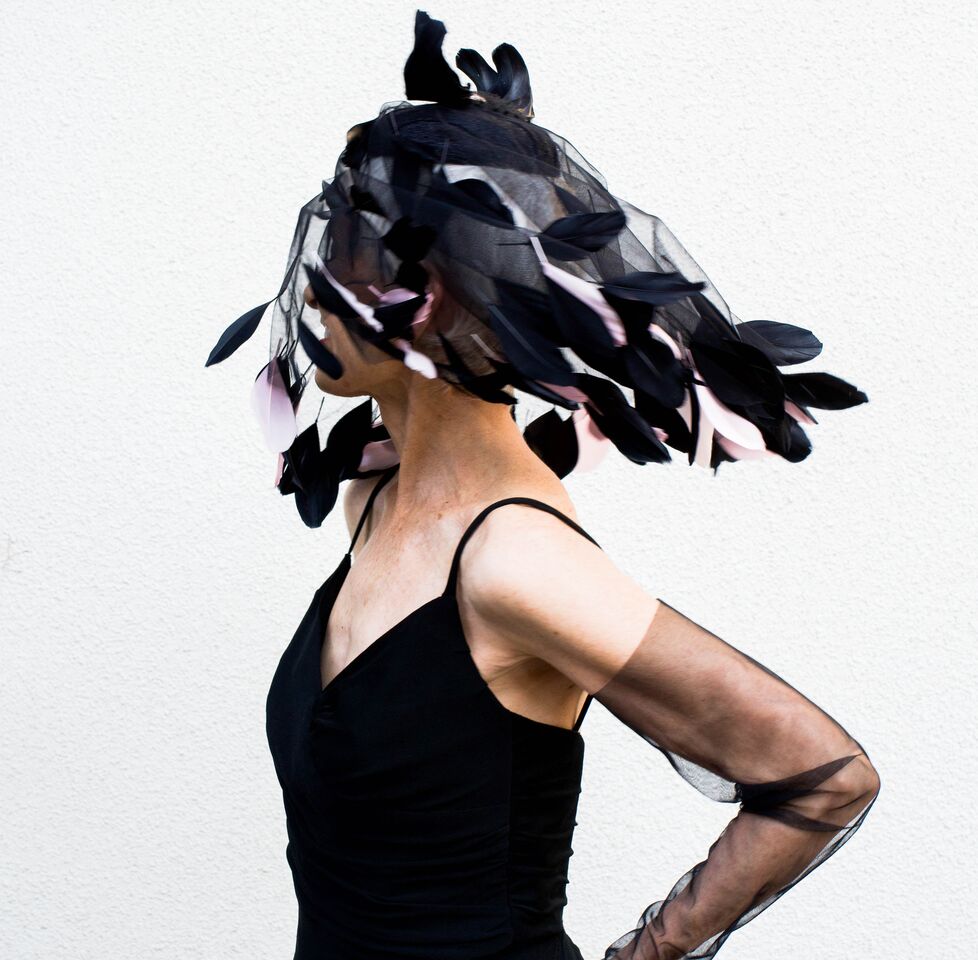 Photos By Daniel
Check out Anya Caliendo's website to view  an inspiring video about her and her work HERE
WHO IS ANYA CALIENDO?
From Anya's website.
Born in the USSR. Russian at heart. Expelled from the ballet school for the love of everything sweet at the age of 7. A proud owner of a single dress from the age of 9 to 12. Took piano and violin lessons since the age of 7. A survivor of the collapse of the USSR and explosion on Chernobyl Nuclear Power Plant.
Received strict education in High School with advance study in Literature, English and Arts. Followed by three years of advance study in sewing. Graduate of the Institute of The Foreign Languages with bachelor degree in Linguistics. Worked since the age of 14. Crossed Atlantic Ocean and landed in the USA at the age of 24 with $20 in her pocket. Worked for the next three years as a waitress, caregiver, ice-cream seller and a housekeeper, holding 4 jobs at a time. A great believer in the American Dream. At one point lived as an illegal alien. A dreamer.
Trained in Millinery Arts by the legendary Rose Corey in England. Apprentice to Mr. Stephen Jones. Opened Millinery Atelier in 2010. Allergic to anything negative.
Adamant about preserving the Art of true Couture Millinery. Doesn't own a single sewing machine. Proud of tremendous work ethic. Dedicated to the perfection in every stitch. Trained and launched careers of countless milliners all over the globe.
All our designs are created in Anya's New-York based Atelier by a team of true Millinery artisans. Each hat is hand-crafted out of an exquisite selection of top quality fabrics and trimmings exported from all over the globe. Each hat is designed by Anya and is exclusive to the Atelier.
Anya Caliendo has designed bespoke hats for many private clients and celebrities such as Lady Gaga as well as hats for themed photoshoots styled for Vogue Japan, Flair Italy, As If Magazine, Tatler, Vogue Italia, among many others. We specialize in luxury Couture headwear and take tremendous pride in preserving true Couture Millinery techniques…From Anya Caliendo's website.
Anyone can participate in the celebration of headwear!  Click on the blue link-up button and there are a number of ways to share your photo from your blog, Instagram or your computer photo files.  All forms of headwear are appreciated:  hat, headwrap, headscarf, headpiece, fascinator, hair flower, headband or other adornment for your head that you enjoy.  Multiple photos are encouraged!
Now it's your turn to throw a little headwear my way. Give The SC an SEPTEMBER HAT ATTACK and kindly link to Style Crone somewhere in your post. The link-up will be open through September 30th.
[inlinkz_linkup id=796118 mode=1]