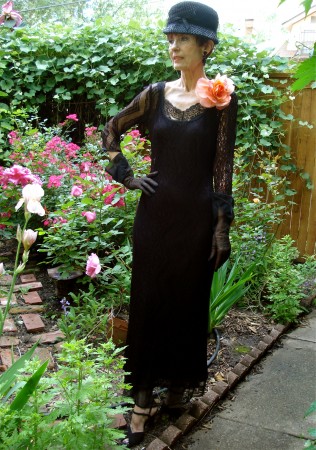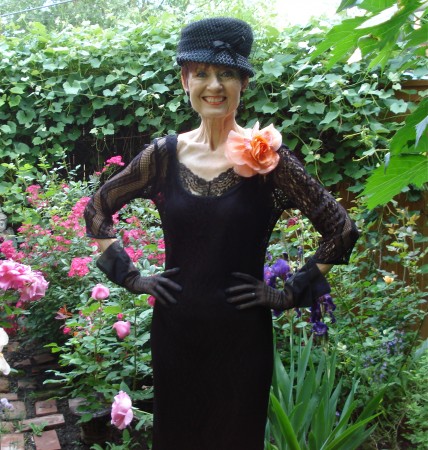 Photos by Diana
Vintage from head to toe – all pieces from estate sales: black 1960's straw hat with bow and veil, black jet earrings, orange silk rose, sheer nylon gloves, black 1970's lace dress over black 1940's silk satin slip with lace trim, black suede heeled sandals.
The SC's friend Diana, who has generously been taking my photos, requested a rose delivery for her friend whose father recently transitioned at the nursing home a block from my home.  His memorial service was held in the morning at the facility where he had been a resident, and the presentation was to occur before the ceremony.  Prior to the delivery, photos were taken in my rose garden in the back yard, which is in full bloom.  We then walked to the service in black lace with roses.
This was a poignant delivery, and the first at a memorial service.  I spoke spontaneously from the heart, widow to widow, and felt a meaningful connection that would not have been present without my personal experience.  It gave me great satisfaction to provide comfort and empathy to a family beginning their journey through the wilderness of grief.
I am aware, as I compose this post, that it is the anniversary of N's memorial service.  I am mindful of synchronicity and the cycle of life and death, as treasured memories flood my thoughts in honor of this day.